My dad, a retired fund manager, often argues that momentum and fundamentals are two very important variables when it comes to valuing a stock. General Electric (NYSE: GE) is struggling on both counts, as both its financials and stock action proved today following the announcement of quarterly results.

(Source: General Electric)
Thursday
Its stock dropped 1.9% at the time of writing in a flat market on Friday, essentially giving up all its gains on Thursday, when the S&P 500 rose almost 1% on the back of bullish tax reforms' rumors and oil prices that held up after a 4% plunge one day earlier.
I have recently covered GE -- and as I said earlier this week, rising earnings per share had to be expected in the first quarter.
But investors want more.
What's Wrong?
Admittedly, headline figures for the three months ended 31 March were solid in terms of organic revenue growth, while GE also delivered on its promises based on several other financial metrics.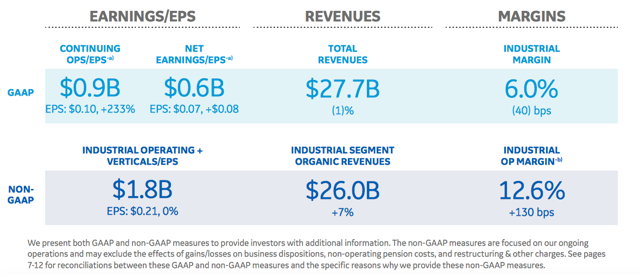 (Source: General Electric)
Backlog and orders are up, and chief executive Jeff Immelt was upbeat about performance:
"The first quarter was a strong start to the year with organic revenues +7%, orders +10%, and industrial operating margin +130 bps. We delivered $0.21 of industrial operating + Verticals earnings per share, flat as reported, but +12% excluding gains and restructuring. We returned $4.4 billion to shareowners through dividends and buyback."
I think Mr. Immelt was right. However, here is -- very possibly -- the fly in the ointment:
Industrial operating cash flows were negative $1.6 billion driven primarily by an increase in working capital and timing of billings on our long-term equipment and service contracts."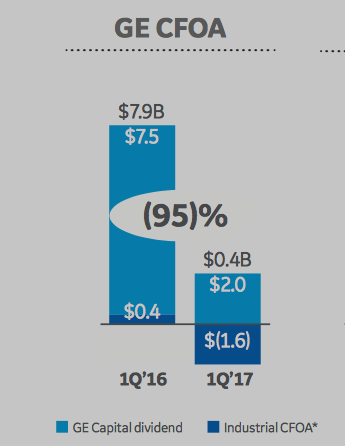 (Source: General Electric)
Although GE expects cash flows to improve "throughout the remainder of the year, with no change to our full year cash flow framework," it is fair to question if its capital structure is properly aligned or whether it could jeopardize cash returns to shareholders and, in turn, shareholder value.
I think it is premature to speculate on that front.
Moreover, recent action in its bond prices, helped by a fall in benchmark rates, doesn't seem to indicate hidden risks in terms of capital structure.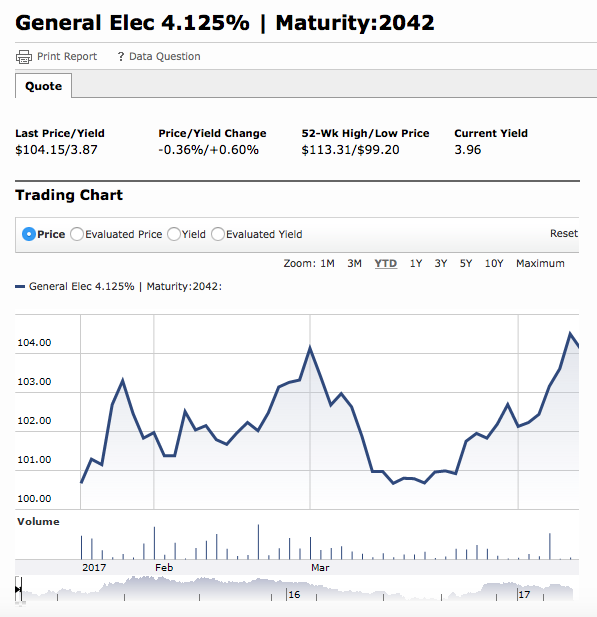 (Source: Morningstar)
But raising more debt might not be a very good idea, particularly for bondholders.
Its financials are not very clear, but excluding cash balances associated to its financial services, its net leverage -- forward adjusted operating cash flow (OCF) divided by net debt -- is meaningful, given forward adjusted OCF of $22bn and net debt (gross cash minus gross debt) of $66bn.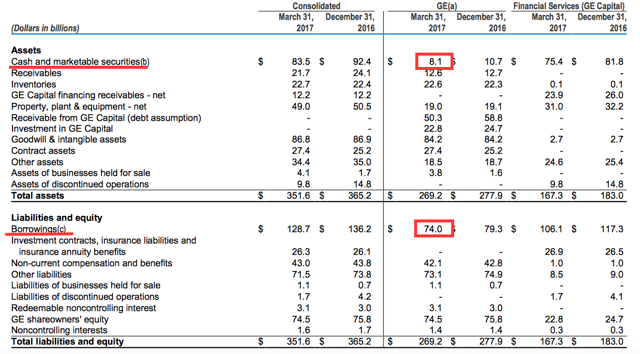 (Source: General Electric)
On a consolidated basis, its forward net leverage is 2x, which is manageable for the time being.
Dad and Jeff
So, is this a case of short-term pain for long-term gains?
My dad downplays the mistakes that Mr. Immelt might have made during his tenure, but he says momentum is something GE cannot do without, adding that if the stock is ever going to rally hard from these levels, GE will have to churn out higher cash flows on the back of higher margins and lower debts -- a combination of these three would do as well, rendering its stock cheaper on a relative basis.
Mr. Immelt reaffirmed "our 2017 operating framework for industrial operating + Verticals EPS, organic revenue growth and industrial operating margin expansion."
So, it is still too early to give credit to this turnaround story -- but dad, I understand, is tempted to short GE at some point in the second quarter, also betting on a stronger US dollar by the end of May.
Disclosure: I/we have no positions in any stocks mentioned, and no plans to initiate any positions within the next 72 hours.
I wrote this article myself, and it expresses my own opinions. I am not receiving compensation for it (other than from Seeking Alpha). I have no business relationship with any company whose stock is mentioned in this article.