Johnson & Johnson (NYSE:JNJ) is a stock that I've recently come around to liking. The stock's long consolidation has turned me (cautiously) bullish and certainly I'm not alone. But what has made JNJ truly great over the years is that, despite any sort of fundamental or operational challenges it has faced, it has always been quite extraordinary in terms of capital returns. The dividend is obviously a huge draw for investors not only for its current yield but its growth over time as well. To that end, how well financed is JNJ's dividend and by extension how much room is there for further growth?
I'll be using data from Morningstar for this exercise.
We'll begin by having a look at JNJ's payout over time to see where the dividend has come from.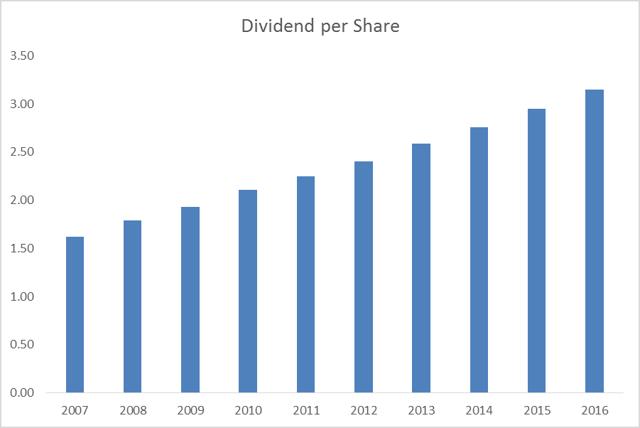 This is about as steady as it gets in terms of dividend growth and surely JNJ shareholders must be pleased. The payout is right at double what it was a decade ago as JNJ has done a very nice job of giving shareholders a raise each year.
Seen another way, this chart gives us an idea of the magnitude of each increase JNJ has provided over this time frame.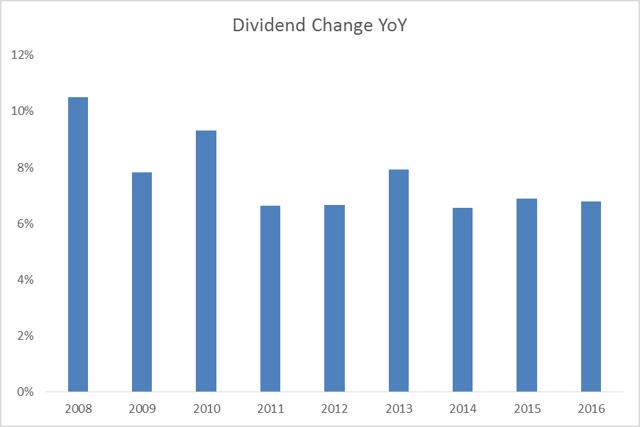 The raises have been reasonably steady over time with a 7% raise coming in as the baseline of sorts. Some are larger than that but on the whole, JNJ's average increase is almost 8% in the past 10 years. That's the sort of thing dividend investors dream about and it is no wonder this stock is so popular among those seeking income. The current yield of 2.6% isn't in the top tier of dividend stocks today but given the prospect for continued growth investors certainly are betting on higher yields later on today's cost basis.
Now that we've seen what JNJ has done, how has it been able to pay for all of this? Like any other company, JNJ has to finance its dividend payments with cash. Any company that pays a dividend must find a recurring source of cash to fund the dividend over time and the only truly recurring source of cash for any company is FCF. Companies can divest assets, borrow or use available cash over the short term. But when assessing safety and growth, nothing matters more than FCF. To that end, here's a look at JNJ's FCF against the cost of the dividend for the past decade, and at first glance it is quite rosy indeed.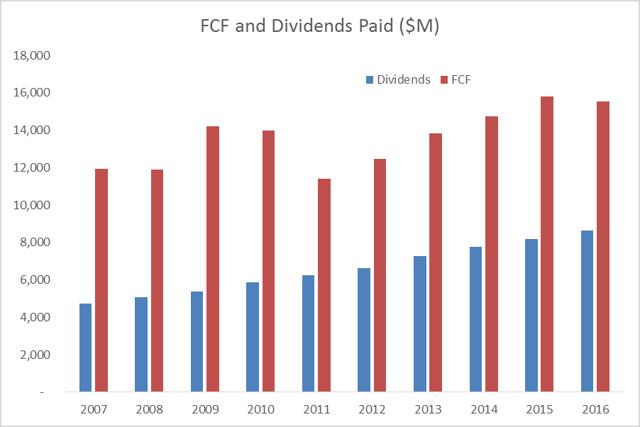 This really is something to behold as JNJ has managed to produce higher FCF over the years to help offset the increased cost of the dividend. We see its dividend expenditure moving up commensurate with the increases we already know have occurred and while FCF hasn't grown quite as quickly, the gap between the two is such that JNJ needn't worry about how to finance the dividend for many, many years to come. I'll admit that JNJ's relatively flat FCF over the past several years - last year was just $1.3B higher than 2009 - means that JNJ may eventually see its dividend catch up to FCF. However, as I said, that is a very long way away and assumes JNJ will never grow its FCF again.
Seen another way, this chart gives us an idea of how much of the company's FCF is actually being used by the dividend.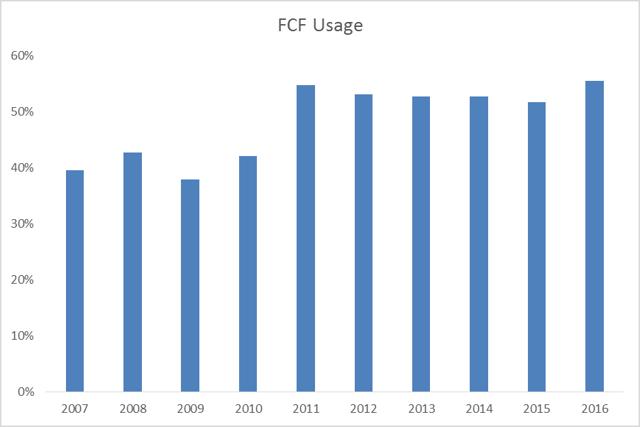 Ten years ago, JNJ was using just 40% or so of its FCF to pay the dividend. Over time, as the dividend has outgrown FCF, that number has moved up fairly significantly and now sits at 55%. That's much higher than it was but don't be alarmed - I don't start to get nervous for a company's ability to grow the dividend until 80% or 85%, depending upon other factors that are company specific. That leaves JNJ with ~30% of its FCF left to use on dividend growth in the future, and to see what that means let's run a quick exercise.
Last year's FCF of $15.5B means that at 80% usage, JNJ would have $12.4B available to pay dividends. Last year, it only spent $8.6B and this year, it should be right at $9B or so. That means on 2017's projected cost (my estimate), JNJ has another $3.4B or 38% it can use on the dividend. That equates on a per-share basis to roughly $4.40 and regardless of whether or not you like my estimates, the point is that JNJ still has loads of room to continue to bump its payout even if it never improves FCF ever again. If you're a dividend growth investor, that's a very good place to be. In other words, JNJ has several years to improve FCF before it will be necessary for dividend growth to continue. There are many mega caps that don't have anything close to that safety net and when assessing dividend stocks, this should be paramount.
That said, JNJ's business isn't without its challenges. There are some growth issues and currency translation continues to plague JNJ and indeed all multinationals. But the Actelion purchase should help JNJ over the long term and apart from that this is not a company I'd bet against over the long term. The valuation is reasonable here (but not cheap) and its dividend growth is really quite extraordinary. JNJ is poised to continue to raise the dividend in huge chunks for many years to come and if you want income you can do much worse.
Disclosure: I/we have no positions in any stocks mentioned, and no plans to initiate any positions within the next 72 hours.
I wrote this article myself, and it expresses my own opinions. I am not receiving compensation for it (other than from Seeking Alpha). I have no business relationship with any company whose stock is mentioned in this article.