After what's been a disastrous fiscal 2017, we're at the point where the only way Ruby Tuesday (NYSE:RT) is going to drive any value for shareholders is through some sort of monetization of its real estate. An announcement last month that the company was considering strategies along those lines - plus the disclosure of a pair of activist stakes - has pushed the stock higher: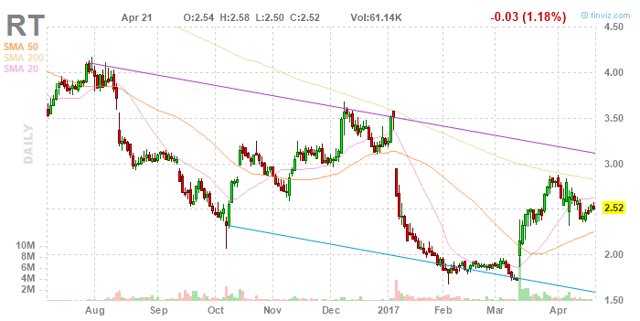 Source: finviz.com
But the optimism still strikes me as misplaced. Ruby Tuesday's business is nearing the point where it's unprofitable on a four-wall basis. The first wave of store closures doesn't support much upside on a liquidation basis, either, once severance and other cash costs are included. There might be a narrow path where a much smaller footprint - including franchise royalties - and some level of real estate monetization combine to drive shares modestly higher. But that path depends on a board that has been clueless and a management team whose existing members have performed poorly and whose new CEO appears to have a poor recent track record.
In theory, Ruby Tuesday's real estate supports the current price. But that's been the case for several years now. And in practice, the math doesn't work nearly as well. With the actual business now contributing little in the way of shareholder value - in fact, it's probably value-destructive at this point - there's not enough in the real estate to support the bull case for RT, even at $2.50.
The Business
I've discussed the RT business ad nauseum in previous articles - and at this point I'm not sure anyone really cares. But the fiscal Q3 (ending February 28) report showed a business in further decline - and the Q3 conference call showed a management team that still has no real plan to fix it.
There was good news, if you want to call it that, in the sense that restaurant-level margins weren't as bad as they were in Q2. In Q2, restaurant-level margin dropped a stunning 430 bps to 11.5%; in Q3, the figure dropped just 130 bps, holding at 15.8%. But comps declined 4%, and interim CEO Lane Cardwell's insistence that the company is "narrowing the performance gap" to peers in terms of same-restaurant sales and average check is belied by one simple chart: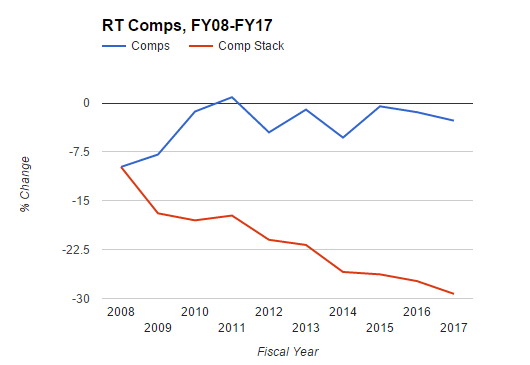 Source: author, from RT filings; FY17 figure generously assumes flat comps in Q4
Pretty much every year, Ruby Tuesday's comparisons get easier - and pretty much every year the company underperforms a casual dining industry that's hardly a bastion of growth as a whole.
There's no evidence that's going to change. The company has emphasized its Garden Bar and its 'fresh' rollout over the past few quarters, both under Cardwell and former CEO J.J. Buettgen. The updated Garden Bar was rolled out in January - and it hasn't made a dent yet. Here's what Cardwell said in his prepared remarks on the Q3 call:
It has been almost three months since our launch and we are receiving positive customer feedback and our marketing efforts are gaining traction.
Notice what's missing from the statement: any mention of better sales. In the Q&A, Cardwell admitted that the percentage of customers purchasing the Garden Bar hadn't changed, though there was "a little shift" toward the product as an add-on. "A little shift" isn't what Ruby Tuesday expected - nor is it enough to change the comp trajectory here.
Meanwhile, costs are rising, most notably with labor inflation of 3.9% in the quarter. The combined impact has been huge: year-to-date Adjusted EBITDA is down 78%. Restaurant-level margin has declined almost 27%. More importantly, it barely covers marketing expense and corporate G&A.
Even including a planned $10 million in cost-cutting and removing interest expense, Ruby Tuesday's business is burning cash. And there's essentially no reason to project a rebound. The new CEO, Jim Hyatt, left Church's Chicken late last year. That company is private, but a substantial number of management changes following Hyatt's departures seems to imply that business there was not particularly strong during Hyatt's three years there. Before that, Hyatt left Cosi just before that company declared bankruptcy. RT's marketing strategy under CMO David Skena has been an unfocused mess, and the company's CFO was part of the team that didn't buy back bonds last year and hasn't done so this year. Those bonds have a coupon of 7.625% and Ruby Tuesday can repurchase up to $20 million a year; believing that ROIC would be stronger anywhere else in this business (even with a call price of 101.9) is quite simply an error.
It's difficult at this point to assign any real value to Ruby Tuesday's operating business. And the declines so far in FY17 create a problem for the real estate-based bull case, as there's basically no potential at this point for Ruby Tuesday to execute a sale-leaseback. Assuming the company could generate $300 million in proceeds (more on that in a moment) at a generous 6% cap rate, lease expense would be $18 million a year. Adjusted EBITDA pro forma for cost cuts is on pace to be ~$25 million this year. No real estate owner is going to allow a transaction with such a narrow fixed-charge coverage - particularly since RT will have basically no spread to invest in its facilities, an effort that has created some modest comp improvement of late.
The weakness in the business isn't just a theoretical problem. It means that without a rebound - which means positive comps and operating leverage, to neither of which Ruby Tuesday is anywhere close - the bull case for RT in practice is based on either a liquidation or a massive reduction in the company's footprint. Activists or not, boards and management teams very rarely take those actions until it's too late. And in the case of RT, whose board has been asleep at that wheel, and who paid Cardwell a couple of million dollars to say "Garden Bar" 150 times and talk up the textured background of the new menu, expecting a flexible, aggressive strategy is optimistic to the point of delusion.
The Real Estate
The problem is that the liquidation case doesn't really look that strong at this point. Per the Q3 call, Ruby Tuesday owns 269 of its restaurants. Past appraisals and a few one-off sales generally showed a value of ~$2 million or so per property. But 28 closed properties are under contract for $40.4 million - or about $1.44 million each.
CFO Sue Briley said on the call that "I don't know that we can extrapolate from the 27 or 28 [properties] beyond that through the portfolio," in terms of valuation. And it's likely that the first cohort as a whole is comprised of weaker locations - if only because they're being closed first.
At $1.5 million a property, the math gets rather tough. An incremental fully-owned 241 properties (after the first 28) would add $361.5 million in value, for total proceeds of $401.9 million. But RT also has 303 leased properties remaining (in addition to 33 more closed properties whose leases haven't settled). At $250K in costs each - in line with the first cohort - that implies $75.8 million in lease termination costs.
Net, that's about $326.1 million in value. With net debt of $181.2 million, the equity in this scenario is worth $145 million - or $2.40 per share. And it doesn't even include closing costs of owned and leased properties, such as severance, which were guided to $100K+ per store. In a full liquidation scenario, that's $60 million-plus in costs as well.
In other words, RT's properties need to be worth $1.8-2 million to support the current value - if the liquidation happens today. Cash burn from the existing business - or increased wear and tear from capex cuts - isn't included here. Executive severance isn't, either.
Maybe a $2 million figure is possible - again, past appraisals and sales were around those numbers, and it's likely that Briley is correct in saying that the 28 recent sales aren't representative of the base as a whole. But the casual dining space as a whole certainly seems overstored, and the value of the properties to non-restaurant acquirers should be lower given the cost of retrofitting. Given the performance of casual dining stocks in RT's range, the idea that prices would have gone down over the past few years makes some sense.
The broader point is that even getting RT to $3 looks tough. That would require an enterprise value of $362 million. At $2 million each for the 241 owned buildings, less $60 million in closing costs and $75 million in lease termination fees, enterprise value would be $387 million. $25 million in executive severance and operating cash burn hardly seems outrageous. And this is a relatively smooth scenario in which the board acts quickly and decisively and the per-location value of the restaurants is above recent levels.
That's not nearly enough upside - less than 20% from current levels - to take on management and business risk here. If anything, the numbers suggest a short, which is basically a bet that something will go wrong. I'm not sure I'm interested in taking on trading risk, or the risk that it only takes one buyer to spike the stock. But it seems far more likely that the RT board will "give it a bit more time" or make some halfway attempt to monetize a few restaurants while insisting that focusing on the Garden Bar and stronger locations will - this time - allow the business to rebound.
The bull case here is just too tough. Expecting the board to sell dozens or hundreds of restaurants - even with activist pressure - ignores just how rare that type of move is. Cash costs from closing, severance, and legal and sales fees will add up. The business is a tire fire. And the upside here looks like a multi-quarter process (at least) that generates maybe a low double-digit annual return close to a best-case scenario. It's just not a bet worth taking, even if the numbers might work on paper.
Disclosure: I/we have no positions in any stocks mentioned, and no plans to initiate any positions within the next 72 hours.
I wrote this article myself, and it expresses my own opinions. I am not receiving compensation for it (other than from Seeking Alpha). I have no business relationship with any company whose stock is mentioned in this article.