Before I delve into the events of the week I must say that the Afrezza script numbers for the week ending April 14th were actually better than I thought they would be. The caveat to that statement is that scripts are still well below where they need to be. MannKind (NASDAQ:MNKD) has had a tough week, and that is reflected in the share price dipping below $1 per share. Earlier this week I had stated that I felt MannKind stock was in danger of dipping below $1 by April 28th. It happened much more quickly.
The most recent Afrezza sales data has weekly scripts at just over 280. The low script number has been a problem for many months, and the lack of improvement or ability to gain traction has brought a predictable reaction in the stock price. With sales so stagnant, a new excuse mantra has emerged. That mantra is, "It is not about the number of scripts, but the number of cartridges". Passionate longs on the stock are not as receptive as they once were. My thought is that it is not about scripts or cartridges, but about REVENUE! More cartridges means more expensive. More expensive when insurance is not offering great coverage is a big problem. How much does it cost to treat a patient with Afrezza vs. the more mainstream diabetes solutions is the big question. Once you answer that, the next question is whether patients are willing to pay that premium.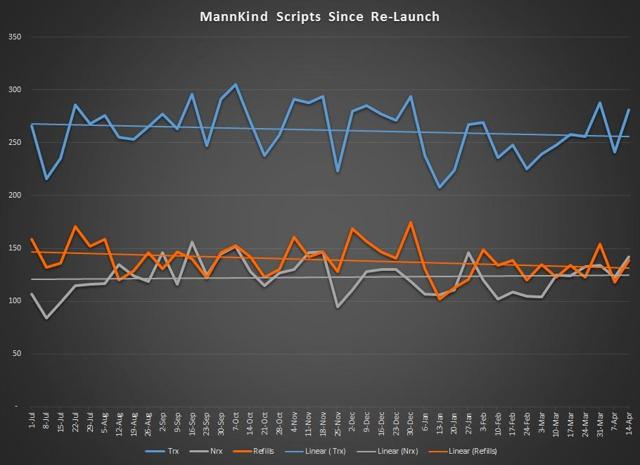 Chart Source - Spencer Osborne
From a quarter over quarter perspective Afrezza sales are actually starting off in positive territory. That should be easy when you consider that Q1 of 2017 was the worst full sales quarter for script counts since the launch of the product more than two years ago. With the most recent data, Afrezza script counts are 17.04% better than what was delivered in Q1. The difference in aggregate total is that there have been 76 more scripts sold in the first two weeks of Q2 than were sold in the first two weeks of Q1.
Chart Source - Spencer Osborne
On a year over year basis the comparison is still negative. Sales in Q2 of 2017 are pacing 24% behind what was delivered in Q2 of 2016. As I have stated, I expect to see improvement in this metric because we are comparing an active MannKind sales force this year to a Sanofi (NYSE:SNY) sales force last year that was phasing out of Afrezza. The sales this week were high enough to avoid dipping below the sales levels accomplished 2 years ago.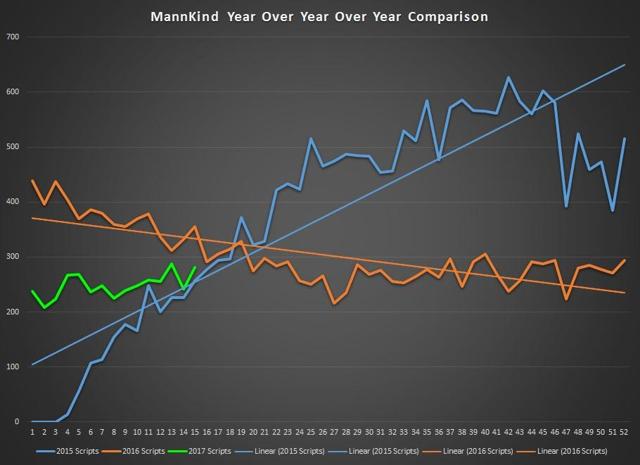 Chart Source - Spencer Osborne
The cash situation at MannKind remains desperate. The chart below assesses estimated cash as of April 14, 2017. Next week's cash burn will be over $6 million because MannKind renegotiated some debt earlier in the week. That negotiation traded about three weeks worth of cash for about 6 million shares of stock. Even though the dilution was only a bit over 5%, the prospects of losing 5% of the company for a few additional weeks is not very promising. As of April 14th I estimate that MannKind has $37.6 million in cash. I estimate that the company will run out of cash by mid July of this year. A credit line of $30.1 million will buy more time, but not very much.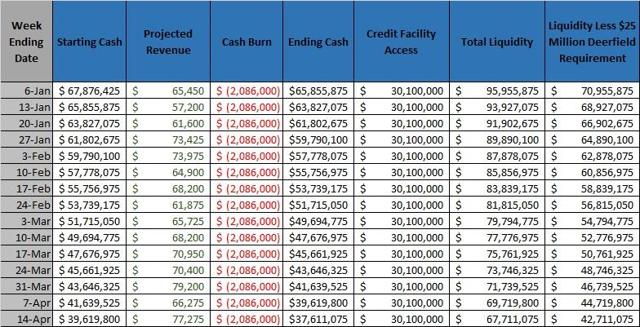 Chart Source - Spencer Osborne
Afrezza sales are tracking just below my modest projections that I felt were realistic when I developed them. My projections are what I feel is realistic. What is needed to stabilize this equity are sales that are at least 10 times higher. Reaching cash flow break even requires script sales 25 times higher than we are currently seeing.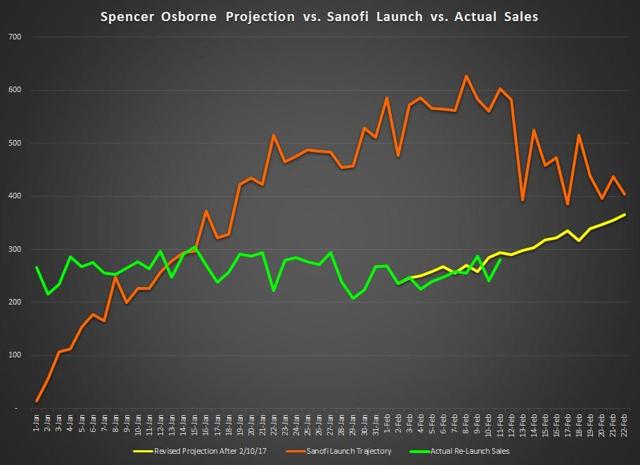 Chart Source - Spencer Osborne
As I write this, MannKind stock is trading at $0.93 per share. Trading below $1 per share takes the company out of NASDAQ compliance. Followers of this stock know that the company did a 1-for-5 reverse split 6 weeks ago to re-gain NASDAQ compliance. That reverse split took the stock to $2.50 per share. In a matter of weeks the stock is already out of compliance again. This stock has lost 63% of its value in the last 6 weeks. At current prices the market cap of MannKind is now below $100 million.
The pressure on MannKind is mounting. This week was a prime example of the lack of leverage that MannKind has. The company needs sales to make money, but needs money to try to boost sales. Compounding the drama is a new clock regarding NASDAQ compliance. If MannKind stock closes below $1 per share for 30 days, a de-listing notice will be sent out. With the Annual Shareholders Meeting just weeks away, there is not a lot of time to waste. MannKind is in a desperate situation and needs a desperate act as soon as possible.
With these latest developments I am actually seeing a shift in the staunch perma-bulls of this stock. A month ago their attitude was that they were down 90%, and they might as well let it ride and hope for the best. Today, with the stock below $1 they are coming to the realization that preserving anything from their investment may be better than letting it ride. There is a lot of opportunity in the markets. I would fault no one for finding a new horse to bet on while the MannKind story shakes itself out. Stay Tuned!
Disclosure: I/we have no positions in any stocks mentioned, and no plans to initiate any positions within the next 72 hours.
I wrote this article myself, and it expresses my own opinions. I am not receiving compensation for it (other than from Seeking Alpha). I have no business relationship with any company whose stock is mentioned in this article.
Editor's Note: This article covers one or more stocks trading at less than $1 per share and/or with less than a $100 million market cap. Please be aware of the risks associated with these stocks.