Kinder Morgan (NYSE:KMI), the Houston, Texas-based pipeline operator, has recently reported quarterly results that have disappointed investors, and rightly so.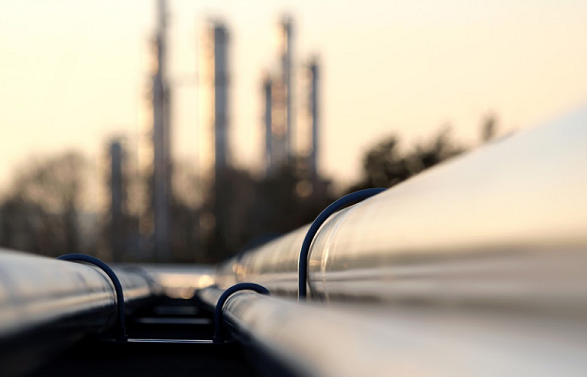 Kinder Morgan posted increases in revenues, earnings from major segments and net income for the first three months of 2017 as compared to the corresponding period last year. The company's total revenues climbed 7.2% to $3.42 billion while net income surged 45.3% to $401 million. Its key natural gas pipelines, terminals, and products pipeline segments saw earnings before depreciation and amortization (EBDA) climb 6%, 18%, and 62%, respectively, from the same quarter last year. Total EBDA from all segments climbed 15% to $1.92 billion. However, the gains were largely driven by one-time items. Adjusting for those, Kinder Morgan posted a drop in earnings.
After excluding the impact of one-time charges, Kinder Morgan's natural gas pipeline segment's EBDA fell 10% from last year, terminal earnings rose 9% while product pipelines earnings were flat. The company's total segment EBDA, as adjusted, dropped 5% from a year earlier to $1.87 billion. The company's adjusted net profit fell 7.7% from last year to $371 million, or $0.166 per share. That missed analysts' consensus estimate of a profit of $0.178 per share, as per data compiled by Bloomberg. The distributable cash flow metric, which underpins dividends and is closely monitored by investors and rating agencies, also fell slightly from $1.23 billion, or $0.55 per share, last year to $1.21 billion, or $0.54 per share.
The decline in earnings and DCF, however, wasn't surprising since it is in line with Kinder Morgan's guidance. Last year, the company said that its 2017 EBITDA would clock in at $7.2 billion while DCF will be $4.46 billion. Since then, it has maintained that guidance. This means that the company has been eyeing a drop from EBITDA of $7.25 billion and DCF of $4.51 billion seen in 2016. The decline will be driven in large part by asset sales and weak energy prices.
But what was disappointing, however, was that firstly Kinder Morgan's profit margins also came under pressure, even though the company has been keeping a lid on costs and capital expenditure and is only investing in high-return projects. For the first quarter of 2017, KMI reported adjusted EBITDA margin of 53.2%, down from 58.9% a year earlier. Adjusted net profit margin also fell to 10.8% from 12.6% a year earlier.
Secondly, I was also expecting a major update related to Trans Mountain Pipeline expansion work (such as the announcement of a JV partner), particularly after the company managed to secure a partner for the $1.3 billion Elba Liquefaction Project earlier this year. But instead, the company just said that it has made some "good progress" on Trans Mountain.
With $5.56 billion of capital requirements, Trans Mountain is one of the largest projects Kinder Morgan has ever undertaken. The existing 715-mile Trans Mountain pipeline, which stretches from Alberta to British Columbia, was originally built in 1953 and has a nominal capacity of 300,000 barrels per day. Kinder Morgan wants to increase this capacity to 890,000 barrels per day. The company has been actively looking for a partner and considering other financing options to help fund this mega project. This will not only play a major role in fueling Kinder Morgan's growth in the long run, but also allow it to achieve or exceed some of its key 2017 balance sheet targets.
There were, however, two bright spots. First, Kinder Morgan continues to generate strong levels of cash flows. This allows it to self fund its dividends and $3.2 billion of growth projects and reduces the company's reliance on the equity market. In the first three months of 2017, the company said that it had $935 million of excess distributable cash flow above the dividend, which was $0.125 per share. The dividend translates into a payout ratio (adjusted earnings) of 74% and coverage ratio (NYSE:DCF) of 23%, which indicates that the dividend was well covered.
Second, Kinder Morgan has managed to slightly improve its financial health, and it looks like the company can easily achieve the 5.4-times net-debt-EBITDA target for this year. In the first quarter of 2017, the net debt fell slightly to $37.8 billion from $38.2 billion a year earlier. This translated into a net-debt-to-EBITDA ratio of 5.3 times.
Kinder Morgan's future outlook is looking positive, though the company needs to do a better job on the execution front, for instance by finalizing a financing option for Trans Mountain expansion. The company is working on a number of projects representing a total backlog of $11.7 billion, including 100% of Trans Mountain costs. These projects, which will come online from the current and subsequent years, will play a crucial role in fueling DCF and earnings growth. That also will help the company in hitting its long-term leverage target of five times. That would lay the foundation for dividend growth.
Also, as the projects come online, Kinder Morgan's capital commitments would fall. The capital expenditure will likely come down in 2018, which will make it easier for the company to grow dividends.
I believe Kinder Morgan will make a meaningful increase in dividends in 2018. The company has been saying that it will provide dividend guidance for 2018 later this year.
Note from author: Thank you for reading. If you like this article, then please follow me by clicking the "Follow" link at the top of this page.
Disclosure: I/we have no positions in any stocks mentioned, and no plans to initiate any positions within the next 72 hours.
I wrote this article myself, and it expresses my own opinions. I am not receiving compensation for it (other than from Seeking Alpha). I have no business relationship with any company whose stock is mentioned in this article.