Despite the weak March NFP number, labor markets are coming to a boil. A look into the KC Fed's Labor Market Conditions Index reveals an expanding labor force, record job openings, accelerating hiring, declining unemployment and high levels of labor market confidence. The latest read shows activity trending at 10-year highs with momentum at an all-time high, no reason to expect deterioration here. You can read more about this in my article, The Jobs Report Isn't Telling The Whole Story.
source; KC Fed LMCI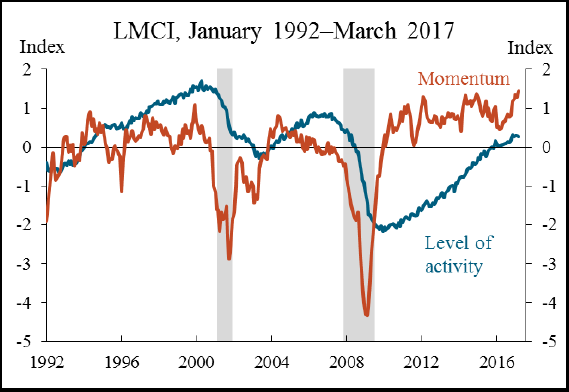 While good for the economy, the full effects of improving labor conditions have yet to be felt. Consumer spending, while positive, has yet to really take off, and economic growth remains anemic. This does not mean there are no opportunities. One sector that has been supported by labor trends, and will continue to be so, is labor market services; or businesses that aid employers and employees.
When looking for the best place to invest, I look at a couple of factors. The first and foremost is the fundamental outlook which, in this case, is quite bullish. After that, I stick with well-established businesses with a track record of successful operations. To narrow the field I then look to valuation, distribution/yield, growth and price. And lastly, I look for those that are in a dividend-hiking cycle, or that have recently hiked their distributions.
In this case, the sector can be divided into sub-sectors which may affect final decision making. Trends within the sector are positive and include multi-year runs of better-than-expected earnings, market-beating organic growth and dividend increases. Another trend is consolidation and growth through acquisition, which makes mergers and buyouts within the group above average in probability.
Cintas (NASDAQ:CTAS) is by far the cream of the crop. This company operates uniform rental services on a route-based model, delivering ancillary services including safety, first-aid and fire equipment along the way. The company has been delivering high single digit organic growth on a quarter to quarter basis for nearly 8 years, and double-digit growth through acquisitions. The distribution is paid annually at a rate near 1% and has steadily increased each year. It is fairly valued at 26X forward earnings, in line with the field, but comes at a hefty price which may preclude it from the average investor's portfolio.
Aramark (NYSE:ARMK) is not exactly a pure-play on the labor markets, operating employment and facility services, but nonetheless a fit for this discussion. It offers a wide range of services tailored to employers and employees and, therefore, tied to labor market trends. The bad news is that the company has seen only tepid growth, about 1%, which puts it low in the rankings. Further, with a P/E multiple of nearly 28.5X forward earnings, it is not the cheapest stock in the bunch. The dividend is okay, 1.15% at current share prices, and has been steady over the past 2 years.
Superior Uniform Group (NASDAQ:SGC) is a small-cap issue and possible take-over target for one of the larger operators. It manufactures and sells uniforms, ID'd and branded apparel across a wide range of industries. The company has been in operation for nearly 20 years and been a steady dividend payer the entire time. At current share prices, near $18.50, distribution yields close to 2%. In terms of value, it is one of the more reasonably priced stocks, trading at a forward P/E multiple near 19.5.
UniFirst (NYSE:UNF) is another integrated services company providing rental uniforms and other safety gear for businesses and employees. The company pays the worst dividend of the lot, about 0.10% at today's prices, which takes it right off my list. Add to that anemic 2% growth compared to an average 6% for the top 4 choices and there is little reason for me to dig any deeper.
ADP (NASDAQ:ADP), Automatic Data Processing, is not just the provider of monthly labor statistics. The company also provides human resources, payroll and other back-office functions for businesses of all sizes. The stock is highly valued at just over 28X earnings but worth it in terms of growth and yield. The company has been pacing other industry leaders at 6% with a yield above average for the group. At current prices, distribution pays roughly 2.25% which makes it of increasing interest to me.
Paychex (NASDAQ:PAYX) is another back-office/human resources provider with above average yield. The company has been producing slightly below industry average growth, 5.7%, but that is mitigated by distribution. At today's prices yield is near 3.2% and steady over the past 2 years. The company is not in what I would call a dividend-hiking cycle, but it has been able to increase distribution twice in the past 18 months. Valuation isn't too bad, 27X forward earnings, so still a contender.
Hard Decisions
The easy decision is which stocks to weed out of the group and for me, those are Aramark and UniFirst. There is nothing wrong with them other than growth and low yield, they may be right for someone else. The other four, well, the other four are all good choices for more than one reason.
Cintas is my top pick and the core of my Labor Market Portfolio. It is the largest, fastest growing and most stable of the group. It has a solid balance sheet, healthy dividend coverage, and is in a long-term cycle of dividend increases. The downside is that it costs a lot. At $122 it takes more than $12,000 to open a position of 100 shares, a necessity for those wishing to utilize options strategies.
My next pick is Superior Uniform Group, although this position leans toward the speculative. The company is undervalued compared to the group, possibly due to its small stature, which leaves it open for multiple expansion, acquisition or both. Regardless, the yield and growth rate are both superior to most of the stocks in the group.
The final two, ADP and Paychex, offer a blend of features that make them attractive as well, not limited to the fact they are more technology companies than anything else, especially when compared to Cintas or Superior Uniform Group. Both are supported by existing and expected labor market trends, producing organic growth in the range of 6%. Both are also fairly valued when compared to the rest of the group, and provide a higher than average dividend with relative dividend safety. However, Paychex edges ADP out of the top spot due to a higher yield, a full percent more than ADP, and share prices. At $58 compared to $102, it is a better choice for those without unlimited capital.
My Final Thoughts
The sector is a long-term and proven cycle of growth, driven and supported by labor trends. Most stocks in the group are fine for new investment but, based on my factors, one stands out ahead of the rest and that is Paychex. The company is growing at a market beating rate, provides a better than average dividend and share prices are valued in a range that make them more accessible for the average investor looking for exposure to the labor market with the addition of dividends and the possibility of option income. To seal the deal, Paychex is underperforming the broad market by 5% and the group by nearly 15%, making it an obvious choice for value investors as well.
Source: OptionsXpress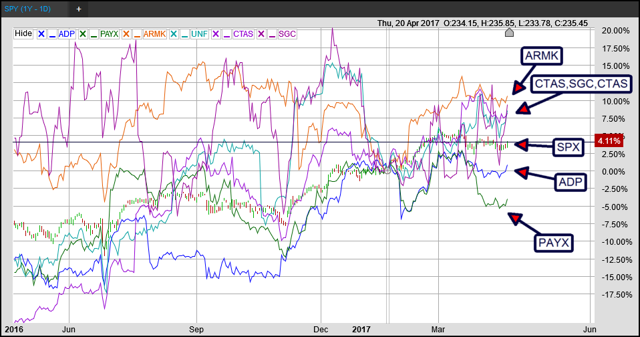 Disclosure: I am/we are long CTAS, PAYX.
I wrote this article myself, and it expresses my own opinions. I am not receiving compensation for it (other than from Seeking Alpha). I have no business relationship with any company whose stock is mentioned in this article.