IBM (NYSE:IBM) declared its first quarter 2017 results few days ago, after which the company's shares witnessed unexpected sell-off. According to Toni Sacconaghi of Bernstein, "IBM's results were just not good." IBM delivered over $18 billion in revenue and operating EPS of $2.38, which is up YoY. I don't believe the result is bad actually. Granted, YoY revenue declined for the 20th consecutive quarter, but long-term investors and the analyst community should remember that IBM's business model is futuristic. It is actually an artificial intelligence (AI) company.
I strongly believe the sell-off is nothing more than a routine correction, which offers an excellent opportunity to buy the stock at a cheaper price. Post Watson, IBM's next growth driver will be its initiative in autonomous vehicles. Big Blue's approach for autonomous vehicles is very different and versatile compared to that of today's leaders in the industry, such as Nvidia (NASDAQ:NVDA) and Intel (NASDAQ:INTC). Its recent announcement of winning an artificial intelligence patent for autonomous vehicles has huge potential to make it the leader in the industry. Despite that, investors and analysts don't consider IBM a significant player in the autonomous vehicles industry. In this article I will analyze how the patent could change the whole story of autonomous vehicles in IBM's favor.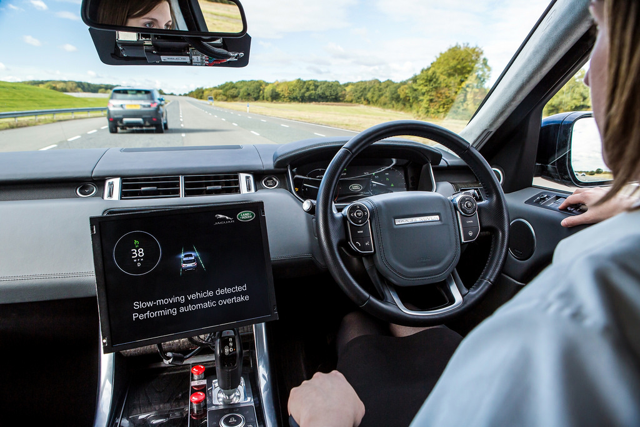 IBM: The Patent Is A Significant Milestone
Winning the patent is an encouraging development from investors' point of view since it can help IBM begin earning revenues sooner than earlier expected by industry observers. Fully autonomous vehicles won't arrive on the roads before a decade or so. However, semi-autonomous vehicles will be a reality within 2020.
While Alphabet-owned (NASDAQ:GOOGL)(NASDAQ:GOOG) Waymo and Uber (UBER) are getting involved in complicated courtroom battles, a Chinese-backed auto company has unveiled its electric vehicle with level 4 autonomy, called NIO EVE, which the company expects to launch in the US market by 2020.
So what is a vehicle with level 4 autonomy? According to US department of transportation's National Highway Traffic Safety Administration (NHTSA), vehicles with level 4 autonomy will be able to perform almost all safety-critical driving functions alongside monitoring conditions of the road. However, such vehicles won't be able to replace a human driver entirely, which means humans will still be needed.
This is where IBM's patent comes into play, which revolves around an AI-driven technology. The technology would be able to determine when human intervention is needed and when not for a semi-autonomous vehicle, like the upcoming NIO EVE.
The technology will continuously monitor the physiological aspects of the human driver, as well as the technical aspects of the self-driving system of a semi-autonomous vehicle. Numerous onboard sensors will be needed backed by compatible software to make this technology work, which will boost IBM's revenue from autonomous vehicles considerably (more about this later). The ultimate aim of the technology is accident prevention.
Why The Patent Will Help IBM Earn Revenues Sooner?
Although Intel and Nvidia are developing technologies for autonomous vehicles alongside Waymo, their technologies aren't focusing on the interaction between humans and machines in the first place. Instead, they are more interested in developing fully autonomous vehicles, i.e., vehicles with level 5 autonomy, albeit step by step.
The point that investors should note is that in this step by step gradual process, the top priority or the ultimate goal of the companies mentioned above is making vehicles with level 5 autonomy. The intermediate levels, such as the upcoming level 4, are only a part of the research to reach the ultimate goal. However, the real story is that making vehicles with level 5 autonomy is a far cry from reality even in the next 10 years. To learn more about this, click here and here.
Although the hype with vehicle autonomy has its root in reduced car crashes, the fact is the proportion of crashes as a result of human error compared to the total number of cars plying on the roads across the world at a given point of time is negligible. In this backdrop, if we view the semi-autonomous Tesla (NASDAQ:TSLA) Model S accident that happened last year in central Florida, we should come to the conclusion that semi-autonomous vehicles will be involved in more accidents on the roads compared to vehicles driven fully by humans.
The fact that NHTSA's investigators didn't find any error in Tesla's semi-autonomous technology doesn't make the occurrence of the accident less significant in the context of arrival of vehicles with level 4 autonomy. The accident was actually a result of the driver's undisputed reliance on the car's autopilot technology. It seems to me that for driving semi-autonomous cars, human drivers first need learn how to interact with the technology of a particular car. I believe this would be tougher than driving manually-operated cars. The issue of standardization will be the next big thing that needs to be addressed. With multiple car- and chip-makers coming with multiple technologies, adapting to a completely new driving environment wouldn't be a child's play for a human driver.
A research conducted by the Virginia Tech Transportation Institute and commissioned by Alphabet revealed that autonomous cars involve in fewer crashes compared to cars driven by humans. At the same time the researchers also conceded that, "the comparison is, as the old saying goes, apples to oranges," due to lack of availability of crash data for human-driven cars. As an investor, I doubt the credibility of studies with contradictory conclusions. Instead, a 2015 research seems more convincing to me, which claims the following:
Most crashes involve human error. If greater autonomous operation reduces or eliminates these errors, then benefits for road safety may be substantial. However, most driving involves no crashes. The real safety test for autonomous cars will be how well they can replicate the crash-free performance of human drivers.
IBM's patent will be addressing this issue, i.e., replicating the crash-free performance of human drivers (with the help of human drivers). The AI-company has been granted US Patent #9,566,986, aimed at controlling driving modes between the self-driving system of a semi-autonomous vehicle and its human driver. James Kozloski, the co-inventor on the patent at IBM, said:
Self-driving vehicles hold great promise and potential, but protecting the safety of passengers and other drivers remains a top priority for vehicle developers and manufacturers. We are focused on finding new ways to leverage our understanding of the human brain and inventing systems that can help those enterprises improve the safety of autonomous vehicles on the road.
Another patent IBM won earlier, the US Patent #9,361,409, was for helping semi-autonomous vehicles better interact with human drivers. Clearly, IBM's aim is generating revenues from semi-autonomous vehicles, while the stalwarts in the auto and chip industry are busy in making fully autonomous vehicles.
And since such vehicles aren't becoming a reality anytime soon, IBM's technology will have reasonable demand in the semi-autonomous vehicle marketplace in the foreseeable future. Further, since IBM's success with Watson has already made the company the leading player in the field of AI, its AI technology for the auto industry will see smooth adoption.
IBM's Competitive Advantage: Its Different Approach
The proliferation of semi-autonomous level 4 vehicles across the roads of US is only a matter of time. Such vehicles will rule the auto industry for at least next 10 years. Such vehicles will need the help of AI for their ADAS (advanced driver assistance systems) platforms. IBM's leadership in AI will make it the leader in the autonomous vehicles industry. The question is how, given that Nvidia's GPU-driven ADAS technology and Intel's recent purchase of Israeli auto-chipmaker Mobileye (NYSE:MBLY) have made them quite capable of incorporating AI into their ADAS platforms? The answer is, as I said, IBM's different and versatile approach.
While Nvidia's and Intel's approaches for autonomous driving involve deploying various sensors in their ADAS platforms using devices including Lidar for 3D mapping (via light), Radar for motion measurement (via radio waves) and cameras for identifying objects (via texture interpretation), IBM's approach involves deploying cognitive capabilities to the vehicle's ADAS platform. IBM's primary objective is to make the vehicle's self-driving system almost a human-like entity, so that the human driver and the vehicle's self-driving system can interact like two humans. And as the old saying goes, "two heads are better than one," this will result in far less accidents on the roads.
For making such a system, I believe IBM won't take much time to convert the patents into real-life devices, because the company has already made significant progress in IoT (Internet of Things) powered by its cognitive computing platform Watson. To learn more, watch this video. How will IBM monetize its AI-driven autonomous vehicle technology? Well, the answer is simple… by selling sensors made by its partners like Texas Instruments (NYSE:TXN), as shown in the video, and obviously by generating revenues from software developers working on its Bluemix platform. Yes, software will be an integral part of IBM's autonomous vehicle platform, because it will be driven by AI. Click here if you want to learn how developers can exploit the Bluemix platform for making software applications for autonomous vehicles.
Final Words
Despite the fact that IBM's share price has rallied more than 50% from the bottom it made in early 2016 around $120, I believe it has significant upside left from the current price around $160. Its futuristic business model and quick revenue generating potential from the autonomous vehicles industry will undoubtedly lure investors to buy its shares not only at today's level, but also at higher levels simply because Wall Street hasn't yet fully understood IBM's potential in the autonomous vehicles industry.
Disclosure: I am/we are long IBM, INTC, NVDA.
I wrote this article myself, and it expresses my own opinions. I am not receiving compensation for it (other than from Seeking Alpha). I have no business relationship with any company whose stock is mentioned in this article.