If investors need the perfect case and point to capture the palpable fear in the retail mall industry stock space, just see the effect from today's bebe stores, Inc. (NASDAQ:BEBE) news and how it cast spell over the entire sector. The shorts are masterful when it comes to spreading, embellishing, and exploiting fear. Luckily you have me as well as others rational writers to continue to make the argument that the situation is much more nuanced.
Let's face it, read between the lines for the subtext. Bebe is more or less liquidating the company, outside of bankruptcy. However, I have no idea how investors are interpreting this news as a signpost or omen that as goes bebe stores, so goes the entire mall industry. Come on, that is utter nonsense, confirmation bias, and just plain silly. Bebe has been a dog with fleas for years. Its demise has absolutely no correlation to my outsized Macy's (NYSE:M) and GNC Holdings, Inc. (NYSE:GNC) investments.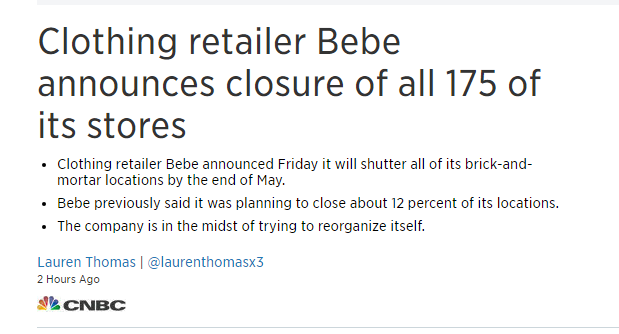 Prior to this news, bebe was on life support. In the Q4 2016 quarter, comps were down 10.5%.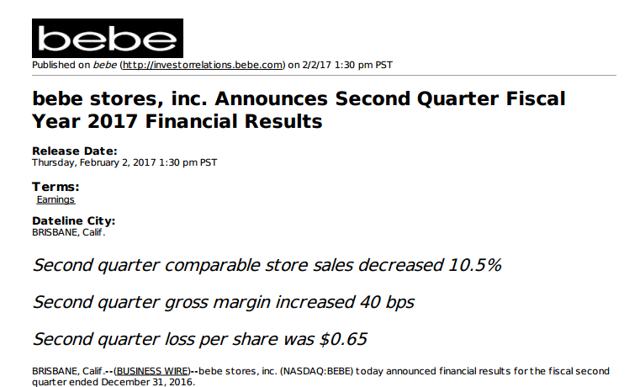 For broader perspective, bebe has been losing lots of money for years.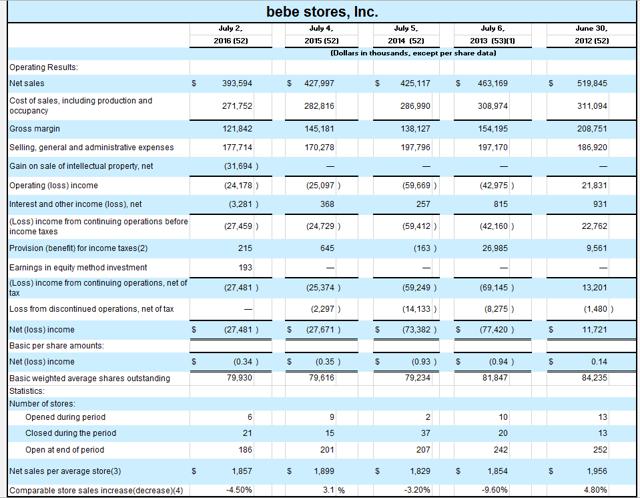 Source: Bebe FY16 10-K
Today's 8-K is a bit puzzling, suggesting that the early lease termination costs will only be $20 million.

If you look at Bebe's FY16 10-K, its rent expense was for FY16 was $29.8 million and then operating leases operating leases obligations was $186 million. Am I missing something here?

Source: Bebe FY16 10-K (pg. F-17)
Bebe's milkshake has been drunk by Sweden's H & M Hennes & Maurtiz AB's (HM-B) and Spain's Inditex SA (ITX).
If we convert Swedish Krona to U.S. dollar, H & M Hennes & Maurtiz AB's (HM-B) market capitalization is $34.9 billion.

The parent company of Zara has a market capitalization of 107 billion Euros.

In the U.S. there is so much retail apparel competition that it isn't even funny.

If you look at bebe's balance sheet, today, people appear to be speculating that this $4 stock (roughly a market capitalization of $32 million) is a good bet based solely on post liquidation proceeds being worth more than $32 million. Also, I am sure they will try to sell the naming rights to bebe.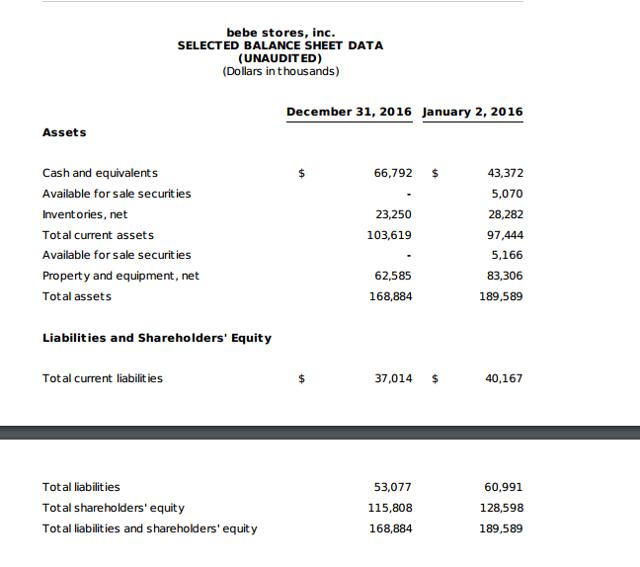 Takeaway
Look past the financial media noise of bebe stores' liquidation. Everyone knows that there is way too much capacity in apparel. Bebe's brand lost its cache, years ago, so it is giant leap to suggest that this news is a leading indicator for the likes of a Macy's or GNC, my two favorite Brick and Mortar investments at the moment.
Disclosure: I am/we are long GNC, M.
I wrote this article myself, and it expresses my own opinions. I am not receiving compensation for it (other than from Seeking Alpha). I have no business relationship with any company whose stock is mentioned in this article.
Editor's Note: This article covers one or more stocks trading at less than $1 per share and/or with less than a $100 million market cap. Please be aware of the risks associated with these stocks.