Why You Should Care
Small-cap bios will often provide for great short-term speculations. However, you'll only be able to capitalize if you are aware of the company's past, how the price action has unfolded, and what the company has ahead of itself. Furthermore, great speculations that can lead to terrific upside are rare, so one must commit themselves to learning about numerous biotechs that show promise.
For example, I followed Aurinia Pharmaceuticals (NASDAQ:AUPH) for a year and a half before I ever bought a single share, but the time that I spent getting to know the company was well spent. I was able to buy AUPH when it was trading for $2.38 a share, which was right before it experienced huge upside. In fact, the stock went on to return 42% in a matter of six market days. You can review my original article here. I was only able to capitalize, because I was very familiar with the company, how the equity traded over the past couple years, the current valuation relative to the market opportunity for its lead drug, and I knew of the upcoming catalysts. These factors let me know that probability favored appreciation and that I was presented with a great reward to risk ratio. Thus, it's really worth following small bios that do not currently fit into your investment strategy/trading parameters. Lastly, I want to monitor how the story of these small bios unfolds so that I'll be able to know when/if they become worthy of an investment.
Company Overview
Pieris Pharmaceuticals (NASDAQ:PIRS) is an early developmental-stage biopharmaceutical company, which is focused on advancing Anticalin-based drugs. The company has partnered with a lot of big names in the industry and is currently valued at $105 million.
Anticalin-based drugs are compelling because they provide a coveted specificity and affinity against a wide spectrum of targets; exhibit the safety of an endogenous protein; are durable and create greater flexibility of formulation and delivery; and they tightly bind to a target as a monovalent molecule, which overcomes the complications of multivalent binding approaches. Below is a graphic that explains the potential advantages of Anticalin-based drugs over other therapeutic protein drugs.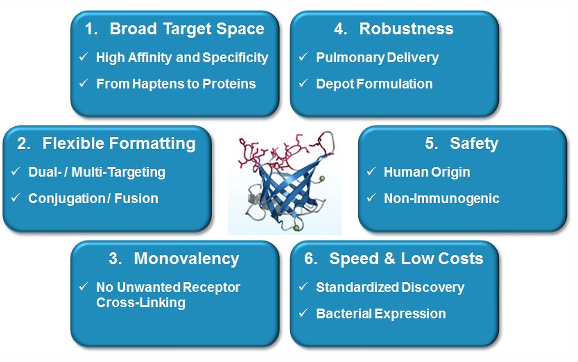 Pipeline
The company's pipeline can be broken down into three categories. Immuno-oncology, respiratory/anemia, and other. The company is in the early innings of development, so naturally it doesn't have a pipeline full of drug candidates that are in late-stage trials. For example, the company's immuno-oncology prospects are all in the discovery/pre-clinical stage. However, it does have two compounds that are in phase 1.
PRS-080: This candidate is designed to address anemia through an Anticalin against Hepcidin, which can restore iron utilization and erythropoiesis. Furthermore, the company owns the rights to PRS-080 in all major markets Ex-Japan. On February 27, 2017, Pieris entered into an option agreement for PRS-080 in Japan and other Asian countries with ASKA Pharmaceutical. The compound has successfully shown a favorable safety profile in healthy volunteers and is expected to complete a multi-dose trial in anemic patients with chronic kidney disease on hemodialysis in 2017.
DS-9001: Pieris has partnered with Daiichi Sankyo (OTCPK:DSKYF) to develop this candidate. The drug candidate targets PCSK9 and is being developed for dyslipidemia.
PRS-060: This program isn't in phase 1 yet, the drug is in IND-enabling studies, but I wanted to highlight it because the company anticipates the initiation of a phase 1 in the first half of 2017. The drug is intended to treat moderate to severe asthma through direct delivery of Anticalin proteins to the lungs.
I think the company's overall strategy is intelligent and it is another reason that the company interests me. The company has numerous partnerships and seeks to become a fully-integrated pharmaceutical company by retaining commercial rights to major markets in several of its programs. The recent collaboration with Servier, a privately-owned French pharmaceutical company, provides for an excellent example of its strategy. The company partnered with Servier, which did over 4 billion euros in revenue last year and has a footprint in 148 countries. Pieris gets to leverage the strengths of a large company that is developing a complementary platform.
Servier is committed to helping with developing the drugs, budget management, regulation, and the commercialization process. Furthermore, the deal makes a lot of financial sense. The company gets an upfront payment of approximately $31 million, possible milestone payments of up to $1.8 billion, and low-double-digit royalties on Servier's sales. Also, the company gets to retain full commercial rights in the US for three of the five drug compounds that have been agreed upon. The company gets paid up front, and has opportunities to make money throughout the developmental stage and during the commercialization stage. This sort of structure is terrific because the company can use the upfront cash/milestones to offset the cost of developing a robust pipeline, which allows it to take a lots of shots at all different targets/indications. Thus, the opportunity for large profits is still there, and it gets the advantage of a large company holding its hand throughout the process.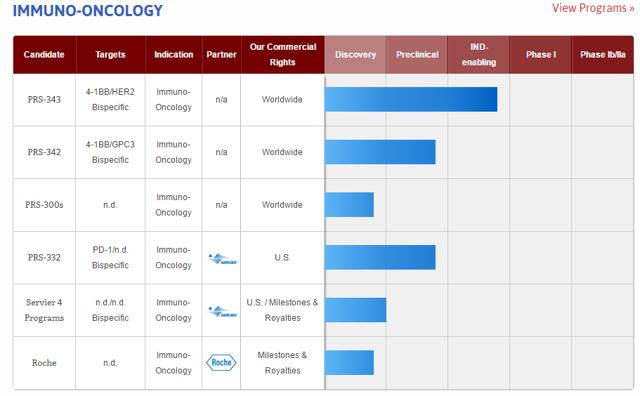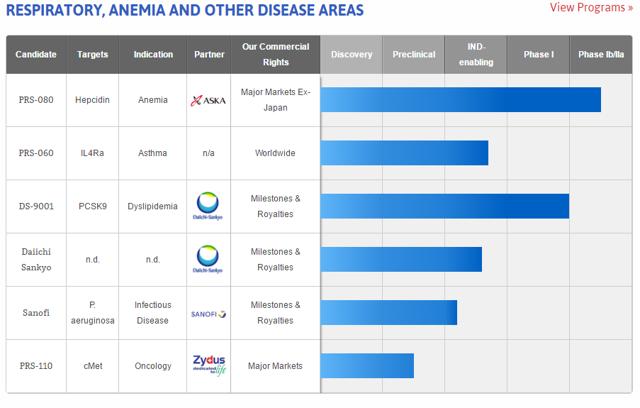 Financials
The company had revenues of $5.8 million for 2016, which compares to $2.9 million for 2015. The increase in revenue of $2.7 million is due to an upfront payment relating to the company's collaboration with Roche (OTCQX:RHHBY). The company spent $19.7 million on research and development in 2016, and general and administrative costs were $8.6 million. These costs will rise as the company advances more and more candidates into human trials and as its phase 1 candidates advance to later stages. Furthermore, it ended 2016 with cash and cash equivalents of $29.4 million. However, the company is in an even better financial position now because it locked down an upfront payment from Servier of approximately $31 million. Pieris had this to say about its current financial position:
"We ended the fourth quarter in a solid financial position and, considering the upfront payments we have received in the first quarter of 2017, we believe we can manage our financial runway into 2019, enabling us to reach several key value inflection points along the way."
Institutional/Insider Activity
PIRS has 25 institutional investors that cumulatively own 52.34% of the company. According to the latest available filling period, institutions as a whole reduced their exposure by 0.81%.
Insider buying has been slow as of late, but back in June of 2016, the CEO, CFO, and a senior vice president purchased around 21,000 shares. Insiders own a fair amount of shares, which is always nice to see. For example, the latest 10-K shows Stephen Yoder, president and CEO, owning 1,199,750 shares, which equal 2.71% of the total equity.
My Bottom Line
Pieris Pharmaceuticals is a very interesting company that should be followed closely because it will likely provide for some good shorter-term speculations and possibly down the road, once the reward to risk ratio is better, a good investment. I am not invested in Pieris Pharmaceuticals because I don't invest in small-cap bios that are in the early stages of development due to the probability of success. They always eventually need to raise money and countless things can go wrong. In general, only 1 out of 10 drugs go from pre-clinical to filing an NDA. Furthermore, this process tends to take 10 to 15 years and $1 to $3 billion. Good luck.
Author's note: To get more investment ideas like this as soon as they are published, click on my profile and hit the big orange "Follow" button and choose the real-time alerts option. I write about biotech and precious metals. I have a variety of article styles that range from pieces with a short-term focus to pieces that are geared towards long-term investing. Also, I will be posting brief notes on my Instablog when I see interesting speculations (day trades & swing trades). I'm doing this because big winners often develop so fast that I can't write and publish a detailed article in time for readers to be able to capitalize. I've just begun to utilize my Instablog, but there have already been some big winners. Thanks for reading and good luck.
Disclosure: I/we have no positions in any stocks mentioned, and no plans to initiate any positions within the next 72 hours.
I wrote this article myself, and it expresses my own opinions. I am not receiving compensation for it (other than from Seeking Alpha). I have no business relationship with any company whose stock is mentioned in this article.