Ralph Lauren Corporation (NYSE:RL) has been under pressure since the beginning of 2015. Nevertheless, we appreciate the management's efforts aimed at returning company to sustainable growth. The anti-crisis strategy is there to transform the company into a profitable business by the end of 2018. The analysis conducted below shows that the current market price of the stock is significantly below its intrinsic value.
Ralph Lauren's shares have fallen 10.9% year-to-date. The current price is around $80, which is 30% below its 52-week high. In terms of comparative valuation, it is trading at a price-to-earnings ratio of 45.2x versus the five-year average of 21.2x. This is explained by the decrease in the company's bottom line. The company's main competitors are PVH Corp (NYSE:PVH) and Michael Kors (NYSE:KORS): they are trading at 14.7x and 8.4x last twelve months' earnings, respectively. The stock has been in a downtrend since December 2014. The value of the company's equity has fallen by 57% since then (See Diagram 1).
Diagram 1

(Source: Yahoo Finance)
The company has been under pressure since the beginning of 2015. From that time, it has recorded seven straight quarters of sales declines. The recent 10-Q indicates that the top line has decreased by 12% year-over-year and reached a level of $1.7B. The retailer showed a 26% year-over-year reduction in wholesale revenue and a 2% year-over-year decline in retail (See Diagram 2).
According to the latest figures, t he three-month operating income has decreased by 32%, while the net income of $82M has fallen by around 37% compared to Q3 2016. The three-year average net income growth is negative and stands at 19.2%. The company's management forecast s a low-double digit decline in net revenue in FY2017, while the return to positive figures is reserved for the next year. Taking into account these data, we expect the top line to decline by around 10% in FY2017.
Diagram 2

(Source: 10-Q report)
Diagram 3

(Source: Morningstar.com)
One of Ralph Lauren's main problems is the crisis in the retail industry. This segment brings around 60% of net revenues earned by company (See Diagram 4). Consumers tend to make purchases in online stores nowadays. As a result, we see declining sales and deteriorating margins of apparel manufacturers. The anti-crisis strategy started by company includes collaboration with Salesforce's (NYSE:CRM) Commerce Cloud - a famous e-commerce platform -, which could provide Ralph Lauren solutions to further develop their presence in e-commerce. Another anti-crises decision is the elimination of underperforming stores. The sixteen stores closed in 2016 contributed to savings of approximately $70M (See Diagram 5). One of them was the well-known Polo store at 711 Fifth Avenue in New York City.
The top management suggests focusing on three key brands, which are earning around 70% of net revenues: Ralph Lauren, Polo, and Lauren. Thus, the remaining 22 names will be abolished. One more radical solution to the cost-optimization problem is the lay-off of around 1,000 people. The business restructuring is expected to be completed by the end of March 2018. These activities will initially cost almost $370M, but the savings are expected to reach $140M each year. This implies a payback period of less than three years.
Diagram 4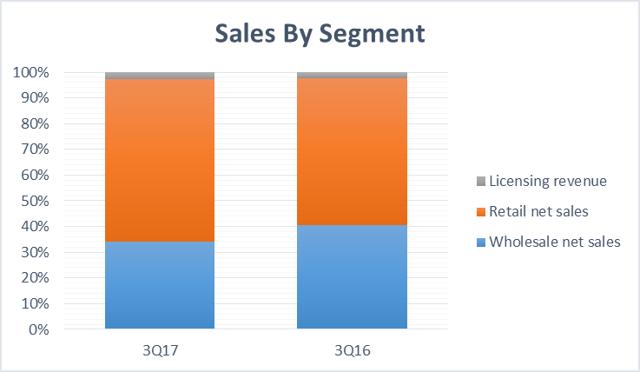 (Source: company's data, calculations by author)
Diagram 5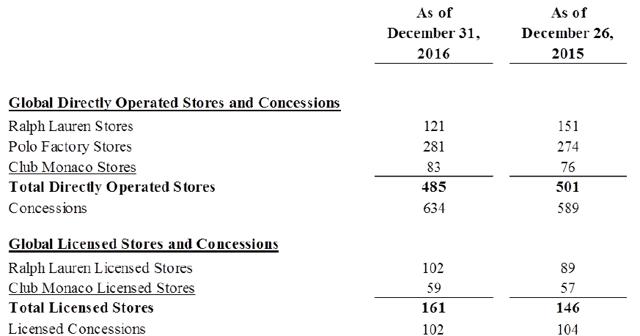 (Source: 10-Q report)
An analysis of the company's operating efficiency shows declining margins, as mentioned before. The gross profit margin has gone down significantly in real terms: compared to FY2016 figure of 56.5% the last twelve months' value is 55.3%. The operating profit margin has also fallen to a low level of 3.5%. As you can see in Diagram 7, it is the lowest figure compared to nearest competitors. As you can see from Diagram 6, the key margins have been decreasing since FY2014. The company expects the operating margin for FY 2017 to be approximately 10%, and we incorporated this number into our financial model. We can see that Ralph Lauren's margins are the worst in the industry. Efficiency ratios like ROE and ROA are not impressive, either, as they are much lower than the industry's average: these metrics are approximately ten times lower than Michael Kors'. In Ralph Lauren's defense one may state that the company is lightly leveraged compared to peers. This may mean that the company has ability to fund its growth with debt, although this statement is rather optimistic as lender will unlikely be willing to finance a company with declining sales on good terms.
Diagram 6

(Source: Morninstar.com)
Diagram 7

(Source: Morningstar.com, calculations by author)
As you can see in Diagram 9, the working capital management leaves much to be desired. During the last five years, the operating cycle has increased from 137 days to 153 days. The main reason for this is the rising level of inventory. The days of inventory on hand have increased from 107 days to 128 days. The improvement in inventory management is another key objective of Ralph Lauren's new strategy. We think that the decrease in days of inventory on hand will result in a higher turnover and an uptrend in asset turnover. This will positively contribute to revenue growth.
Diagram 9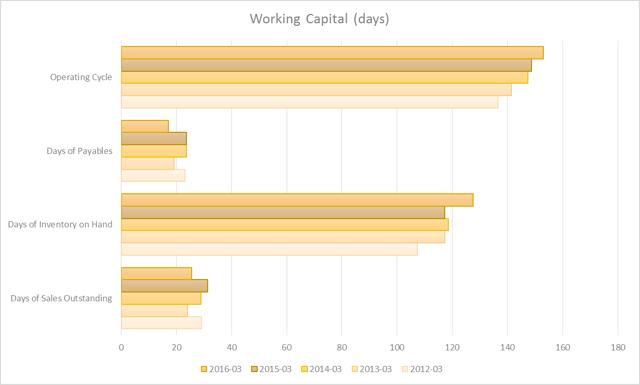 (Source: company's data, calculations by author)
DCF Model
We would like to strengthen our financial analysis by including a financial model to conclude the fundamental valuation of company's shares. The DCF model is presented in Diagram 10.
The model shows that, after adjusting for balance sheet items, the fair value of equity is around $7.3B. Consequently, the stock's fair value is around $89 per share, which is 11% higher than the current share price.
Diagram 10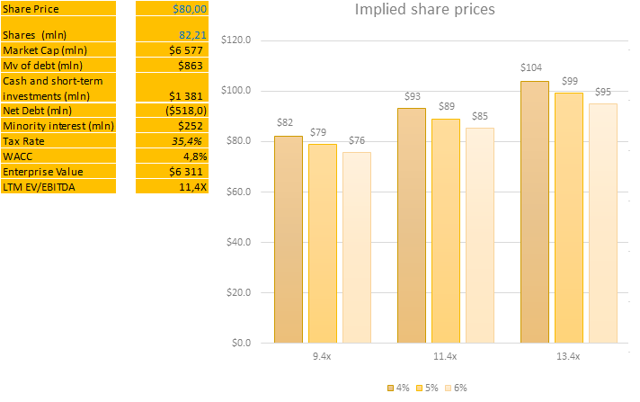 (Source: Morningstar.com, Author's DCF Model)
Our analysis is based on certain assumptions. The sensitivity analysis covers a range of possibilities resulting from deviations from the base scenario. Assumptions related to WACC and the Terminal EV/EBITDA multiple show that the fair price range is between $85 and $93 per share.
Diagram 11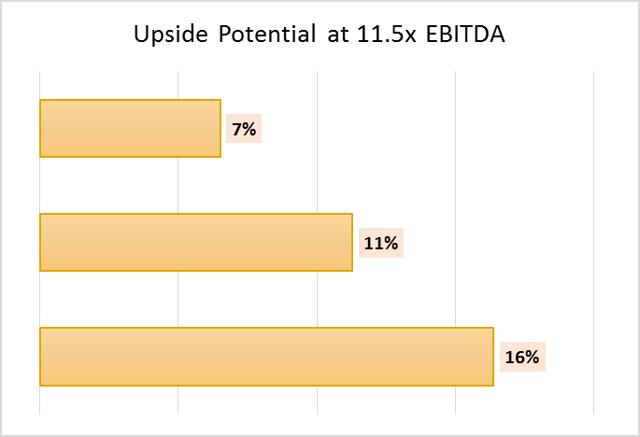 (Source: data - Morningstar, Model by author)
Recommendation
We suppose that the current price of Ralph Lauren's shares reflects a pessimistic scenarios. We think that a further significant decrease in the value of the stock is unlikely. The anti-crisis plan being implemented by the top management, especially the increasing focus on online sales, gives hope that the company may return to the growth path in the mid-term. The analysis conducted above shows that the current market price of Ralph Lauren's share is attractive for patient investors. We observe the target price for the stock to be around $89 per share and the fair price range to be between $85 - $93 per share. We believe the current market price of the stock offers a margin of safety and recommend buying Ralph Lauren's shares for the long-term.
Societe Financiers is an investment research team focused on long-term, long- and short-only ideas. Our research objective is to cover equities in various regions, such as North America, EMEA, Asia, Australia, and Emerging Markets.
Readers should consider whether any advice or recommendation in our research articles is suitable for their particular circumstances and, if appropriate, seek professional advice, including tax advice. The price and value of investments referred to in our research articles and the income from them may fluctuate. Past performance is not a guide to future performance, future returns are not guaranteed, and a loss of original capital may occur. Fluctuations in exchange rates could have adverse effects on the value or price of, or income derived from, certain investments.
Certain transactions, including those involving futures, options, and other derivatives, give rise to substantial risk and are not suitable for all investors. Transaction costs may be significant in option strategies calling for multiple purchase and sales of options such as spreads.
Disclosure: I/we have no positions in any stocks mentioned, and no plans to initiate any positions within the next 72 hours.
I wrote this article myself, and it expresses my own opinions. I am not receiving compensation for it (other than from Seeking Alpha). I have no business relationship with any company whose stock is mentioned in this article.