Early Tuesday morning, Goldman Sachs (NYSE: GS) reported earnings for Q1 of 2017. The bank missed estimates on both the top and bottom lines and the stock subsequently dropped by $10.67 or 4.72%. Following the day's trading session, the stock had fallen roughly 10% in 2017. In context, when contrasted with the relatively minor 1% decline (MarketWatch) in the Financial Select Sector Fund (NYSEARCA: XLF), it's fair to say that this has been a rough start to the year for Goldman Sachs.
While there were a number of positive factors outlined in the report (10-Q Report), namely the impressive $666 million in net revenues generated by the company's Investing & Lending division and the 1.4% increase to $184.98 in book value per share, the overall report left much to be desired. In particular, the street focused heavily on the reported decline in trading revenues. Not only were year-over-year revenues in the coveted fixed income, currencies and commodities segment basically stagnant, but they actually declined roughly 16% from the fourth quarter of FY16. In addition, Goldman Sachs experienced a 22% decline ($229 million) in revenues generated by equity securities trading compared to the previous quarter.
A number of Wall Street analysts have come out with opinions on Goldman's stock since the earnings report on Tuesday. Early Wednesday morning, analyst Kevin Horowitz at Citi (NYSE:C) upgraded shares of Goldman Sachs to "Neutral" from "Sell." In addition to assigning a price target of $225, Horowitz commented that he believed the current valuation to be more reasonable seeing as how many investors had not been considering Goldman's historically volatile trading results. On Thursday, Goldman's stock received another boost when Atlantic Securities issued an upgrade from "Neutral" to "Overweight" on the stock and assigned a price target of $254 (Market Exclusive). The stock also received "Buy" reiterations from Credit Suisse (NYSE:CS) and Bank of America (NYSE:BAC) on April 19th.
So how exactly does Goldman Sachs compare to its competitors on a valuation basis following this report? According to an article published late last year by Business Insider, some of Goldman's top competitors based on M&A market share are Morgan Stanley (NYSE: MS), JPMorgan (NYSE: JPM), Bank of America Merrill Lynch and Citigroup. The table below illustrates a few valuation metrics for these companies as of April 20, 2017.

*Sources: Yahoo Finance, Citigroup, Bank of America, JPMorgan, Morgan Stanley
While by no means exhaustive, the above metrics give a rough picture of where Goldman stands following the earnings miss. Relative to some of its closest competitors, Goldman's stock trades pretty much in line with the group. It is worth noting, however, that aside from Bank of America, Goldman Sachs has the highest expected earnings growth rate for FY17 of any company listed above. Despite this fact, the stock trades at the lowest P/E ratio out of its peers. Although this analysis is occurring only at the most basic level, this fact may indicate that investors are currently undervaluing the growth of Goldman Sachs as a company and that a slight uptick in the stock price may, in fact, be warranted.
In conclusion, it seems as though this was simply an outlier quarter for Goldman Sachs. While it is worth noting that Goldman's numbers came in low despite the fact that its peers have been posting mostly solid results, the real reason behind the earnings miss was the sharp decline in FICC trading revenues. These revenues have historically been volatile and Goldman's CEO Lloyd Blankfein even noted in an interview that the company is "well-positioned to generate operating leverage for our shareholders" going forward (Pulse). All things considered, Goldman Sachs appears to be reasonably valued at current levels and the general consensus from analysts on the street is to buy the dip, given their expectation for the stock to bounce back.
Goldman Sachs stock price: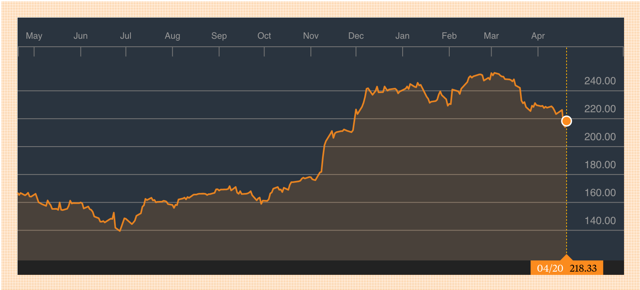 *Source: Bloomberg
According to CNN Money, the 24 analysts currently covering Goldman Sachs have a median 12-month price target of $257.50 on the stock. This value represents roughly an 18% premium to where the stock closed on April 20, 2017.
Disclosure: I/we have no positions in any stocks mentioned, and no plans to initiate any positions within the next 72 hours.
I wrote this article myself, and it expresses my own opinions. I am not receiving compensation for it (other than from Seeking Alpha). I have no business relationship with any company whose stock is mentioned in this article.