Welcome to the natural gas storage forecast edition of Natural Gas Daily!
The EIA reported a +54 Bcf change yesterday, which was 8 Bcf higher than our forecast of +46 Bcf. Be sure to read our summary of the storage figures here.
We anticipate +69 Bcf for the week ending 4/21.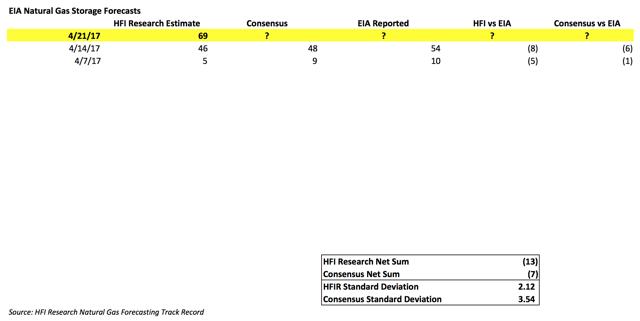 On a fundamental supply and demand basis, demand saw a sharp move lower, driven by Mexico gas exports and residential/commercial. US natural gas production this week averaged below 70 Bcf/d, and Canadian gas net imports dropped by 0.4 Bcf/d to lead overall supplies lower.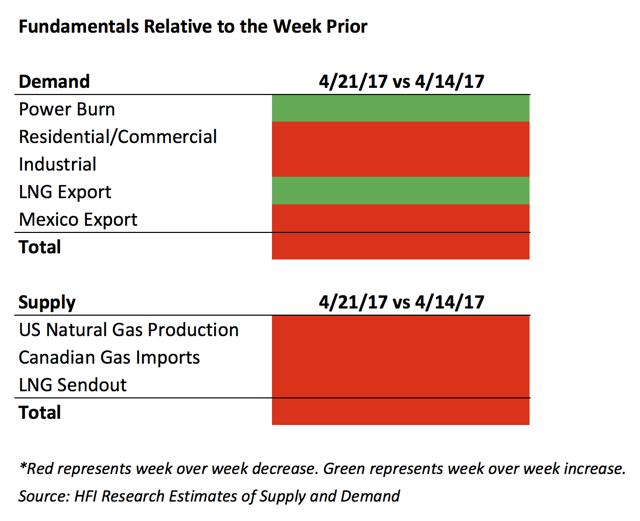 Next week's EIA storage report shows a current forecast range of 69 to 73 Bcf, with our estimate currently at the lower-end of that range.
Residential/commercial demand has underwhelmed over the last two weeks, resulting in our forecast to come in 13 Bcf below what EIA has reported, while consensus is 7 Bcf below what EIA reported.
While the figures for US gas production have uniformly trended lower, uncertainties and volatility surrounding residential/commercial demand have created a wide range in storage estimates. We have revised lower our residential/commercial demand this week, resulting in our forecast of +69 Bcf.
Looking ahead, US storage injection estimates are expected to remain at or slightly above the five-year average. This has resulted in traders to take a slightly more bearish approach in the short term as we detailed here. Traders we talk to are positioned to short more volatility in the months ahead, and with subdued range-bound price action, the traders have started taking some profits from the recent outright short positions they've built.
We update what the traders are saying on a daily basis in our premium natural gas report. If you are interested in our comprehensive report, please visit here for more info and a two-week free trial.
Disclosure: I/we have no positions in any stocks mentioned, and no plans to initiate any positions within the next 72 hours.
I wrote this article myself, and it expresses my own opinions. I am not receiving compensation for it (other than from Seeking Alpha). I have no business relationship with any company whose stock is mentioned in this article.