At a Glance
The 2017 French election is one of the most hotly debated topics on the financial markets today. There are a wide breadth of opinions on election outcome, given recent expectation upsets in Britain and the United States, as well as the relative stability of the Turkish elections, and the day-to-day changes such as bombings and new stories.
Political issues are impacting financial markets significantly, especially within the European Union, and there is opportunity present within all markets.
The following is a short brief on the French election:
There are five leading candidates who will contest the first round of voting on April 23, and unless one candidate wins more than 50% of the votes, the two leading contenders will then go through to a second round on May 7.
I predict as of April 22nd, the second round is expected to include Macron AND Fillon and that the second round on May 7th will result in Fillon winning. The two candidates are polarizing. Macron, a 39-year young investment banker turned politician is the conservative choice, while Fillon is regarded as the hardliner.
A short brief of each candidate follows from the BBC. This will be important when looking at the longer term in the second round elections.
Marine Le Pen, National Front (FN), 48 Years Old
What she wants:
Negotiation with Brussels on a new EU, followed by a referendum
"Automatic" expulsion of illegal immigrants and legal immigration cut to 10,000 per year following an immediate total moratorium
"Extremist" mosques closed and priority to French nationals in social housing
Retirement age fixed at 60 and 35-hour week assured
Emmanuel Macron, En Marche (On the Move), 39 Years Old
What he wants:
€50B (£43B; $53B) public investment plan to cover job training, exit from coal and shift to renewable energy, infrastructure and modernisation
Reimbursement of full cost of glasses, dentures and hearing aids
Big cut in corporation tax and more leeway for companies to renegotiate 35-hour week
Cut in jobless rate to 7% (now 9.7%)
Ban on mobile phone use in schools for under-15s and a €500 culture pass for 18-year-olds
François Fillon, The Republicans, 62 Years Old
What he wants:
To scrap half a million public sector jobs and the 35-hour work week
Removing the wealth tax (ISF)
To strip jihadists returning from the wars in Iraq or Syria of French nationality
Requiring parents in receipt of social allowances to agree to a "parental responsibility contract" to tackle children's absenteeism or behaviour "disrespectful of the values of the [French] republic"
Lifting EU sanctions on Russia and helping Syrian President Bashar al-Assad defeat so-called Islamic State (IS).
Jean-Luc Mélenchon, La France Insoumise (France unbowed), 65 Years Old
What he wants:
Voting from age of 16 and a "Sixth Republic" to replace the existing presidential system
Constituent assembly to acquire greater powers, voted in by proportional representation
Renegotiate EU treaties in order to ditch austerity measures and enable the French state to pursue a massive, environment-friendly programme of state spending to stimulate the economy
Zero homelessness and full reimbursement for prescribed health care
Benoît Hamon, Socialist Party, 49 Years Old
What he wants:
To legalise cannabis and tax the wealth generated by robots that take the jobs of humans
To scrap a 2016 law making it easier to hire and fire workers
A basic income plan to boost salaries of those earning less than €2,185 per month
The unemployed would receive up to €600 per month and those on the minimum wage around €200
Renewable energy to form 50% of electricity by 2025 and pull out of nuclear energy by 2050
Recognise burn-out as an occupational disease
Election results depend heavily on daily sentiment. The most important relation with these events are immigration quotas and terror policies. Recent events include:
November 12, 2015: ISIS fighters kill 130 in France during a soccer match
June 13, 2016: 2 French police officers murdered
July 14, 2016: Bastille day truck crash, 86 killed
July 26, 2016: Church attack on nun and priest
April 20, 2017: French police officer killed at Champs-Elysees
As seen, events are getting more frequent.
As such, if we can predict sentiment on these days, analysis can be done to predict the outcome of the French elections. A summary of the results of sentiment analysis through Twitter and Tweepy is presented below for both the 2012 election which was predicted through the number of tweets per candidate and the 2017 election. This was done by using Python and analyzing each date. A comparison is done with Great Britain to test the impact of events on elections closer to the date.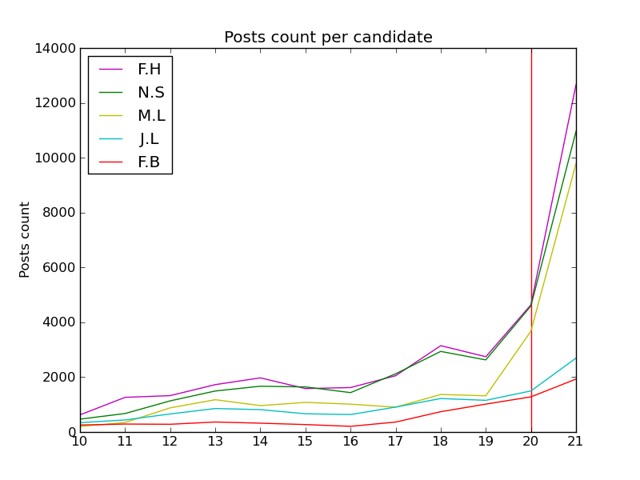 2012 election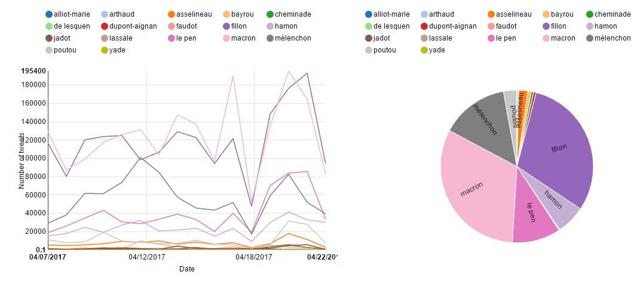 2017 Election
How to make money?
There are a few major ways to work with the election. First is to bet on election outcomes, which are more challenging, but still presented as an option.
The second is to work with forex markets which often react predictably after an election.
Betting on Election Outcomes
There are short-term and longer-term opportunities:
Short term, long Russia for the next day through RUB/USD, as Fillon is predicted through social media analytics to win, but Le Pen and Melenchon still hold a theoretical possibility of election, and sell position after win if you don't want to remain long Fillon.
Long term, analytics are more edgy as sentiment changes; however, this is what I predict:
Le Pen voters will move to Fillon giving Fillon 23.87 + 21.09 = 45% of the French electorate. Melenchon's voters do not seem to identify with any of the two candidates, who are more centrist. However, if we were to peg it, I would put half with Macron rather than Fillon giving Macron 55% of the electorate.
However, we should assume that there will be more movement towards Fillon as more events surely transpire. If we think in the perspective of radicals, it is in their interest to shift the election towards Fillon as continued repression of internationals and potential elections interference (like the USA) will continue to increase support for them (that's why they're radicals!).
The sentiment also clearly supports Fillon - although there are less voters, as seen in the oddschecker French election victory probability chart below, they are much more active. This has been a significant topic of interest in most elections recently.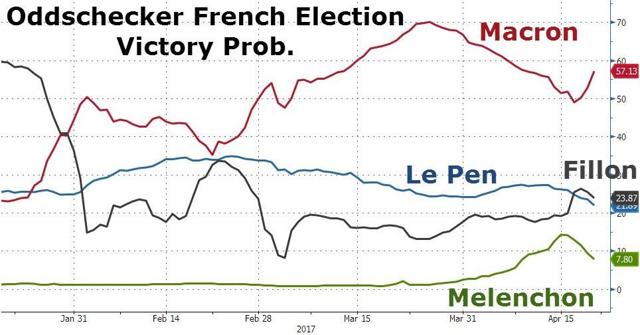 Summary
The 2017 French election is a great opportunity for the objective investor and there are options for both long- and short-term investing.
Disclosure: I/we have no positions in any stocks mentioned, and no plans to initiate any positions within the next 72 hours.
I wrote this article myself, and it expresses my own opinions. I am not receiving compensation for it (other than from Seeking Alpha). I have no business relationship with any company whose stock is mentioned in this article.