As a writer here we are aware at all times that Seeking Alpha desires that we provide some actionable investment material for the reader.
Plain and simple, Seeking Alpha wants what we write to be useful for you as a reader. It is a pretty sensible concept I'd say.
I believe that what I have for you today is extremely useful.
Personally I think it could be the basis for laying the ground work for massive investment outperformance over the next several years.
It could also save you from some serious losses.
I'm not certain of this. At this stage in my investment life I've come to learn that it is foolish to be certain of everything.
At the very least I think you will find what I have to say interesting. What you do with it is up to you.
When Valuation Becomes Irrelevant You Know Trouble Has Arrived
For months my message to readers has been stay away from S&P 500 (NYSEARCA:SPY) index funds and ETFs. I now believe that message applies to index funds and ETFs of all shapes and sizes.
I've arrived at this from the steady stream of information I've read from very bright and successful (over the long term) investors that I follow.
The basic issue that we are faced with today is that the truly massive flow of cash into passively managed index vehicles has pushed stocks that are included in those vehicles up to unattractive valuations.
It makes sense that this would happen. All of that cash is chasing the same companies and is doing so thoughtlessly.
According to research from FPA Capital last year passive funds had $563 billion of cash inflows, while active funds experienced $326 billion of outflows. That is continuation of what has happened over the past several years.
Since 2007, $1.2 trillion has disappeared from actively managed U.S. domestic equity funds and $1.4 trillion has been added to passive strategies.

Source: FPA Capital
That is a massive decrease in actively managed capital (cash that considers valuation when purchasing) and a similar increase in passively managed capital (cash that doesn't give a rat's behind about valuation when purchasing).
FPA Capital notes that at the end of 2016 active U.S. equity funds now manage $3.6 trillion and passive instruments are about to catch them at $3.1 trillion.
When we factor in flows in the first quarter of this year the amount of cash managed actively and passively are almost exactly the same.
That means that half of the money buys and sells shares with literally no thought given to the valuation of the underlying company or even the business that the company is in.
Can you think of how this could end badly? It isn't hard is it.
I think FPA describes the implications of all of this passive money very well:
The consequence of unrelenting inflows into passive funds is that stocks that are included in a major index receive ongoing support by the indiscriminate purchases made by these funds regardless of a company's fundamentals.

The benefits are amplified for companies that are owned by dozens of ETFs and index funds.

On the flip side, those unfortunate stocks that are not included in a major index receive the reverse treatment, as active managers that tend to be fully invested are forced to sell shares to meet the onslaught of redemptions they are facing. But the worst fate is saved for those orphan securities that are removed from an index. These stocks face both indiscriminate selling from index funds on their removal date and continued redemption-related selling from actively managed funds.

Unfortunately, these buy and sell decisions are entirely disconnected from a company's fundamentals.

This potentially sets the stage, should the tables turn, for an exceptionally compelling investment environment where companies with strong fundamentals are available for purchase at cheap valuations for those searching outside of the indices (as we often are).
What We Need To Do Couldn't Be Any Clearer - The Market Is Once Again Inefficient
I don't know about you but I thought the FPA commentary really made the little light bulb go off over my head.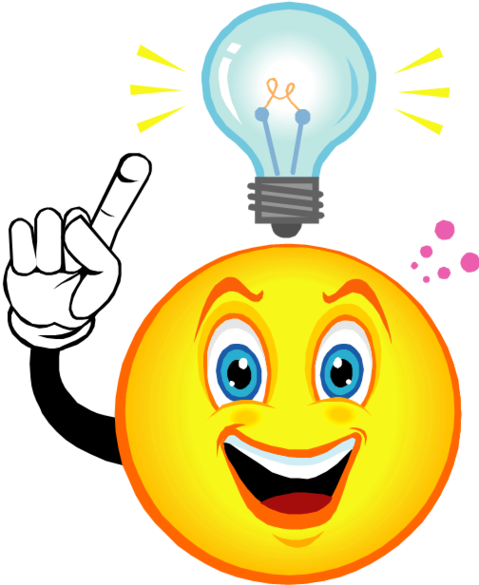 Image Source: ClipArt
What I realized is that this is the opportunity that we have all been waiting for as investors.
If you are a fan of Warren Buffett you will know that his really heyday was in the 1950s. This was back before the age of the internet and thousands of hedge funds searching everywhere for bargains.
That was when the market was truly inefficient and severely mispriced securities could be found.
With the internet making all financial data about publicly traded securities available within seconds to everyone the market today is much more efficient.
Or is it?
As FPA points out half of the capital belongs to mindless passively managed funds which don't care if a company trades at 10 times earnings or 10 thousand times earnings.
All of that money has been chasing one group of stocks. Those that are included within indexes and ETFs.
On the other hand money has been flowing out of passively managed funds. These funds have been forced to sell things in order to return cash to investors. Some of those things will be stocks that are outside of indexes and ETFs.
There, then, lies our opportunity. One group of stocks bought with no thought given to valuation, another group with very few buyers and forced selling.
There is a whole bunch of inefficient activity going on in the market today. That is something that we can exploit.
The index/ETF stocks get bid up for no reason other than the passive funds receiving hordes of cash and having to buy. The non-index/ETF stocks get very little cash chasing them and perhaps a decent amount of forced selling.
My recommendation would therefore be.
#1 - Avoid index funds and ETFs entirely
#2 - Likely avoid individual companies included in indexes and ETFs unless the valuation is for some reason compelling
#3 - Consider looking to invest with some great proven active managers
#4 - If you are buying stocks yourself do your hunting outside companies that are included in index funds or ETFs
Passive investing is a good thing. So is real estate investing. We saw in 2007 how the good thing that is real estate investing can go horribly wrong when no thought is given to valuation by massive amounts of capital.
Why can't the good thing that is passive investing also get taken too far?
If you like this article and would like to read future material please click the follow button at the top of this article.
Thanks for reading.
About The Superinvestor Bulletin
To date, our average Superinvestor Bulletin portfolio position has exceeded the performance of the S&P 500 by 10 percent. We are currently loading up our portfolio with catalyst-driven opportunities that should perform even if the market correction we are expecting arrives.
You can take a free trial of our reasonably priced subscription service through this link.
Disclosure: I/we have no positions in any stocks mentioned, and no plans to initiate any positions within the next 72 hours.
I wrote this article myself, and it expresses my own opinions. I am not receiving compensation for it (other than from Seeking Alpha). I have no business relationship with any company whose stock is mentioned in this article.