Even though we all know that some poll numbers are fake news, as market participants we have to pay attention. Why? Because if poll numbers are high, Republican colleagues want to ride the wave and put in more effort to work with the president. But if poll numbers are not high, then negotiating could get tougher. Fellow Republicans may then feel emboldened to take a side even if it doesn't agree with the president. And when the president says Obamacare's repeal needs to happen first, that matters to markets.
We have a huge two weeks ahead. Buckle up.
Obamacare Repeal Needs To Happen First
While market participants are licking their chops for a drop in taxes and a huge infrastructure spend, they'll have to wait.
Nothing is going to happen until the healthcare plan with President Obama's name on it gets repealed in place of a new moniker.
Here's President Donald Trump speaking to Fox News:
"I think we're doing very well on healthcare. It's been very much misreported that we failed with healthcare. We haven't failed, we're negotiating...

"We have to do healthcare first to pick up additional money so we get great tax reform.

"So we're going to have phenomenal tax reform but I have to do healthcare first. I want to do it first to really do it right and after that we are going to start on tax reform and infrastructure.
Markets now need to root for Obamacare to get repealed before tax reform and infrastructure moves into focus.
President Trump is not throwing in the towel so fast on healthcare.
If Obamacare Mattered To Markets Then It's Going To Matter More Now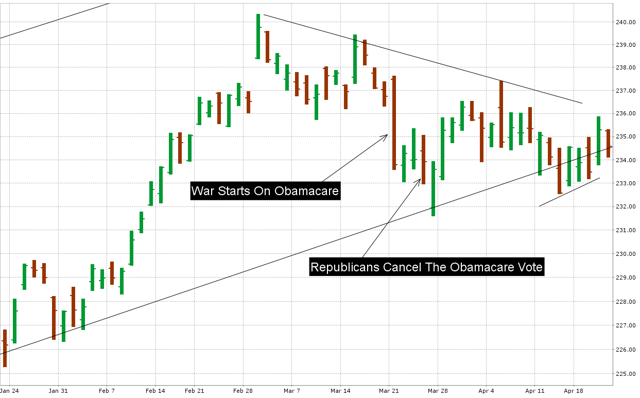 Chart Source: Interactive Brokers
The week of March 20th saw Republicans lose confidence in passing the Obamacare repeal. On the chart above (NYSEARCA:SPY) you see that Friday they canceled the vote after realizing they didn't have enough support.
That helped crack markets.
This Obamacare repeal matters to markets. Now after President Trump's "everything's riding on Obamacare," it matters even more.
That second try looks to take place next week.
But President Trump's Polls Are Not Strong, And That Could Hurt Passage.
On April 20th Gallup had President Trump's approval rating at 40%, down 2%. Gallup reported Trump's first quarter average was 14% below the lowest approval rating in their history of following the statistic.
Whether you believe it or not, Republicans will still factor it in when deciding how much they will be swayed and how much it could affect their own approval numbers.
Higher ratings feed on themselves, as peers want to latch on to winning numbers. Low numbers cause a risk.
That hurts momentum and could hurt getting key legislation passed.
If that key legislation is the Obamacare repeal, like the first time, then markets may have to wait for tax reform.
But Let's Say Trump Gives Up On Obamacare.
We Worry About Tax Reform Anyway
Let's go to what President Trump's chief budget advisor Mick Mulvany said about this budget.
But, before we go to his quote we want to ask you if after his quote you are:
A) More confident in the budget passing?
or
B) Less confident in the budget passing?
(We will be taking a very official poll in comments.)
Without further ado here's Budget Czar, Mick Mulvaney speaking to Fox News,
"The president didn't introduce this budget to try and make Congress happy. The president introduced this budget so that he could keep his promises. What you'll see in these numbers are exactly what he campaigned on. That's all this is about.
Wait a minute. That's all this is about? This budget is not supposed to make Congress happy? And if they're not happy, then how can it pass?
We remind you of our multiple choice question above.
Are you:
A) More confident in the budget passing?
or
B) Less confident in the budget passing?
(Please enter your totally anonymous vote in the comments. Disclosure: It's anonymous except for your name and any information you've included in your profile. Besides that it's totally anonymous.)
Let's Put It All Together
We have another vote coming to repeal Obamacare sometime next week or so.
This Wednesday President Trump is expected to offer his budget that his budget chief said was not meant to "try and make Congress happy."
And on Friday Congress will need to try and divert another government shutdown.
If they can't agree on a budget they may try for a stopgap measure which gives the government money to breathe while they continue negotiations. The question is if President Trump would sign a stopgap if it doesn't include some of his demands. We'll find out Friday or Saturday.
Which way is this lining up to you?
Conclusion
The risk/reward still has to be on the side of risk. Whatever ends up happening this week and next, we'd expect markets to prepare by going lower in anticipation. Not passing either the budget stopgap or Obamacare's repeal would portend negatively for markets.
Disclaimer:
ETFs reported by Elazar Advisors, LLC are guided by our daily, weekly and monthly methodologies. We have a daily overlay which changes more frequently which is reported to our premium members and could differ from the above report.
Portions of this article may have been issued in advance to subscribers or clients. All investments have many risks and can lose principal in the short and long term. This article is for information purposes only. By reading this you agree, understand and accept that you take upon yourself all responsibility for all of your investment decisions and to do your own work and hold Elazar Advisors, LLC and their related parties harmless. Any trading strategy can lose money and any investor should understand the risks.
Disclosure: I am/we are short S&P 500 BUT THAT CAN CHANGE AT ANY TIME.
I wrote this article myself, and it expresses my own opinions. I am not receiving compensation for it (other than from Seeking Alpha). I have no business relationship with any company whose stock is mentioned in this article.