Bloomberg put Paul Tudor Jones down warning the audience at a closed-door Goldman Sachs Asset Management conference that:
the value of the stock market relative to the size of the economy -- should be "terrifying" to a central banker
I have highlighted this ratio in two separate recent pieces (here and here)
Tudor Jones adds a new piece to the puzzle by identifying the rise of risk parity as a strategy as a potential accelerant in a sell-off.
Risk parity isn't a strategy that's easy to pinpoint. Managers implementing it try to create a better risk/return compared to the 60/40 portfolio, a noble endeavour, by spreading investments across asset classes and weighing them so they contribute to risk equally. If you think about the 60/40 portfolio as a stock/Treasury portfolio it is intuitive the stock allocation under most circumstances represents most of the risk. AQR is implementing the strategy in a number of funds labeled AQR Risk Parity (AQRIX) (QRMIX) and Bridgewater runs the All Weather portfolio.
The result is of course the risk parity portfolio is much less risky in the sense of being less volatile. It also offers lower returns which makes sense given the higher allocation to bonds. This is solved by adding leverage as demonstrated in the table below by Schroders:

Basically risk parity represents a leveraged low volatility portfolio while the traditional portfolio is more volatile but doesn't have the leverage.
Schroders research on risk-parity isn't conclusive but it offers some support for the experiment by the way:
Consequently, while the risk parity portfolio has outperformed over the entire sample period, this outperformance has been episodic and is heavily biased to the 1930-1950 period and the most recent decade of 2000-2009.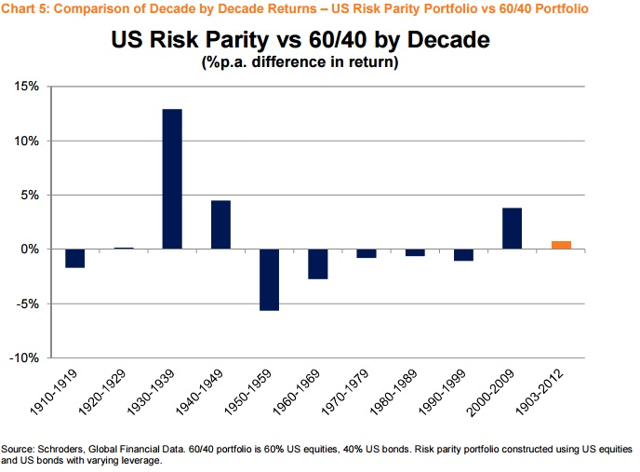 There are things I like and dislike about the risk-parity approach but one important thing to note is it potentially magnifies problems if you get the volatility input wrong.
Hammer on the downside
What I believe Tudor Jones is getting at when he's saying risk parity will be the "hammer on the downside"; once a stock market sell-off starts to gain some traction volatility will rise.
That's not an unreasonable assumption as when the stock market takes a step back it usually happens over a short period of time. It's the bull markets that run for 8 years.
When risk parity strategies would subsequently adjust their allocations based on the new volatility measures they would then dial back equity exposure. As these are by definition leveraged funds the impact will be greater as suggested by asset under management figures.
I am already very cautious given the valuation level of the U.S. market and dislike low-volatility strategies to the extent that I've shorted a S&P 500 low volatility ETF because the factor is one of the most overbought and likely to be swiftly abandoned when it underperforms.
Risk-parity hasn't really been top of mind for me but I do believe the acceleration theory is credible to an extent. If this effect is underestimated out of the money puts on the S&P 500 could be underpriced for example.
Disclosure: I/we have no positions in any stocks mentioned, and no plans to initiate any positions within the next 72 hours. I wrote this article myself, and it expresses my own opinions. I am not receiving compensation for it (other than from Seeking Alpha). I have no business relationship with any company whose stock is mentioned in this article.
Additional disclosure: I'm short a euro based S&P low vol ETF