Introduction
Our philosophical view is that real gold is real money. However, in today's financial system it is traded primarily as a paper derivative. One day, we believe that precious metals will be set free from their paper chains and leap in value. We can't predict the timing of the monetary reset that we see as inevitable; therefore, our strategy is to remain long precious metals while occasionally hedging downside risk. We write regular columns on the SPRD Gold Trust (NYSEARCA: GLD) and the iShares Silver Trust (NYSEARCA: SLV) which outline our week-ahead views and positioning.
The price of SLV is dependent upon the value of silver in the futures market. The futures market trades more hours than SLV, and at much greater dollar volumes. As a result, we view technical analysis of SLV to be inferior to technical analysis of the COMEX silver futures market.
Summary View

The biggest news in the silver market is the absolute determination of the hedge funds to stay on the silver bull, even while the commercials try and buck them off.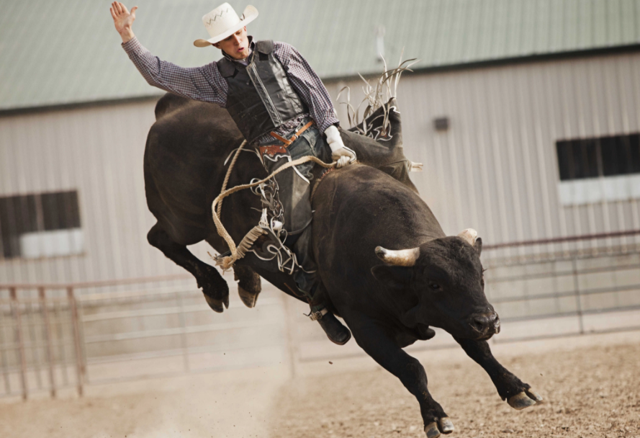 Over the past four weeks, silver has traded in a price range from $17.80/oz to $18.65/oz, and several times above and below its 50 day and 200 day moving averages. Up and down, up and down. Still, the long funds hung on. Last week, silver traded down every day in similar increments of $0.15 to $0.18 per ounce. It was Chinese water torture for the longs. Still, the COMEX long investors - in aggregate - hung on. It will be interesting to see what happens in the coming weeks. The total open interest and commercial short interest are both at record highs. At 227,000 futures contracts, a 5% upward move in the price of silver equates to $1 Billion gain for the aggregate longs, or $1 Billion in losses for the aggregate shorts.
The next chart is worthy of a long study, and we reference this chart often. It shows all of the instances of peak commercial short interest which correspond to a large sell off of silver. Will the long investors stay on the bull this time, even though they have been shaken off so many times before?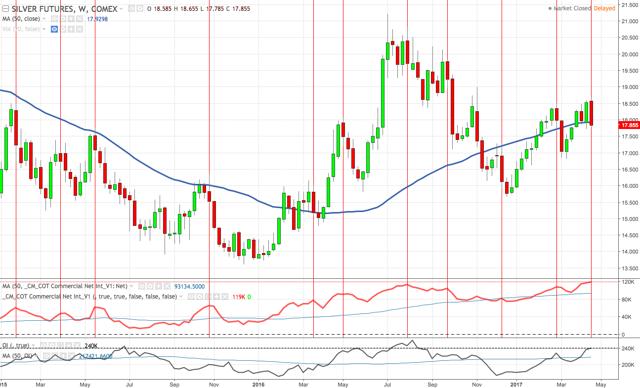 Geopolitics
Similar to the effects of the Brexit vote and the recent U.S. election, we would expect to see volatility in the silver price as the French election returns come in. Nevertheless, it is difficult to predict the impact of the French election on next week's price of silver. As a case in point, the "improbable" election of Donald Trump was supposed to be bullish for precious metals in the short run, and the precious metals instead sold off dramatically. We hold a hedged long position, and won't be surprised to see a corrective "sell the news" reaction to the French election. On the other hand, any further tensions in North Korea would likely add further risk premium to precious metals and safe havens. The U.S. debt ceiling discussion could also introduce risk premium.
Technicals
After breaking below its 8 day EMA (light blue line) this week, silver then broke below its 200 DMA (red line) and then its 50 DMA in consecutive fashion. The uptrend support line is meeting with the 100 DMA and that would appear to be the next technical target, near $17.50/oz. Below this level, silver bulls will want the price to remain above $16.80/oz, its most recent higher low.
To the upside, resistance levels will be the 50 DMA, the 200 DMA and the 8 day EMA, followed by the recent highs and then $19/oz.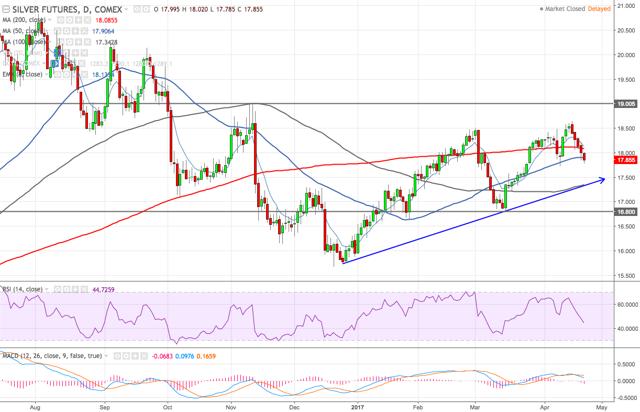 On the weekly chart, we see an unfortunate near-engulfing red candle and a retrace below the 50 week moving average. The $17.50/oz level provides support on the prior downtrend resistance line. Uptrend support comes in near $16.50/oz. It will be very important for bulls to hold the uptrend line near $16.50 on the weekly chart.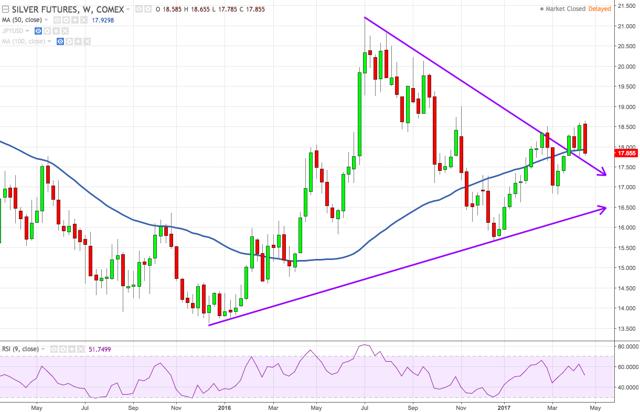 Commercial Positioning
Here are the week-to-week summary changes in the Commitment of Traders ("COT") report published each Friday (with Tuesday's data). From Tuesday to Tuesday, the commercial shorts increased their positioning by 12.6% in the COMEX gold market and 2.1% in the silver market. Hedge funds increased their long position in gold by 13.4% and reduced their holdings in silver by 1.5%. The silver short commercial positioning is at an all-time high.

From Tuesday (the date of the COT data) until Friday (preliminary), the gold open interest increased by another 16,254 contracts, and the silver open interest increased by another 7,713 contracts. As a reminder, increases in open interest tend to correspond to increases in commercial short position.

The silver commercial short interest
Safe Havens
We view silver as primarily trading in relationship to gold, and gold often trades in relationship to safe haven alternatives. In our view, the safe haven demand for gold is indirectly felt by silver. Silver of course has a relationship to some industrial metals (such as copper), but none of those correlations compel us to consider those relationships in our "top 4" indicators for silver, especially in a weekly view. Over the last 252 trading days, GLD has a correlation to SLV near 77%, and a beta near 1.3.
Thanks for any feedback below. We are long precious metals with PHYS, PLSV and/or precious metals miners, and currently hold puts on SLV and GLD as downside protection.
Note: all charts were created on the TradingView website, and the tables were created by Viking Analytics if not otherwise credited.
Disclosure: I am/we are short SLV WITH PUTS.
I wrote this article myself, and it expresses my own opinions. I am not receiving compensation for it (other than from Seeking Alpha). I have no business relationship with any company whose stock is mentioned in this article.
Additional disclosure: We hold long positions in PSLV, PHYS, and/or precious metal miners, and occasionally hedge these long positions with puts