Shares of Celgene Corporation (CELG) and Biogen, Inc. (BIIB), two top holdings of the iShares Nasdaq Biotechnology ETF (IBB), which tracks the total return performance of the Nasdaq Biotechnology Index (NASDAQ:NBI), have been underperforming this year as investor concerns remain about top-line growth and increasing competition. Smaller big-cap biotech companies, such as Vertex Pharmaceuticals Inc. (VRTX) and Incyte Corporation (INCY), are responsible for most of the IBB gains year-to-date.
Rising costs of prescription drugs continue to cast dark clouds over the sector, as most of the general public is still not fully aware of the financial risks involved in developing new biotech drugs along with staggering pre- and post-approval research and development costs. The U.S. Congress is beginning to realize this fact and in late March, introduced bill S.771, the "Improving Access to Affordable Prescription Drugs Act", or IAPDA, in the Senate to create a $2 billion prize fund at the National Institute of Health, or NIH, to incentivize antibiotic drug development.
Here's what Klaus Dembowsky, M.D., Ph.D., Chief Medical Officer of Polyphor Ltd., said back in 2013, "The reason why many companies dropped out from the anti-infectives [field] was because of the [lack of] return on investment." According to Dr. Mahesh Patel, Director of Drug Discovery Research at Wockhardt, a global pharmaceutical company, "The costs of trials are so high and society is not willing to pay the high price for antibiotics; so that is the paradox. Society wants a cheaper antibiotic, but the costs of development will be high. So we need to manage these two conflicting needs."
Political uncertainty surrounding healthcare and corporate tax reform may also play some role in the M&A activities in the pharma, medical & biotech sectors. According to London-based M&A intelligence services firm Mergermarket Ltd., the prospect for M&A activities this year seems not to be much better than last year, as only 314 deals worth $76 billion were signed in the first-quarter of 2017 in the global pharma, medical and biotech sectors, compared to 379 deals worth $89.2 billion during the same period last year.
Biotech earnings season might have already gotten started on the wrong foot when Johnson & Johnson (JNJ) reported on April 18 that its worldwide pharmaceutical sales rose an anemic 0.8% in the first-quarter 2017. Here's what Geoffrey Porges, Director of Therapeutics Research at Leerink Partners LLC, wrote in his note to clients, "J&J's pricing dynamics should impact the broader biopharma industry,"... "We do not anticipate that these issues will be isolated to J&J alone." All eyes will now be on the Celgene and Biogen earnings reports, as they could make or break the sector this year.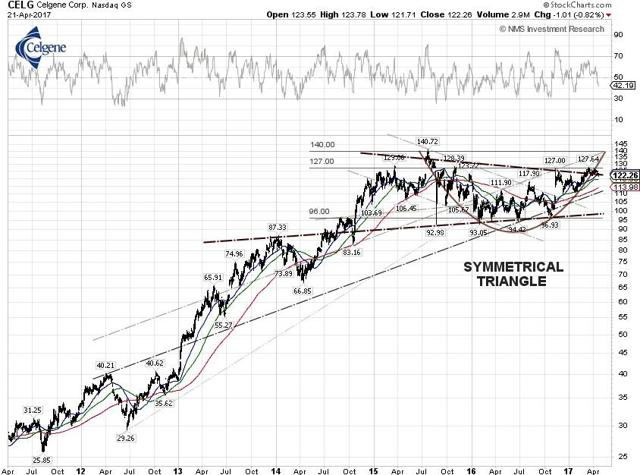 Shares of Celgene, IBB's top holding with 8.14% weight, are trading near the multi-year resistance level at $127. The stock broke out the symmetrical triangle chart pattern in early March and is now bouncing along its trendline support. Technically, the stock looks very bullish and should be able to break out the $127 level if the company can deliver results that are inline with expectations.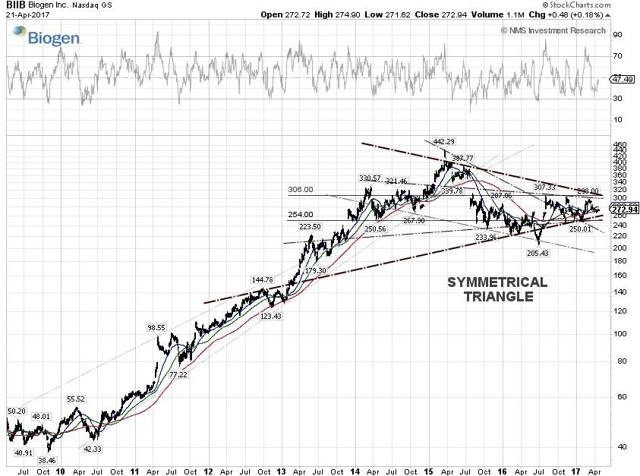 Biogen shares, the second top holding in the IBB with 7.70% weight, have been under selling pressure near the $306 resistance level since August 2016 on concerns about a decline in commercial patients in the multiple sclerosis, or MS, market and a new competing drug from Genentech, Ocrevus (ocrelizumab), for relapsing and primary progressive forms of MS. The stock recently pulled back from the March high at $298 and could bounce from there after the earnings release on April 25, as investor sentiment about the stock improves.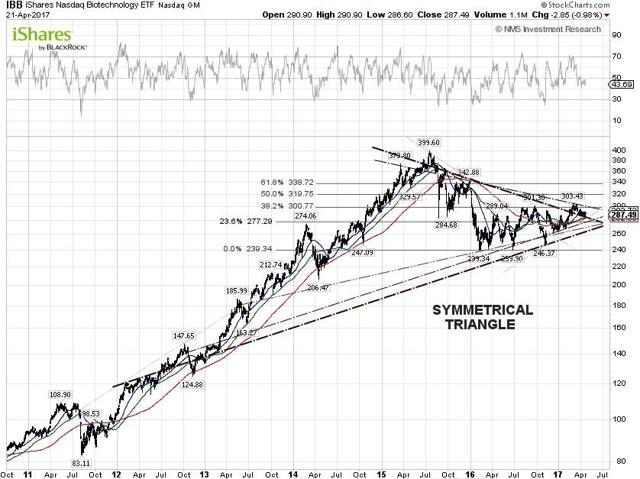 In our view, the Celgene and Biogen earning reports could break the biotech sector out of a long slump. We expect IBB to bounce off the trendline support at the $290 level soon, with an expected breakout point at around $300.77, or the 38.2% Fibonacci retracement level.
Celgene and Biogen Heading Into Earnings
Celgene will announce its first-quarter 2017 earnings on April 27 before the market open. According to Thompson Reuters, based on 25 analysts following the company, the consensus earnings per share estimate is $1.64, on revenues of $3.04 billion. Investors may be focusing on key products including the top-selling multiple myeloma drug Revlimid (lenalidomide), Pomalyst in U.S./Imnovid in Europe (pomalidomide), indicated for patients with specific multiple myeloma treatment conditions, and Otezla (apremilast), for the treatment of patients with active psoriatic arthritis or patients with moderate to severe plaque psoriasis.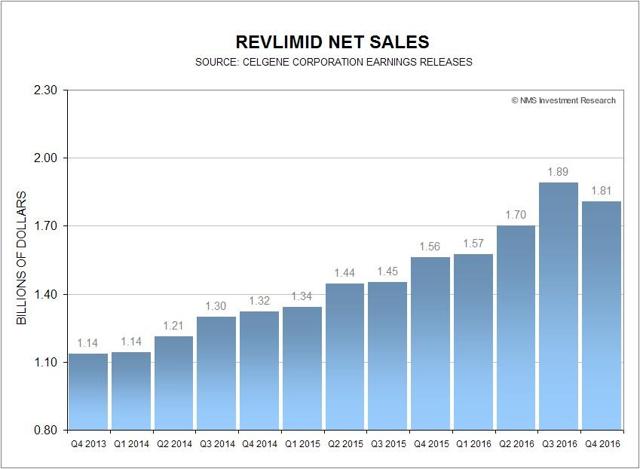 Sales of Revlimid last year were up 22.09% year-on-year to $6.97 billion, accounting for 62.4% of the company's net product sales. Historically, Revlimid sales are seasonally slow in the first-quarter, averaging about 22.9% of the annual sales during the past 3 years. In our view, based on Celgene's guidance for the fiscal-year 2017 net product sales between $13.0 and $13.4 billion, the drug should bring in about $1.861 billion in the first-quarter 2017, up 18.3%, compared to the same quarter last year.
Competing multiple myeloma drug, Velcade (bortezomib), manufactured by Johnson & Johnson and Takeda Pharmaceuticals, Co. Ltd. (OTCPK:TKPHF) (TKPYY), may be experiencing negative growth. Johnson & Johnson reported that Velcade sales were down 7.9% year-on-year to $280 million in the first-quarter 2017, while the drug generated 34 billion yen (about $310 million) in revenues for Takeda in the third-quarter fiscal year 2016, ended December 31, down 15.9% year-over-year. J&J's other multiple myeloma drug, Darzalex (daratumumab), approved by the U.S. Food and Drug Administration, or FDA, in November 2015, continues to perform, generating sales of $255 million in the first-quarter 2017, compared to $101 million during the same period last year.
Biogen told analysts during its third-quarter 2016 earnings call that the overall MS market, particularly in the U.S., has experienced a decline in commercial patients, but the European market continues to grow at a slower pace. Sales of Biogen's top selling MS drug, Tecfidera (dimethyl fumarate), grew just 0.9% in the fourth-quarter 2016, compared to 8.61% sales growth for the three major MS oral drugs, Tecfidera, Gilenya (fingolimod) from Novartis (NVS) and Aubagio (teriflunomide) from Sanofi (SNY), combined.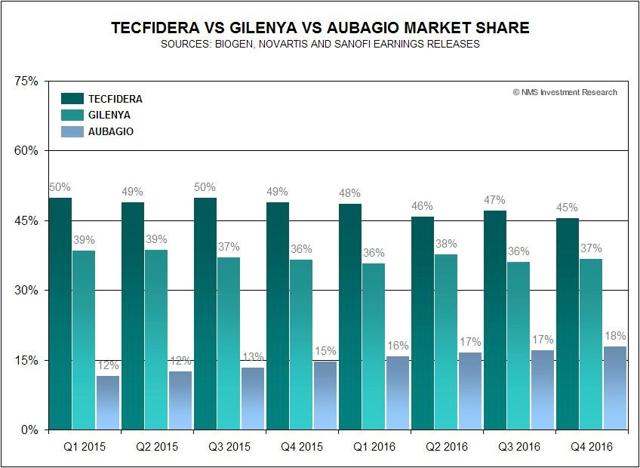 According to our estimation, Tecfidera held about 45.4% of the market share in the fourth-quarter 2016 and might have lost about 1.1 percentage points of its market share to Aubagio and 0.2 percentage point to Gilenya. Progressive multifocal leukoencephalopathy, or PML, a rare and serious brain infection caused by the John Cunningham, or JC, virus, which was added to the Tecfidera drug label in November 2014, could be part of the reasons for the market share erosion.
In late March, a U.S. Patent Trial and Appeal Board, or PTAP, ruled against Forward Pharma A/S (FWP), in a dispute with Biogen over patents for dimethyl fumarate, the key active ingredient in Tecfidera, and found Biogen's patents to be valid. According to Reuters, if Biogen had lost, it would have had to pay Forward Pharma a 10% royalty on Tecfidera sales starting in 2021. In January, Biogen agreed to pay Forward Pharma $1.25 billion and entered into a settlement and license agreement for its intellectual property.
Biogen investors will also be focusing on its spinal muscular atrophy, or SMA, drug Spinraza (nusinersen), approved by the FDA in December 2016, and possible commentary on BMS-986168, a Phase 2-ready experimental drug with a potential in Alzheimer's disease, or AD, and progressive supranuclear palsy, or PSP, licensed from Bristol-Myers Squibb Co. (BMY) last week.
Possible Upside Surprises From IBB's Other Top Holdings
Shares of Regeneron (REGN) have fallen about 18% from its November high of $452.96, and are underperforming IBB this year on concerns about the growth prospects of eye drug Eylea (aflibercept), increased competition in the wet age-related macular degeneration, or AMD, market, and ongoing legal battles with Amgen (AMGN) over patent infringements of Repatha (evolocumab). Regeneron shares are now bouncing along the trendline support of the symmetrical triangle chart pattern and could bounce off from there. Investors should look for a breakout at about the $400 and $435 levels.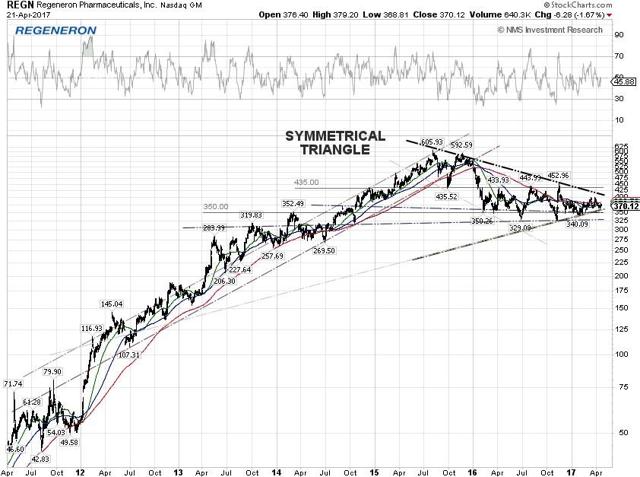 Eylea's global net sales, including sales outside the United States from Regeneron's collaborative partner Bayer AG (OTCPK:BAYRY), came in at $1.35 billion during the fourth-quarter 2016, up 17% year-on-year, while U.S. net product sales were $858 million, up 15% year-on-year. In a February press release, Regeneron said Eylea U.S. net product sales in 2017 are expected to have single digit growth over 2016. In our view, that should already be priced into the stock. Uptake of Regeneron's cholesterol lowering drug Praluent (alirocumab), continues to remain slow, but new eczema drug Dupixent (dupilumab), which is priced well below other competitive drugs, may provide an upside surprise. Regeneron reports its first-quarter 2017 earnings on May 4.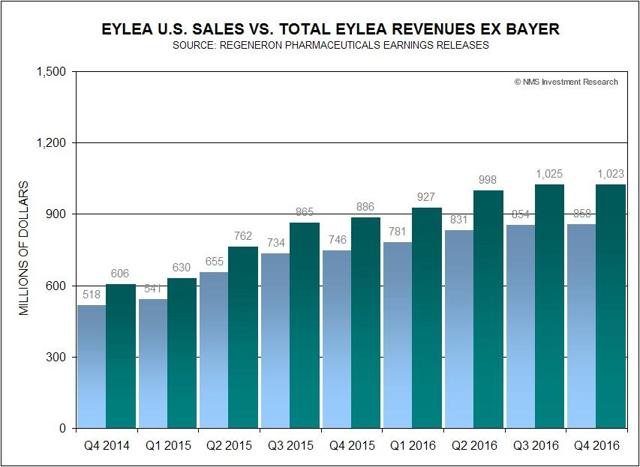 Amgen reports its earnings on April 26 after the market close. Despite threats of biosimilar competition from Sandoz, a generic pharmaceuticals division of Novartis , South Korea-based Samsung Bioepis, a joint venture between Samsung Biologics and Biogen, and pricing pressures, sales of Amgen's flagship rheumatoid arthritis drug Enbrel (etanercept) grew 11% year-on-year in 2016, while Neulasta (pegfilgrastim) sales declined just 1%.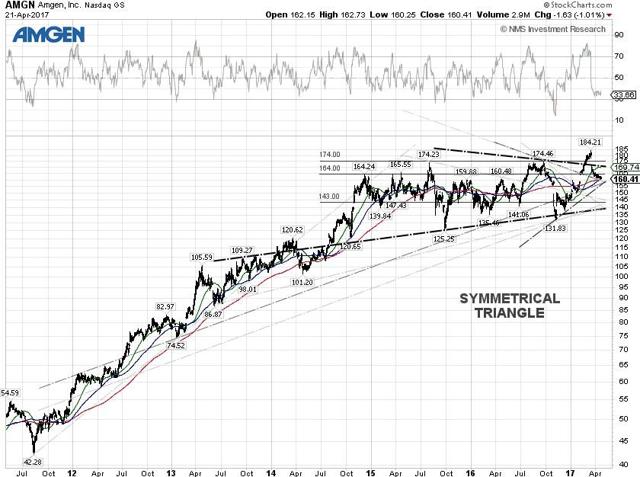 It still remain to be seen whether sales of Amgen's cholesterol lowering drug, Repatha (evolocumab), could provide an upside surprise after the release of positive cardiovascular outcomes in the FOURIER study but that fell short of expectations. AMGN shares have pulled back sharply from the March high of $184.21, following the Repatha data release, but have still managed to outperform IBB year-to-date. The stock is now trading below the long-term resistance level at $164, waiting for good news.
Conclusions
Biotech earnings season might have gotten started on the wrong foot when Johnson & Johnson reported anemic growth of its pharmaceutical sales in the first-quarter 2017. Some of J&J's mature drugs are facing patent cliffs and biosimilar competition, while its other drugs, such as multiple myeloma drug, Darzalex, continue to do well. We don't expect that either Celgene or Biogen will face the same types of situations as J&J.
Sales of Celgene's Revlimid, Pomalyst/Imnovid and Otezla are expected to continue delivering strong growth, while Biogen's MS business could begin to stabilize now that patent issues with Forward Pharma have been mostly resolved. New SMA drug, Spinraza, should also gradually add to Biogen's top-line growth. IBB's other top holdings could provide upside surprises which would break the biotech sector out of its long slump.
Editor's Note: This article discusses one or more securities that do not trade on a major U.S. exchange. Please be aware of the risks associated with these stocks.