As a compensation for missing one issue in April, I decided to make this 8th installment a bit special and feature all of the stocks that I covered in this series in order to see what has happened in the 4 months (ish) that I am focused on the OTC market.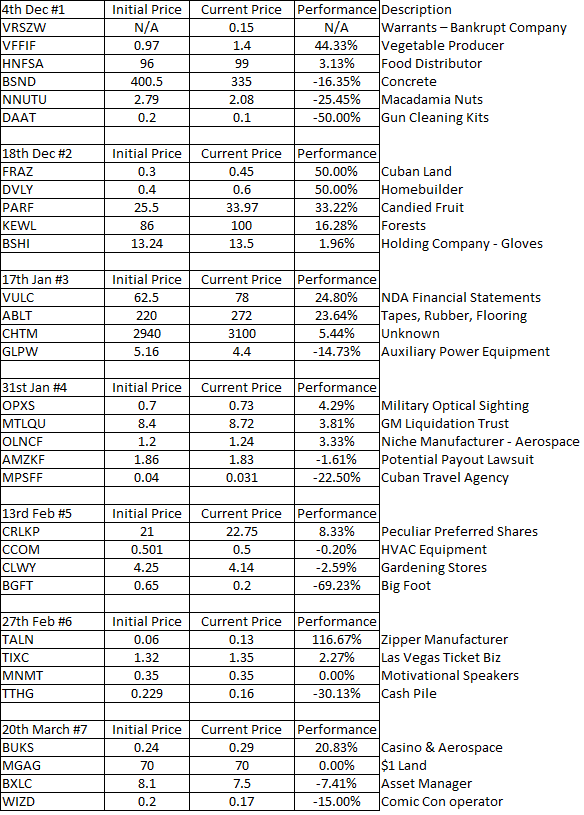 As you can see there was quite some movement in several names. I would point out the following stocks;
This chain of gardening stores likely remains my favorite, especially given the lack of share price action since the time I mentioned it in the bi-weekly. The company continues to trade below liquidation value given the real estate that the company owns. This also completely discounts the going concern which should be attractive due to improved operations which will result in strong cash flow. The management of CLWY is also reason to be optimistic about the future given their experience. Good discussion continues underneath the initial article by Deep Value Analyst.
This company focused on growing macadamia nuts has been struggling over the past four months as the company is facing debt levels that are unlikely to be paid by operational cash flow. In fact, the company recently announced a rights offering aimed at raising $19 million in order to be able to pay down a significant portion of its debt and purchase another piece of land.
Holders of the shares (on the record date of 28th February) can buy the subscription right for $1.79 (meaningful discount to current market price). These rights then can be exercised to receive the same number of Class A units. While the shareholders that are going to execute this opportunity are not going to be diluted, investors that are thinking of buying the existing shares should be aware that the market capitalization might effectively double if every shareholder buys the right and exercises it.
Even then the stock could still represent an interesting opportunity given its real estate (mainly orchards) that is likely carried at over depreciated amounts on the balance sheet. One PRO article mentioned that it could be worth somewhere between $40 million to $80 million (NNUTU's current market cap is $23 million). The operations could also be valuable. It seems that the management is unable to create sustainable cash flow, but it is likely that this is not an impossible challenge and thus NNUTU might be an interesting long-term play.
While this zipper manufacturer recorded the biggest gain by doubling in around two months, the share price action is nothing out of ordinary as the shares have touched these price levels several times in the past year. The stock still might be interesting though given their ability to create cash with relative ease due to their straightforward business.
As a final pick, I have to mention the most bizarre company that I came across in the OTC market so far and that is none other than a company focused on searching for Big Foot and that is trying to monetize this endeavor. The shares 'took a beating' and the stock actually recorded the biggest loss out of the group. This means you can snap assets such as '109-inch skeleton' at significantly lower prices. What a bargain.
And as per usual, here are 3 stocks that I found in the past two weeks or so and that I believe could lead to more interesting research. These might not result in an investment opportunity but I feel that if one looks at stocks properly in-depth he/she can always learn something new. Some of them are also dark and just caught my interest because of material information that I saw online.
Before I dig in I feel obliged to say; Caveat Emptor! Always do your own due diligence and do not take the following tickers as a solicitation to buy.
This is most likely a net-net (or at least a stock that is trading way below tangible book) that is a holding company which owns controlling interest in a rural exchange carrier in North Dakota (ICTC Group) and a minority investment in Dakota Carrier Network, a broadband data transport company. They also hold $18 million in cash and $8 million in short-term financial assets which is substantial due to the low amount of liabilities ($6 million) and the current market capitalization of $22 million. They could also be open to returning some of this cash to shareholders as per recent filings thus further research should be warranted.
Nate wrote about the company in 2012.
Price: $1,370
Volume (30-Day Average): 6
Reporting: Grey - OTCmarkets.com
This company focuses on building, repairing and maintaining marine vessels which were historically partially tied to the oil activity in the Gulf of Mexico. Given the current oil price this might seem like a death sentence, but one might be jumping to conclusions in the case of Conrad as the revenue tied to the oil industry has shrunk to 3% in the past year (down from 35% in 2014) and thus the cyclical downturn might be reaching its later stages. The company also does seem to have new opportunities (such as LNG ships). This could make the stock attractive as it is now trading slightly below its tangible book without having any debt (although they might slightly leverage themselves in 2017).
I have made it clear in the past that I am in no way comfortable with investing into macro/commodity-driven stocks so there is significant amount of risk here that one should take in mind, but given the asset base it could be interesting to further research CNRD and see if they are likely to withstand the operational downturn.
Nick wrote about CNRD in late 2015.
Price: $19.25
Volume (30-Day Average): 2,091
Reporting: Grey - OTCmarkets.com
Argo is severely undervalued asset manager mainly focused on emerging markets listed in London. The thesis is simple. They hold roughly $7 million in cash and $13 million in financial assets and the stock is trading at $9 million while having $1 million in liabilities. They even started to repurchase its own stock which led to a modest share price increase but the gap between book value and market cap is still meaningful.
New Capital wrote about the company in 2014 and presented similar logic.
The trouble is that the management does not seem to be willing to unlock the value as seen on various Wexboy's posts on his website. I believe though that further research is warranted especially given the level of Wexboy's activity around the company.
Price: £0.14
Volume (30-day average): 12,545
Reporting: British Equivalent of SEC
And lastly here is the bi-weekly curiosity that might not be an investment opportunity, but might be worth hearing about for whatever reason.
While the company's name seems like another reality tv show (You are what you eat), WFCF is actually in the business of auditing food manufacturing processes. Its staff checks and verifies that the producer does indeed deliver the food that he/she claims to deliver. This means that they check all the 'organic, non-GMO' type of labels. They started out with a focus on beef but since then expanded to numerous other markets (poultry, pork etc.).
Surprisingly the company has been able to continuously produce a profit (and create operational cash flow) without diluting shareholders. It is, unfortunately, trading at an elevated market cap of $51 million with only a handful of assets which makes it unattractive for me, but several SA contributors (Ian from Microcap Club, Michael Liu etc.) pointed out that the revenue stream might continue expanding at an increasing pace in the coming years due to industry dynamics (untapped market, lack of competition) which might make it interesting for investors regularly looking at growth stories.
Finally, I would like to borrow few words from Thomas Braziel;
'Think about it - where are the truly undervalued securities? It is in the overlooked, deep dark reaches of the markets. The boomed out, the busted, the complex, and the convoluted.'
I would add; Are you wondering how to find them? Just research, research, research!
P.S. If anyone should diagnose themselves as a possible member of 'Anonymous OTC-holics' hit me up with a ticker that you do not have the time to look at or want to have a second pair of eyes on!
Disclosure: I/we have no positions in any stocks mentioned, and no plans to initiate any positions within the next 72 hours.
I wrote this article myself, and it expresses my own opinions. I am not receiving compensation for it (other than from Seeking Alpha). I have no business relationship with any company whose stock is mentioned in this article.
Editor's Note: This article covers one or more stocks trading at less than $1 per share and/or with less than a $100 million market cap. Please be aware of the risks associated with these stocks.