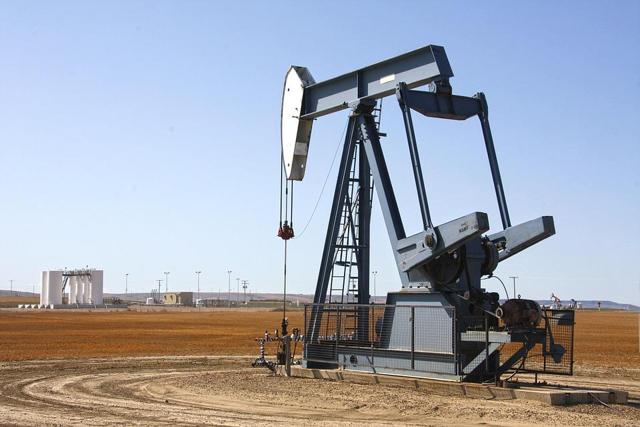 I have realized that there is very little coverage on the Canadian oil and gas energy services industry. This is unfortunate because some of the best returns have come from this industry over the last year.
It's important to understand that the energy services industry receives its revenue from exploration and production companies, and therefore operations are affected by the spending activity of the production companies rather than affected directly by the market price of oil. This causes the energy services industry to operate under slightly different conditions than the production companies, and therefore the market price trends for these two sectors can deviate over time. For more information on my investment thesis into the energy services industry in Canada, feel free to read one of my recent articles here.
I wanted to take the time to highlight a trend that has not been discussed much in the media, yet has been brought up in almost every single conference call and 2016 annual report in the Canadian oil and gas services industry: the difficulty the energy services industry is having in re-hiring skilled staff. This has already resulted in a 10% increase in day rates since the downturn, and I believe further increased demand would result in an exponential increase in the day rates.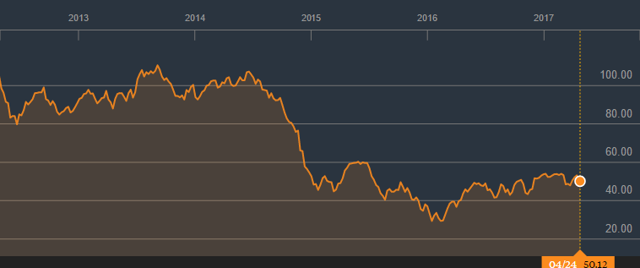 History of Oil and Gas in Canada
To understand why this is important, we should look at the history of oil and gas drilling in Canada. During the early 1980s, a decline in the price of oil, compounded by the introduction of the National Energy Plan, absolutely crippled the oil and gas industry in Western Canada. What was once thought to be a booming industry that would carry Canada's economy into the 21st century, soon became a shell of its former self. This was a long and painful glut that lasted for many years, and did not really improve until a combination of higher oil prices and advancements in steam assisted gravity drainage technology.
This resulted in a renewed boom in the early 2000s. Although this was briefly interrupted by the crash in the price of oil in 2009, this glut was short lived and did not have a long lasting effect on the Canadian oil and gas industry. Despite there being many layoffs, a significant number of these layoffs were re-hired within a few months, which did not affect the sustainability of the industry.
What was different about the 1980s, however, was that the glut lasted far too long. This period resulted in significant numbers of people moving back to different parts of the country, or simply changing careers into a different field. When the eventual rebound occurred, maintaining adequate labor to meet the demand was becoming an ongoing challenge in the industry. This resulted in continuous upwards pressure in wages as companies struggled to meet demand.
The heart of the Canadian energy industry sits in Calgary, Alberta, where most of head offices of the oil and gas companies reside. A significant amount of activity also occurs in Fort MacMurray, which is in the Athabasca basin, and is a location where many of the front-line oil and gas workers work from. The problem with both of these cities is that the cost of living is higher than most of Canada, which historically has been due to the elevated wages that exist in the oil and gas industry.
Another unique aspect of living in either of these cities is that for Calgary, a significant number of people were not born and raised here, but rather moved there for the lucrative working opportunities (for those of you not from Canada, Calgary and Fort MacMurray have been known as the land of opportunity for hardworking people looking for high-paying jobs). Without the high-paying oil and gas job, it was very difficult to justify living in a more expensive city.
In Fort MacMurray, the vast majority of residents moved there for work. An enormous number of workers had moved within the last few years to meet the endless demand for workers, that simply could not be satisfied locally. It was these less experienced workers that occupied the majority of people laid off during the downturn. After facing many significant expenses for moving over here and getting the tickets required to work on the rigs, many workers were forced to head back home with no savings, or sometimes even at a loss. This may have created a lot of resentment for many workers, whom likely left Alberta with a bitter taste in their mouth.
Contract Drillers and Production Services Companies
I wanted to highlight two specific aspects of the oil and gas services industry in Canada: the contract drillers and the production services companies. I believe it is important to isolate this significant portion of the services industry, as it is the part of the industry that will largely responsible for any rebound activity; this is to contrast with companies such as Secure Energy Services (OTCPK:SECYF) and Canadian Energy Services (OTCPK:CESDF), which will not respond as strongly to the trends discussed in the article.
I have written about many completion and production companies in the past, so feel free to review one of my many articles on these companies. Some of the biggest names to research in this sector include Precision Drilling (NYSE:PDS), Ensign Energy Services (OTCPK:ESVIF), Trinidad Drilling (OTCPK:TDGCF), Xtreme Drilling (OTCPK:XTMCF), Savanna Energy Services (OTC:SVGYF) Western Energy Services (OTC:WEEEF), High Arctic Energy Services (OTCPK:HGHAF), Calfrac Well Services (OTCPK:CFWFF) and Trican Well Services (OTCPK:TOLWF).
Hiring Shortages for Drilling and Completion Companies
By the end of 2016, exploration and production companies began increasing capital expenditures to accommodate the significant rally in the price of oil. While many workers have since been rehired in the drilling and completions industry — as much as a ~35% increase for some companies, such as Essential Energy Services (OTCPK:EEYUF) — the industry began facing difficulty obtaining the workers they needed to fulfill contracts. It seems that just like during the boom, the industry growth is once again being limited by labor factors. Unfortunately, there doesn't seem to be any end in sight to this trend.
This suggests that any further increase in the price of oil that would result in a growth in capital investments will ultimately result in the drilling and completion companies "having the cards" once again, which will be a significant change over the producers being in control since the downturn.
Throughout the boom leading up to 2014, drilling and completion companies were setting increasingly higher rates as rigs could not be contracted fast enough. We have already seen day rates rise about 10% in the contract drilling industry over the last quarter, and most management teams are attributing this entirely to the labor shortage.
I find this increase to be very interesting, considering that further increases in the rig count will be much more difficult to meet staffing needs, and could result in a significant increase in the day rate in the short term.
The Big Picture
I want to really take the time to emphasize just how important this trend is for the overall oil and gas industry in Canada. As I have said before many times in my articles, I view the oil industry a little bit differently than most. I think that the next few decades will be accompanied with significant price fluctuations in the price of oil as OPEC loses power to the free market, which can't be regulated with the same rigor.
I believe other analysts have neglected to consider the impact of labor in the free market, and the simple observation that the labor market will not be able to sustain rapid growth and crashes occurring every few years. This suggest that the labor force may play a significant role in the inability of Canada to act as a swing producer, which will of course further exacerbate the fluctuations in the price of oil.
Conclusion
This trend needs to be considered if you are looking at making an investment in the oil and gas services industry in Canada, especially if you are looking at the contract drillers and completion companies. The broad market seems to still expect the free-market producers to fulfill their duties as the swing producers, but already we are seeing problems with that perspective.
I believe that the contract drilling and producing companies are currently in an excellent position for significant margin growth should demand for rigs increase further, and represent a better investment that the producing companies right now.
In short, while the producing companies are at the will of the global oil market, the Canadian energy services industry economic viability is dependent upon additional variables such as skilled labor, that will allow them to outperform exploration and production companies in a rally.
Disclosure: I am/we are long HWO, TDG, XDC, SVY, ESI.
I wrote this article myself, and it expresses my own opinions. I am not receiving compensation for it (other than from Seeking Alpha). I have no business relationship with any company whose stock is mentioned in this article.
Additional disclosure: I am long all of the above tickers on the TSX. All values are in CAD unless otherwise stated.
Editor's Note: This article covers one or more stocks trading at less than $1 per share and/or with less than a $100 million market cap. Please be aware of the risks associated with these stocks.