The Philippines, with a GDP of approximately 1.5% of that of the US, has one of the strongest set of economic metrics across the board among emerging markets (NYSEARCA:EEM). The economy has grown 6.6% year-over-year, inflation is manageable at 3.4%, its labor market is reasonably tight despite a recent uptick in the unemployment rate, the deficit runs at 2 to 3 percent of GDP, and debt-to-GDP is only around 42%.
Strong domestic spending will put the Philippines at around a 7% projected real growth rate in 2017. An additional boost will be generated from higher commodity prices relative to a year ago, stronger growth/inflation metrics coming out of developed economies, and seemingly better global economic conditions generally.
Recent infrastructure improvements, a rising population, and demographic tailwinds should also keep economic growth around 7% through the end of the decade. The Philippines' average age is just 23.4, which is below the world average of 30-31. These factors all work to push out the demand side of the economy.
The country's population has grown at a 1.9% annualized rate since 2010. Considering that organic economic growth is a function of productivity growth and the increase in labor hours worked, population growth is worth around 2% growth by itself. Improving infrastructure and investments into human capital will work to grow productivity.
The demographic picture of the Philippines contrasts with an older country like Japan (average age of 47), whose population has shrunk over the past decade. Other countries in the region, including Japan, Hong Kong, China, Taiwan, Thailand, and Singapore will all have difficulty growing their working-age populations. Increasing dependency ratios in these nations will be a material headwind to growth moving ahead.
For the Philippines, the favorable demographic push is expected to last for another 35-40 years, wherein its working-age population as a percentage of the total population is expected to grow. This will help support long-term growth in consumption although the 7% y/y real growth rate will compress over time.
The totality of these positive forces on the demand side of the economy will work to grow consumer spending. A greater propensity to consume also directly incentivizes increased investment spending and the expansion of manufacturing capacity.
Additional industrial capacity supports the continued demand for labor and higher real wages, which we're currently observing. This will also allow the Philippines to retain more of its own workers as wages converge to those in more developed countries, thus reducing the incentive to move abroad to find higher-paying employment.
On the front of international trade, multinational corporations have off-shored a portion of their customer service and back-office operations to the Philippines in order shed costs. The economy's service sector has seen massive growth this decade. Exports of physical goods were nonetheless down, which reflected a weak year overall for growth in 2016.
The Philippine peso has nonetheless continued to fall against the US dollar (NYSEARCA:UUP)(NYSEARCA:UDN). This trend started back in early-2012 and has accelerated within the past year. Since March 28, 2016, the peso has lost 8.0% against the dollar.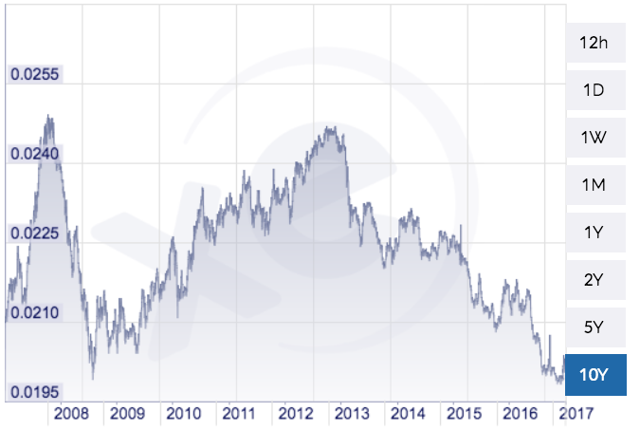 (Source: xe.com)
Overall, 2017 should be a better year for exports than 2016, due to currency depreciation and some degree of rebound in demand from foreign trading partners. This is positive for growth.
The tech sector is also in a favorable point in its cycle, which has been beneficial to the Philippine economy as well as those of Taiwan and Singapore, which each have current accounts of 14%-20% of GDP. (The US current account, by comparison, is -2.6% of GDP.) The Philippines is currently at around breakeven in this regard but should improve to around +1% to +2% in the year ahead.
Infrastructure spending will remain a key component of President Rodrigo Duterte's administration going forward. Almost all economies have found positive returns on investment with respect to this form of spending and the Duterte Administration has authorized a 14% increase in infrastructure spending over 2016's total. The World Bank ranks the Philippines' infrastructure as 71st globally (out of 160 countries considered), with a ranking of 2.55 on a 1-5 scale.
The Philippine economy is also more subject to natural disaster risk, given its geography, which places more need on higher-quality infrastructure. Additional spending would expect to raise the deficit in the near-term but pay dividends down the road.
The country's 2017 government spending is expected to be up around 20% from 2015's figure. In order to accommodate this increase without excess pressure of the deficit, the government is focusing on revamping its tax scheme.
Tax rates are actually set to decrease; however, additional taxes will be levied on gasoline and automobiles. Additional intent will be placed on capturing behavior designed to circumvent the tax system, while providing amnesty incentives on those who have sidestepped paying in the past.
Overall, the country has retained a high level of fiscal discipline over the years, with external debt as a percentage of GDP falling from 33.7% in 2011 to a projected 22%-23% for 2017. Total government debt is expected to continue to fall somewhere in the low-40%'s.
The country will also need to watch its currency to ensure that its weakening against the USD (the currency most of its foreign debt is issued in) doesn't continue at its recent pace. This would effectively make its external debt more expensive.
The Bangko Sentral ng Philipinas ("BSP") is expected raise rates over the 2017-18 period. Inflation has crept up about 350 bps in the past eighteen months as oil prices have doubled from their January 2016 lows and domestic demand has recovered.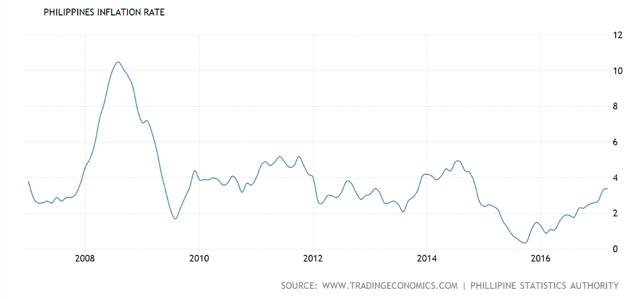 This goes along with steady growth, which is expected to increase slightly from its current level through the remainder of the decade.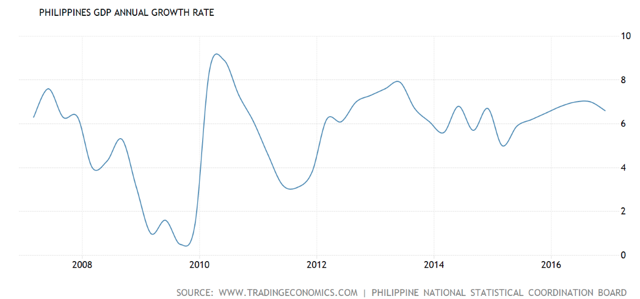 This, in turn, will support a higher equilibrium rate, though the BSP has been content to leave its benchmark overnight rate at 3.00% since Q2 2016.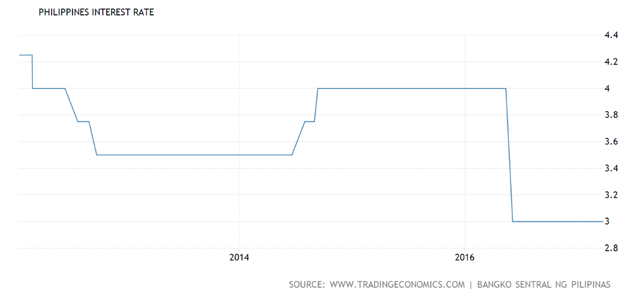 It's unlikely that the BSP will hold throughout the remainder of 2017. Inflation is targeted at 3% +/- 1% (i.e., officially 2%-4%). The economy is a little bit above this midpoint and the effects of increased consumption spending will likely move the inflation figure ahead further. The depreciation of its domestic currency is also another tailwind to inflation by effectively increasing the costs of imports.
The US Federal Reserve is also likely to increase rates twice more in 2017 unless data come back weaker than anticipated. Given the US economy is around 24% of the entire world economy, hiking from the Fed also predisposes other central banks to follow suit. The predominant reason is the potential for capital outflows out of their respective economies.
As US assets become increasingly attractive with higher returns, this can put pressure on Philippine and other emerging-market assets. This has the effect of increasing their yields and resulting in higher capital costs, causing the equilibrium rate to naturally rise higher on its own.
As Philippine inflation and growth continue to move higher and the Fed expectedly hikes another two times in 2017, this will likely cause the BSP to move rates up by 25-50 bps by the end of the year. By year-end 2018, we could expect the BSP to set the benchmark another 100-150 bps higher, or somewhere around the 4.00%-4.50% level.
Investing Opportunities in the Philippines
The Philippines has one main ETF released by iShares, EPHE (NYSEARCA:EPHE). It's heavily concentrated in financials (45%) and industrials (23%).
Given financials are so heavily intertwined in the economic cycle, an upswing in the Philippine economy is likely to benefit the banking/financial sector generally. This is the easiest way for individual investors to gain exposure to the Philippine market.
For those interested in Philippine debt the sovereign bonds are another choice. There is no corresponding ETF here due to a combination of demand and liquidity constraints. The iShares ETF EMB (NYSEARCA:EMB) has Philippine debt weighted in it at 3.83%.
For actual Philippine government bonds, the country offers 1-years running at around the overnight rate of 3.00% up to 25-years yielding 5.2%, though there's some fluctuation. For example, bonds expiring in December 2026 (ISIN: PHY6972FCN88) have a yield of 5.3%.
Valuing Philippine Sovereign Debt
When it comes to equities and corporate bonds, I prefer to value on the basis of discounted cash flow. For sovereign debt, I prefer to value similarly to how the credit agencies assess risk - by looking at a composite of factors and bucketing into a generalized quality tier: median/mean real GDP growth, volatility in real GDP growth, GDP per capita, inflation, inflation volatility, government debt to GDP, government debt to revenue, interest expenses to GDP, interest expenses to revenue, fiscal deficit as a percentage of GDP, current account as a percentage of GDP, public debt to GDP, financial sector capital ratios, financial sector size as a percentage of GDP - roughly in that order. Qualitative factors are also highly important, such as the country's level of economic diversification, geopolitical risks, domestic political climate, corruption risk and quality of its rule of law.
Many of these ratios then bucket into a particular quality rating based on a predetermined range and, based on an adjustable weighting factor system, are collectively assigned an overall rating. Through a database one can determine how often comparable scenarios defaulted in the past based on various time horizons - one-year, five-year, ten-year, etc. For Philippine bonds that mature by an expected date, one should expect to calculate out an expected default rate until then.
From the expected default probability, we can then calculate out an appropriate discount rate that should represent the country-risk premium, equal to:
Country-risk premium = probability of default * (1 + 10-year Treasury) / (1 - probability of default)
The ten-year Treasury is used as a global risk-free rate. (Further theory behind this can be seen in a 1985 paper by Sebastian Edwards.)
I also assume that nothing will be recovered in the event of default. That's almost never true, but I find it useful for the sake of conservatism.
Recently, these bonds are trading at levels not seen since July 2012, and were trading at yields of 3.2% in July 2016. The 210-bp yield expansion has largely come as a consequence of rising inflation, causing bonds to sell off as investors' real returns decrease.
Over the next ten years, I figure the probability for default in the Philippines is around 4%. This would put the risk premium at around 4.3%. With its 8% coupon, I calculate the fair value of this bond at around a 7.5% discount to its intrinsic fair value price.
Overall I look for the discount to be at least 20% for low-yielding bonds (plus a catalyst to potentially close this valuation gap). However, the higher the yield the more of a pass they get with respect to the value factor. In the end, it's about assessing total prospective returns.
Accordingly, Philippine bonds don't quite provide the value I would prefer. Also, given the volatility in the peso (the currency the bond is denominated in), you might want to hedge against this in your native currency or at least one that's stable.
"Long USD" was one of the macro themes that I was targeting from the latter part of 2016 through up until a few weeks ago, but I've lost faith in the idea for now. I do maintain a mostly bullish sentiment on the USD in the near- to intermediate-term; I think the US economy is in better shape than that of other developed markets, and it's the only developed economy to have a central bank currently undergoing a tightening cycle. The higher rates attract capital to USD-denominated assets, boosting the currency in the process.
But I don't think the type of prospective returns currently justify having a material amount of capital committed to long-USD positions. For me, this makes foreign sovereign debt less appealing given I prefer to hedge out foreign-exchange risk in these investments so I'm getting at the returns in the underlying market rather than worrying about where the currency might be meandering off to.
Conclusion
There is a lot to like about the Philippine market. Growth is on pace to double living standards every ten years and looks sustainable at least through the end of the decade. Inflation is relatively low and stable and the government has exercised prudent spending habits. The country hasn't built up the substantial amounts of debt that other emerging markets have.
As the US Federal Reserve undergoes tightening measures through increases in its overnight rate and the possible run-off of assets from its balance sheet (which will effectively increase US yields, holding all else constant), this will challenge emerging-market countries with higher amounts of external debt. The Philippines, however, has lower levels of US-denominated debt and ample forex reserves, which puts the country less at risk in this respect.
I am personally not invested in the Philippines in any form but for those looking for a fast-growing Asian-Pacific country with favorable demographic tailwinds, it's a market that's worthy of additional scouting.
Disclosure: I/we have no positions in any stocks mentioned, and no plans to initiate any positions within the next 72 hours.
I wrote this article myself, and it expresses my own opinions. I am not receiving compensation for it (other than from Seeking Alpha). I have no business relationship with any company whose stock is mentioned in this article.