This month we publish a summary of our Vietnam Investor Tour to which a number of investors and friends joined us to get a better idea of the investment potential in Vietnam. Scott Osheroff, Analyst at Asia Frontier Capital, compiled the below report. The photos in this article are all by AFC.
Last month Asia Frontier Capital hosted a group of investors to what is arguably the most important emerging economic power in ASEAN: Vietnam. Spending nine days traversing the country from Hanoi and Hai Phong in the north to Saigon, Can Tho and Phu Quoc in the south, we immersed ourselves in the manufacturing, services and tourism sectors to better understand the dynamics of this thriving economy.
Having hosted a similar tour two years ago, those who attended again were astonished at how the country is transforming, becoming ever more developed in terms of infrastructure and real estate, as well as seeing a continuing influx of factories from China, South Korea and elsewhere. At the moment, Vietnam is in an economic "sweet spot" and we continue to be enticed by its prospects.
Our tour began with a trip to Ninh Binh, an emerging tourist destination in the north of Vietnam. Most tourists visit either Ha Long Bay or Sapa, but Ninh Binh, perhaps best referred to as Ha Long Bay on a river, rather than the sea, is likely to see a significant influx of foreign tourists going forward. With a similar topography to Ha Long Bay, we visited a secluded pagoda among the sharp, jagged hills. This was followed by a boat tour of the river and several pitch-black grottos which we navigated through with flash lights, ensuring not to bump our heads. In Ninh Binh it was interesting to see the majority of the tourists were either Vietnamese or Chinese, something we expect to soon change.
Landscape in Ninh Binh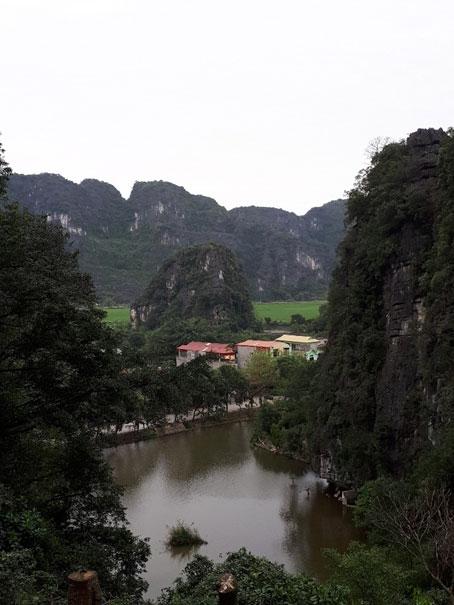 My captain on the river in Ninh Binh: Foot power!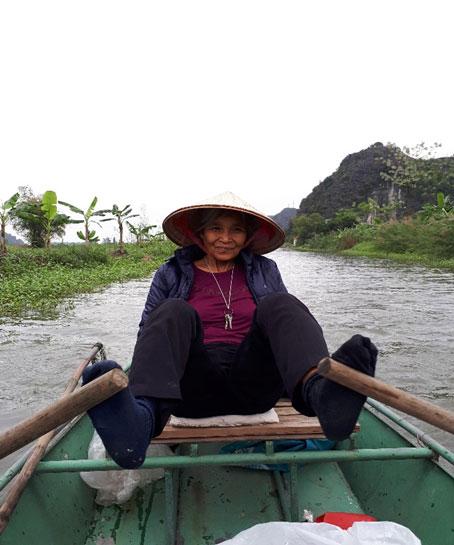 Up until last year tourism was largely a nascent industry in Vietnam and something many domestic travel agents I have spoken with were worried about as there was too much competition among a shallow pool of tourists. However, late last year Vietnam lifted short term visa requirements for several European countries allowing 15-day visa free travel, and also allowed Americans to purchase 1-year multiple entry visas. This, combined with a rapidly growing number of Chinese tourists, saw arrivals in the first two months of 2017 reach 2.2mln (+33% YoY). The Vietnamese government is very focused on promoting tourism to Vietnam (which currently represents ~9% of GDP) and is aiming to realize 11.5mln arrivals in 2017.
The next two days were spent visiting companies in Hanoi and Hai Phong, Vietnam's third largest city. In Hanoi we visited the largest brewery in North Vietnam, Hanoi Beer Corporation, a pharmaceutical manufacturer, a plastic bag producer focused of food and medical grade products which it is exporting to Japan and the EU, and the largest privately operated port in Vietnam, which is located in Hai Phong.
Bridge under construction over the Hai Phong river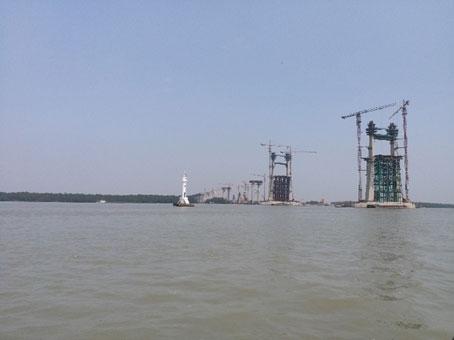 Hai Phong River Port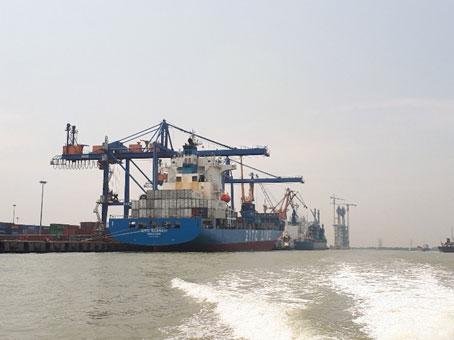 In order to learn about the opportunities and challenges facing Vietnam's integration with the region and world, as well as how it is procuring products for the domestic market, we visited the Gemadept Port operation in Hai Phong. Having several ports along the river, our group accompanied management on a boat tour of the company's operational ports as well as a new one under development. The Hai Phong river ports have a combined capacity of ~5mln TEU (twenty foot containers) with ~70% of volume for imported goods and 30% of volume for exported/finished products. This compares with the ports in the south of Vietnam which have a more balanced ~50/50 split between exports and imports. With China being Vietnam's largest trading partner and Vietnam having a trade deficit with China it would make sense for there to be more imports in the north compared to the south of Vietnam.
Nonetheless, in the north of the country there is an emerging tech manufacturing sector where higher value products are being produced and port import/export ratios become less important as mainly raw materials and items for domestic consumption are imported while high value items are increasingly exported. Samsung is a significant driver of this as this South Korean conglomerate is the biggest manufacturer of electronics and also the largest foreign investor in Vietnam, having already invested or planned to invest USD 6.5bln.
From Hai Phong we flew south to Saigon where we attended a day of boardroom meetings hearing from the largest fertilizer and dairy companies in the country. We also heard from a ferry operator whose main routes are from the southern cities of Ha Tien and Rach Gia to the rapidly growing tourism destination of Phu Quoc, an island off the southern tip of Vietnam which used to belong to Cambodia, and the Nam Du islands. The ferry operator is realizing significant growth and is looking for additional routes to add as demand continues to accelerate, mainly among domestic Vietnamese travellers.
The next day we drove south from Saigon where we visited Thien Long Group (TLG), the largest pen and office supply manufacturer in Vietnam. TLG manufacturers its own brands of pens and markers, but also operates on an OEM basis. Seeking to become a regional competitor, ~20% of TLG's revenues currently come from exports with their main markets being Japan and the USA, followed by Cambodia and Laos. TLG has seen its business grow by nearly 4 times since 2012 and we see continued growth potential in the company as it both grows its market share and begins to automate its factory, driving an increase in margins.
Our investor tour group at HABECO (Hanoi Beer Corporation)
(Before visiting the tasting room)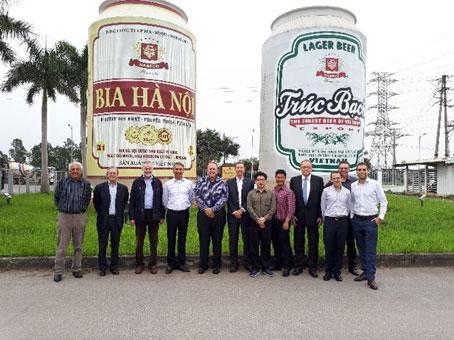 Visit to Thien Long Group (TLG)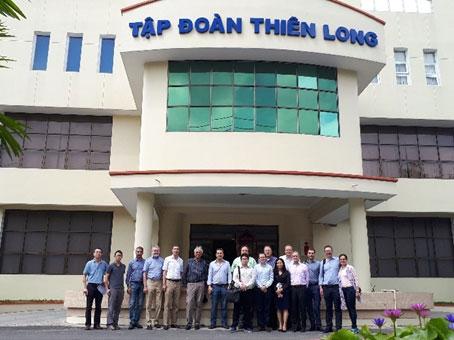 Our visit to TLG was followed by lunch at a fish processing facility which is capable of processing 250,000 kg of Pangasius fish per day. They are an export focused company with their main markets being the USA and Europe where they supply some of the most well-known supermarket retailers. Complying with international standards, the factory was both exceedingly clean and efficient as several hundred workers scaled, filleted, froze and packaged the fish filets for export.
That evening we stayed in the city of Can Tho where we enjoyed a relaxing dinner cruise on the Mekong river delta, followed the next morning by a tour of the famous Cai Rang floating market.
Dinner cruise on the Mekong River Delta near Can Tho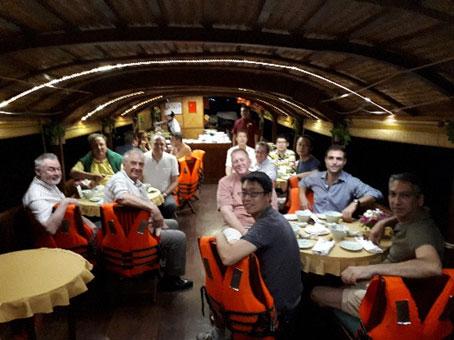 Visiting the Cai Rang Floating Market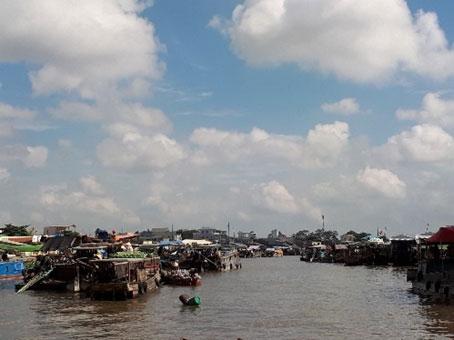 The following day we flew from Saigon to Phu Quoc Island (which is nearly the same size of Phuket Island in Thailand). Phu Quoc in recent years has seen very large investments in road and power infrastructure, as well as hotel developments. Branded as a tourist zone where foreign visitors do not need visas for short visits, Phu Quoc has the potential to become the Phuket or Hawaii of Vietnam, but in development terms it is perhaps where Phuket and Hawaii were twenty to thirty years ago - still tranquil and full of opportunity as visitor numbers accelerate. Vin Group, a locally listed company, has already taken advantage of Phu Quoc's rapidly changing landscape with the opening of the VinPearl resort which boasts 671 rooms, a golf course, fun park and a soon-to-be completed casino (the first casino in Vietnam where Vietnamese will be allowed to gamble).
A beautiful beach on Phu Quoc Island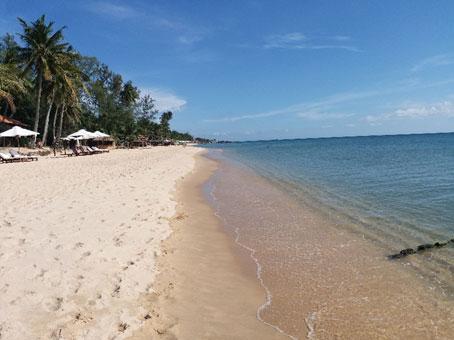 As our Vietnam tour came to a close, Phu Quoc was an ideal venue to reminisce about our trip and reflect on the economic potential on offer in Vietnam. We remain highly upbeat about the country's macro-economic potential and we see it as one of the most promising frontier economies for investment in the medium and long term that will benefit our investors in both the AFC Vietnam Fund and the regional AFC Asia Frontier Fund for years to come.
Disclosure: I/we have no positions in any stocks mentioned, and no plans to initiate any positions within the next 72 hours.
I wrote this article myself, and it expresses my own opinions. I am not receiving compensation for it. I have no business relationship with any company whose stock is mentioned in this article.
Additional disclosure: The AFC Vietnam Fund has invested in Thien Long Group.