Last week, shares of IBM (NYSE:IBM) tumbled after the company announced its first quarter earnings, highlighted by a sizable revenue miss. With shares pulling back, the annual dividend rose nicely, and on Tuesday, the company announced its 22nd consecutive annual dividend increase. IBM continues to be an income investor's dream, and the Oracle of Omaha is definitely smiling this morning.
The company's board announced a 10 cent per share increase to $1.50 per quarter, or $6.00 a year. This dime per share raise equals last year's increase, although the percentage increase is obviously lower since you are working off a higher base amount. As you can see in the chart below, IBM's dividend has now doubled since 2011. Figures in the chart below represent the amount the dividend was raised to that year, so $1.50 for this year as an example.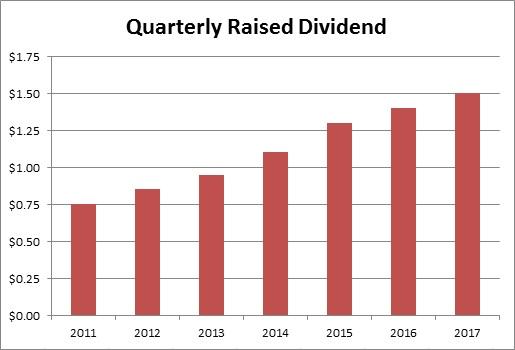 (Source: IBM financial information page)
The company's large share repurchase plan has a lot to do with these dividend increases, as IBM has reduced its share count nicely in recent years. However, the company has also increased its total dividend payouts rather comfortably, topping $5 billion in 2016 as seen on its cash flow statement (page 87).
Later this year, I would expect an update from the company on that buyback plan. The company had about $3.8 billion remaining on the current plan according to information detailed in the latest earnings release, and IBM has averaged about $4 billion in share repurchases the last two years. While I don't know if the current plan will be completely finished this year, many companies like to announce buyback raises a quarter or two before they've completed their current authorization amounts.
On Tuesday, IBM gave its investors a reason to celebrate with a dime per quarter dividend increase. While this year's hike won't completely wash away the stain of last week's earnings report, it certainly is good news. The stock remains a solid income investment, with an annual yield around 3.70% that's well above US Treasuries. Warren Buffett is certainly happy today.