It's that time of year again. It's almost May, and with it comes the annual debate among traders as to whether it is time to step away from the stock market until the late fall after any October swoon has come and gone. Even long-term investors give consideration to this seasonal phenomenon as a potential time to lighten up on stock portfolio allocations at the margins. But, as we enter this latest annual phase in 2017, it is worthwhile to consider whether such a strategy makes sense this year.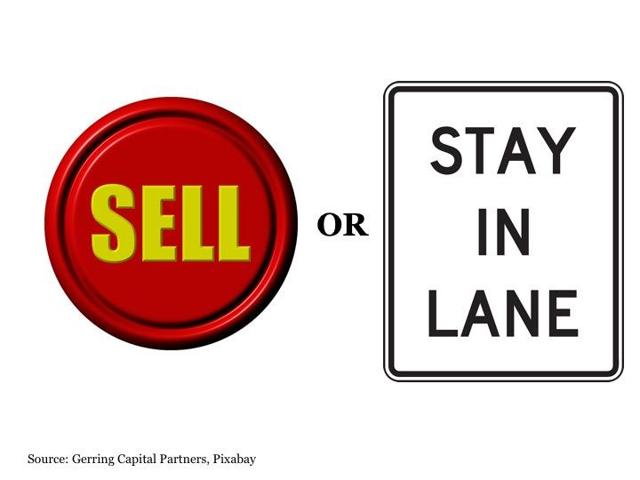 Chocolate Easter Bull
First, it is worthwhile to consider the merit of the sell in May and go away idea from a fundamental perspective. Unfortunately, the answers here do little to inform how an investor should proceed with such a strategy.
Why? Because a reasonable case could have been made from a fundamental perspective to have sold stocks (NASDAQ:QQQ) in May 2011 and still be waiting to come back.
How could this possibly be the case? For it was around this time that the stock market completely disconnected from fundamentals and began soaring to the sky with virtually no fundamental support other than valuation expansion.
If you find yourself scoffing with derision after reading this point, consider the following. The S&P 500 Index (NYSEARCA:SPY) was trading at 1,370 against underlying earnings of $83.87 per share in 2011 Q2. This equated to 16.3 times earnings for the stock market (NYSEARCA:DIA) at the time, which was in line with its long-term historical average despite the fact that the economy remained sluggish and outlook uncertain in the wake of the financial (NYSEARCA:XLF) system nearly imploding just a few years earlier.
What has happened since then? Underlying corporate earnings have barely moved to the upside - inflation adjusted earnings were higher in 2011 Q2 than they were in 2016 Q4. The economy remains sluggish at best. Concerns about Latvia and Greece (NYSEARCA:GREK) in the European Union (BATS:EZU) have escalated by magnitudes to worries about the United Kingdom (NYSEARCA:EWU), France (NYSEARCA:EWQ) and Italy (NYSEARCA:EWI) today. And to suggest that we are grappling with far greater geopolitical uncertainties today versus six years ago is an understatement. Yet, the S&P 500 Index has since increased by +75% almost completely on the unsustainable hot air of global economic stimulus.
Live by the valuation expansion, die by the valuation contraction. But, in the meantime, the bull market that remains as hollow as a chocolate Easter bunny continues to roll on!
So? Sell In May And Go Away?
The fact that fundamentals provide little guidance in answering this question leads us to consider the technicals. This includes an examination of how the market has behaved during this supposedly ill fated time period over the last seven calendar years since the calming of the financial crisis (I say calming because it's not over, just lying dormant as it undergoes a sovereign debt metamorphosis in getting ready for the next bear market, but this is a topic for another year).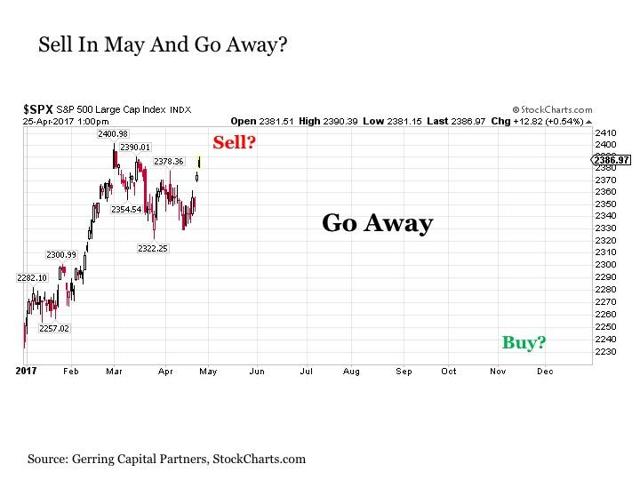 A review of the past seven years is informative as to how to potentially navigate the sell-in-May-and-go-away phenomenon.
First, as a summary point, it's really has become no longer sell in May and go away until November. Instead, it has evolved during the post-crisis period into sell in April or May at the latest and wait for the correction, if any, to buy back in.
Second, anyone considering a full-blown sell everything in May and looking to buy back in sometime later in the year is taking on far too much market timing risk in my view. Unless you are the nimblest of traders with a lightening quick trading time horizon, investors are best served to stick to their long-term investment philosophy regardless of what might happen between April/May and November in any given calendar year. This does not mean that investors should not consider adjusting at the margins of their disciplined investment strategy that may include selling marginal stock allocations or shifting allocations at the margins with a broadly diversified asset allocations strategy, as such maneuvers could add basis points if not percentage points of alpha if executed properly. But these changes should be made at the margin while not upending a long-term investment approach.
With all of that out of the way, let's now consider how the market as measured by the S&P 500 Index has reacted during this critical April/May to November period.
First consider 2016. Stocks did peak in April as the trade suggests. But they merely limped into June before bottoming post Brexit. Investors certainly didn't miss much through November and had a narrow window of opportunity to buy back at a slightly lower price later in the year, but it was fleeting at best and was long gone the moment the election results were counted in the U.S. Put simply, sell in May and go away was a wash at best, a disaster at worst, and was essentially not worth the trouble.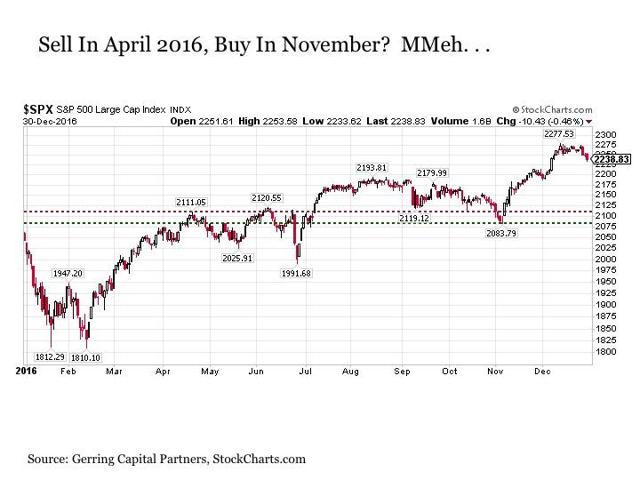 How about 2015? This was textbook sell in May and go away. Stocks peaked in May, sold off hard in the summer, eventually rallied but still gave investors the opportunity to buy back in at a lower price later in the year. A clear winner, although stock investors had to then weather one more nasty ride to the downside in early 2016.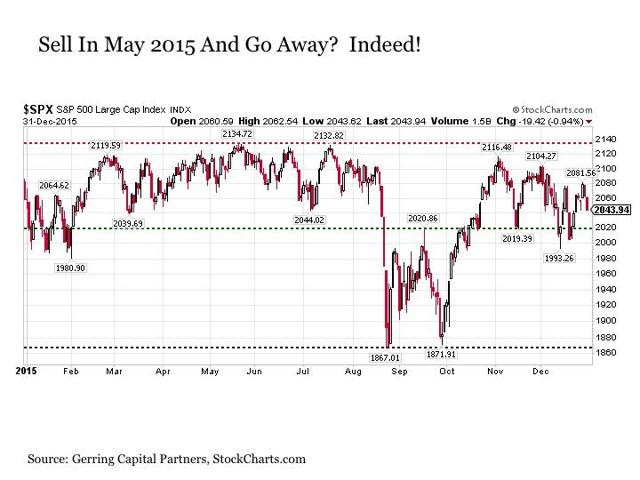 Next up is 2014. Here the sell-in-May-and-go-away trade came with a razor-thin window at best. After selling in April and kicking yourself for several months and 120 S&P points through September, you would have ended up being finally vindicated come October. But thanks to St. Louis Fed President Jim Bullard among others, you would have had to have been not only precise, but also lighting quick to capture the advantage. In short, not at all worth the stress and frustration in 2014.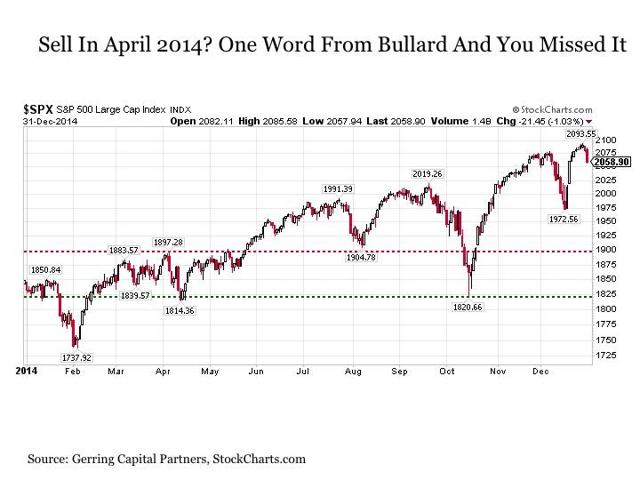 Moving on to 2013, the same deal presents itself. The U.S. Federal Reserve was pumping a torrent of liquidity into the financial system at the time, so trying to play sell in May and go away that year was a tall order. And despite a very narrow window presenting itself come early October, the end came too early and too quickly to even begin justifying the trouble.
One win and three losses for sell in May and go away. Let's continue.
What about 2012 in the "twisted" year leading up to the launch of QE3? Here we see the strategy paying some dividends, but with caveats. First, the best time to sell would have been the very start of April, so catching the "sell" in 2012 would have come with its challenges. Second, the worst of the sell-off was done by early June and the market entered into rally mode over the next four months before hitting new highs in September. Sure, stocks rolled back over to provide the reentry window come November, but whether those that had gone away could resist coming back ahead of this final reentry point would have been an exercise of behavioral discipline to say the least. Thus, let's call 2012 a draw.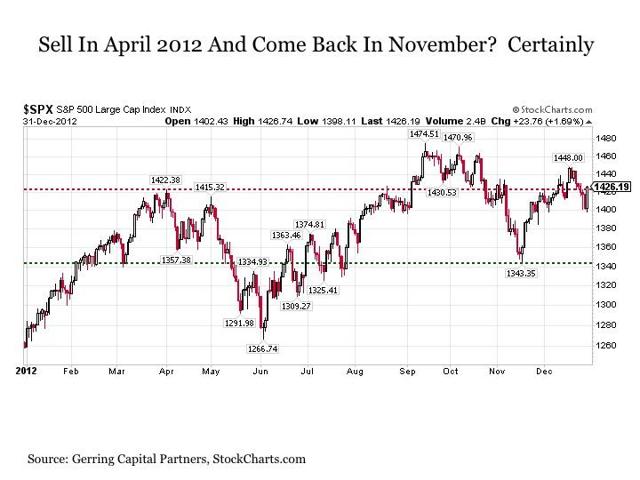 Continuing on to 2011, we see another textbook sell in April/May and go away until November year. Stocks peaked at the very start of May heading lower into the summer and eventually plunging into the fall. By November, investors had ample opportunity to buy back into stocks at measurably lower prices. Another clear winner.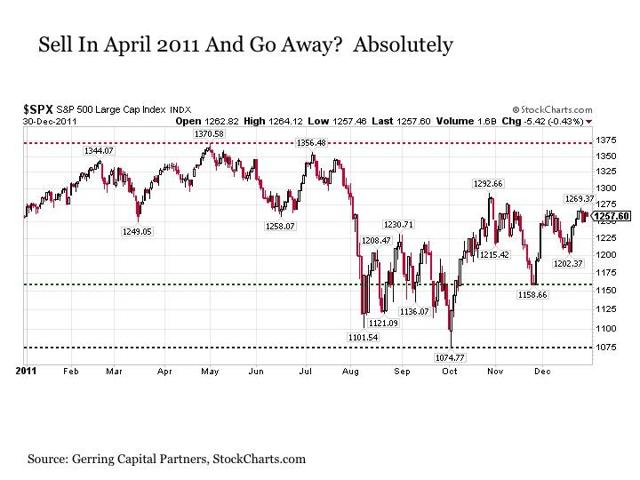 We will finish with 2010. This was still early in the process of central bankers completely polluting financial markets. And it was another year of what looked like textbook sell in April/May and go away, as stocks peaked in late April and sold off hard through the summer. But in what has since become an all too familiar occurrence in the post-crisis period, the trade was cut short by Ben Bernanke juicing the market back higher with talk of QE2 starting at the end of August 2010. Thus, by the time November rolled around, the benefit of the trade would have been largely washed away at that point. In summary, we'll call this one a should have been a winner but ends up being a tie.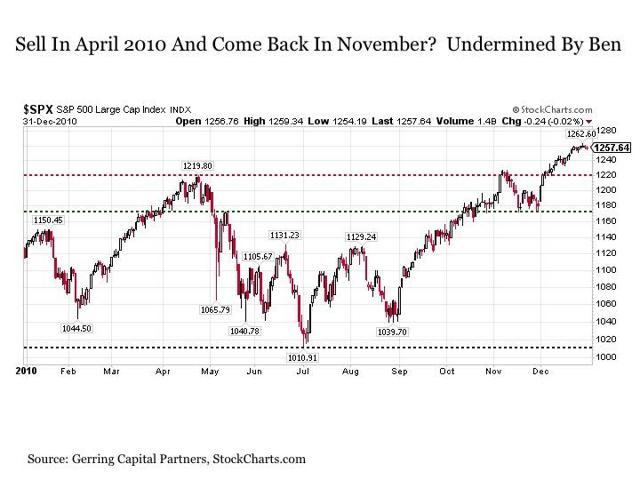 The Bottom Line
So in two post-crisis years, the sell-in-April/May-and-go-away strategy was clearly rewarded. But in two other years, it turned out to effectively be a wash, while in three years it was simply just not worth it. In short, it has been a mixed bag of success for investors at best.
So what does all of this mean for sell in May and go away in 2017? It implies the following.
The years where sell in April/May and go away performed worst was during years where the Fed was actively pumping QE stimulus (2013, 2014), other central banks were pumping even more liquidity (the ECB and the BOJ in 2016), or the Fed was rushing to the rescue with talk of more stimulus coming soon (2010, 2012). The years where sell in April/May and go away worked best was in years where the Fed was stepping away from stimulus (2011), some other major global central bank was doing the same (China in 2015).
Given that the Fed is now actively raising interest rates at a time when the People's Bank of China has also been withdrawing stimulus and tightening the reins on speculative activity and both the ECB and BOJ are increasingly dialing back on their own stimulus efforts, the probability is greater that we may see a good sell-in-April/May-and-go-away trading opportunity in 2017 versus what we have seen during the post-crisis period to this point. And it goes without saying that the U.S. stock market is overdue for some sort of sell-off having risen to historically high valuations in part behind a still sluggish economy and a fiscal policy agenda that may end up playing out much differently than first anticipated. The fact that the market is now surging to new all-time highs only adds to the potential set up for a sell in April/May trade.
But, if we do see a sell-in-April/May-and-go-away scenario start to play out, investors are likely best served to not wait until November to look to reenter additional stock allocations on the margins. This is particularly true the deeper the magnitude of any correction between now and November. After all, the Fed has repeatedly demonstrated that it simply cannot resist trying to soothe the markets during any sustained downside move in stock prices. And it has shown that once a pullback in the S&P 500 Index starts to stretch beyond the -7% range, then a Fed speaker with a microphone or a podium is not far behind with talk about how interest rates may not rise as quickly as previously anticipated. Once the Fed starts talking, the post-crisis stock market horses do not stay in the barn very long.
So for those inclined to sell in April/May and go away, consider the following.
First, make portfolio adjustments at the margins only.
Second, a correction may actually not come to pass.
Third, if it does come to pass, do not wait too long to move to capitalize on it by buying back in, once again at the margins, for there is clearly still no shortage of eager buyers of dips in the current market environment. In short, if you have a deep pullback in June or August, you may not want to wait until November to act on it.
Lastly, the deeper any market correction goes, the more quickly you should be looking to move to capitalize.
Disclosure: This article is for information purposes only. There are risks involved with investing including loss of principal. Gerring Capital Partners makes no explicit or implicit guarantee with respect to performance or the outcome of any investment or projections made. There is no guarantee that the goals of the strategies discussed by Gerring Capital Partners will be met.
Disclosure: I/we have no positions in any stocks mentioned, and no plans to initiate any positions within the next 72 hours.
I wrote this article myself, and it expresses my own opinions. I am not receiving compensation for it (other than from Seeking Alpha). I have no business relationship with any company whose stock is mentioned in this article.
Additional disclosure: I am long selected individual stocks as part of a broadly diversified asset allocation strategy.