Welcome to the April 2017 cobalt miner news. The focus will be on the cobalt miners that are in, or reasonably near, production, as well as featuring a few promising juniors each month. For a background on the cobalt miners, investors can read my earlier articles:
Investors are reminded that cobalt is mostly mined as a byproduct of copper or nickel, hence many of the miners discussed below are not pure cobalt plays. Also several have operations in the risky location of the Democratic Republic of Congo (DRC).
Cobalt price news
As of April 24, the cobalt spot price was US$25.06, having risen from US$24.61 this time last month. The graph below gives the past 1 year performance of cobalt showing a very strong rise since January. This is mostly due to the cobalt market going into deficit as shown by the top Chinese cobalt producers who have recently halted or limited deliveries due to supply constraints.
Cobalt spot prices - 1-year chart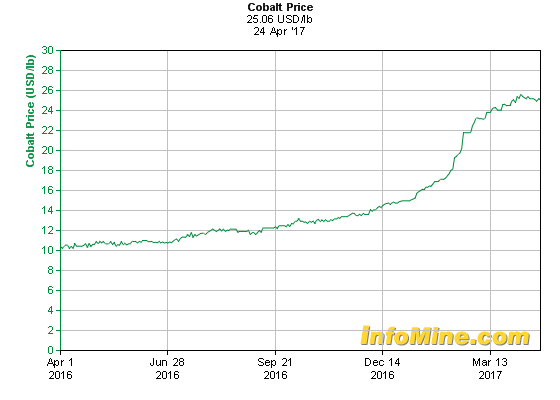 Source:InfoMine.com
Cobalt demand versus supply outlook
Christopher Ecclestone wrote an excellent article on March 29 titled "Cobalt crisis moves onto center stage". This is a must read for all serious cobalt investors. Key points included:
Glencore are not going to want to damage this new Goldilocks scenario that they have engineered. Even better for them the lack of any up-and-coming producers means that they can now effectively control the market and pricing by being the swing producer for at least another half decade. Primary mines are likely to be smallish and not make a dent in supply even should they get to production.

We have had a mini-spike that has doubled the price to something like the levels that reigned pre-2008. There were speakers at the Argus event who mouthed the words "$65 per lb" and it did not rattle the teacups.

Glencore is due, in 2018, to bring the Katanga mine in the DRC back on line. Beyond this there is no substantial pipeline.
CRU stated earlier in 2017 they "expect 900 T (tonnes) cobalt deficit this year".
Investing News state that Macquarie Bank forecasts "a deficit of 885 tonnes is expected next year (2018), with deficits of 3,205 tonnes and 5,340 tonnes expected in 2019 and 2020, respectively."
My view is that Katanga Mining will soon be the swing producer so a severe deficit is unlikely.
My cobalt production table (work in progress)
| | | |
| --- | --- | --- |
| Cobalt miner (tpa) | 2016 | 2017 (f'cast) |
| Chinese (Jinchuan, Huayou Cobalt, Jiangsu Cobalt) | 46,966 | 47,000 |
| China Molybdenum | | 15,909 |
| Freeport McRoRan | 10,944 | ~2,000 |
| Glencore (Mutanda, Minara, Mopani) | 28,300 | 30,000 |
| Katanga Mining (plans ~15,000tpa in 2018, and ~30,000tpa by 2019 if demand is there) | | |
| Sherritt International | 6,967 | 7,300-7,900 |
| Umicore SA | 6,328 | 6,500 |
| ERG - ENRC (Chambishi) | ?4,317 | ?4,317 |
| Sumitomo (27.5 % Ambatovy Nickel,Madagasca) | 4,418 | 4,500 |
| ICCI | 3,902 | 4,000 |
| Zambia | 3,874 | 4,000 |
| Norilsk Nickel | 3,234 | 3,500 |
| Others-Vale (1,854), S.Africa (1,230), BHP | 5,000 | 5,000 |
| TOTAL | 123,000 | ~136,000 |
NB: Bloomberg Intelligence reported 2016 total cobalt production to be 123,000 tonnes. My estimate is 136,000tpa for 2017.
Source:Cobalt News and my own research/estimates.
Current cobalt producers by % of production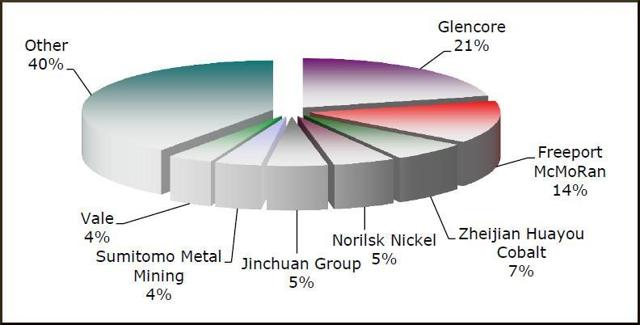 Cobalt past production and reserves by country
The table below highlights the DRC and Australia are the two main countries that hold the largest cobalt reserves, noting the DRC has about 3x the reserves as Australia.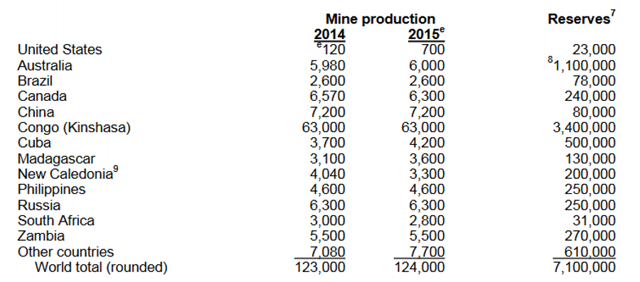 Cobalt market news
On April 10, The Globe and Mail, ran an interesting cobalt article, "If you thought lithium was exciting, try the super-hot metal story of 2017." Some quotes include:
The price of cobalt traded on the London Metal Exchange (LME) has exploded from $33,000 per ton to $55,000 since the start of January.

As with lithium, cobalt's story is all about batteries and the green technology revolution. The lithium-cobalt battery is already standard in many electronic applications and both metals are expected to see usage accelerate thanks to the rapidly evolving electric vehicle and grid storage sectors.

The scale and speed of the cobalt price surge over the last few months reflects a scramble for units.

The cobalt market has been transitioning over the last year or so from a state of oversupply to one of shortfall, with most analysts forecasting a supply deficit in 2017.

Cobalt's supply chain is much more fragile than that of lithium.
Cobalt company news
China Molybdenum (HKSE:3993) (OTC:CMCLF)
On March 31, AAStocks announced, "Morgan Stanley reported China Molybdenum last year net profit came in at RMB 988m, up 31% yearly, better than the market expectations by 7%. The broker rated the company at overweight with a target price of HKD 3.50."
On April 15, AAStocks announced, "CMOC (03993:HK) gets pre-emptive right to acquire interests in Luoyang Guo." Luoyang Guo hold interests in a molybdenum project.
Consensus analysts price target for China Molybdenum is CNY 4.92 (HKD 5.54), representing around 125% upside from current pricing.
Freeport-McMoRan Inc (NYSE:FCX)
Freeport sold their share of the Tenke cobalt mine in 2016 to China Molybdenum. Their cobalt production will be significantly less after the Tenke sale.
Glencore (LSX:GLEN) (HK:805) (OTC:GLNCF)
On March 31, Glencore announced, "Glencore and HNA establish HG Storage International Ltd", with "HNA to purchase a 51% equity interest in Glencore's petroleum products storage and logistics business for US$775 million."
On April 19, Bloomberg reported, "Glencore cobalt supplies in Congo face hold up over mine row." Upon reading the story the issue appears to relate only to a contract that Groupe Forrest has to mine the tailings. So really insignificant to Glencore at this stage. It does however remind investors the risks involved with miners dealing in corrupt countries such as the DRC.
Consensus analysts price target for Glencore is US$4.69, representing 22% upside from current pricing.
Katanga Mining (TSXV:KAT) (OTCPK:KATFF)
A lot of positive news lately for Katanga Mining including an increase in resources, an earlier re-start (September 2017), and upgraded production forecast for cobalt (ramp to 30,000tpa). For full details investors should read my very recent article "An Update On Katanga Mining." Subsequently I have raised my target price to CAD 1.60 by end 2019 (full production), based on a copper cost of production cost of USD 1.25. Plenty of upside still for Katanga Mining.
Sherritt International (OTCPK:SHERF)
Sherritt announced they will release Q1 2017 results on April 26. Given the nickel price is still depressed analyst estimates for 2017 are currently for a net income loss of 154m. My thoughts are that the improving cobalt price should help lessen this; however Sherritt really need to see some nickel price recovery. Currently nickel is really struggling at USD 4.25/lb. Interestingly analysts still have a target price for Sherritt of CAD 1.61, 79% above the current stock price.
You can read more about Sherritt's 2017 production guidance here. They expect to ramp up cobalt production from around 7,000tpa in 2016 to around 7,300-7,900tpa in 2017. Also of note Sherritt's main product nickel is expected to ramp up from 75,033tpa in 2016, to 81-86,000tpa in 2017.
Umicore SA (OTCPK:UMICF)
On March 24, Umicore released: "Umicore publishes integrated report 2016: Elements for success." You can access the full report here. The company states:
"The past year has shown clear evidence that the three megatrends that drive the growth of our business are becoming more pronounced. The need for cleaner air has never been greater, the adoption of electrified transportation has started to accelerate and resource scarcity continues to be a pressing concern, particularly for those metals that are essential for cleaner mobility and new communications technologies."
On April 25, Umicore announced at Q1 trading update stating: "Revenues from continued operations increased 13%, reflecting strong growth particularly in activities related to clean mobility." And,
"Umicore's strategic growth investments in clean mobility materials and recycling are progressing according to plan. The expansion to triple capacity for cathode materials in China and Korea by the end of 2018 is underway and the new capacity will gradually come on stream starting in the second half of 2017."
I really like the focus and direction of Umicore. Also the fact they are involved in battery recycling. One to follow closely.
Sumitomo Metal Mining Co. (TYO:5713) (OTCPK:SMMYY)
On April 2, Sumitomo released their FY2017 metal production plans including 450ktpa copper, 62.8ktpa electrolytic copper, 14.1ktpa ferronickel, 20,800kgs gold, and 208,000kgs silver.
Tiger Resources [ASX:TGS]
On April 10, Tiger Resources gave an update on their senior debt financing facility. Basically they have extended a payment deadline to May 1, 2017.
Possible short-mid term producers
eCobalt Solutions [TSX:ECS] (OTCQB:ECSIF)
No news for the month of April.
Fortune Minerals [TSX:FT] (OTCQX:FTMDF)
No news for the month of April; however Benchmark Minerals did an excellent interview giving an update on Fortune Minerals cobalt project with CEO Robin Goad, which you can view here.
Investors can read more about Fortune Minerals in my article here.
Promising junior developers and explorers
Cruz Cobalt Corp (NYSE:CUZ) (BKTPF)
On April 19, Cruz announced, it "is making an application for an exploration permit on its 5500 acre Hector Cobalt Prospect. The permit will cover the following activities of mechanized drilling, mechanized stripping, the pitting and trenching of bedrock, and line cutting."
The company also reminds investors, "Cruz currently has nine cobalt projects located throughout North America, comprising of four in Ontario, three in British Columbia, one in Idaho and one in Montana." Not bad considering Cruz's market cap is a mere CAD 10.2m.
Barra Resources Ltd [ASX:BAR]
In April Barra Resources released a Chairman's update which you can read here. The company discusses their plans and current stage being the scoping study at Mt Thirsty. They also state they have a "dual strategy of cobalt development and gold exploration", hence they are also focusing on exploration at their 100% owned Main Lode Gold Mine, which holds significant potential based on historical data and recent results. Their recent results included "multiple high-grade lodes grading greater than 3.0g/t gold within a 10 to 25m wide shear zone." Barra Resources current market cap is AUD 21.6m.
I am happy to hear any news updates from commentators. Tickers I will be watching for significant news and covering in future months include:
Ardea Resources [ASX:ARL] (OTC:ARRRF), BHP (NYSE:BHP), Brixton Metals Corporation [TSXV:BBB](OTC:BXTMD), Canadian International Minerals [TSXV:CIN], Clean TeQ Holdings [ASX:CLQ](OTCQX:CTEQF), Cobalt Power Group [TSX:CPO], CobalTech Mining (OTCPK:BNCIF), Cobalt Blue [ASX:COB], Cohiba Minerals [ASX:CHK], Conico Ltd [ASX:CNJ], Corazon Mining Ltd [ASX:CZN], Dragon Energy [ASX:DLE], Equator Resources Ltd [ASX: EQU], First Quantum Minerals (OTCPK:FQVLF), (OTC:OTC:HLPCF), First Cobalt [ASX:FCC], GME Resources Limited [ASX:GME], Highlands Pacific, (OTC:HLPCF), Hinterland Metals Inc (OTC:HNLMF), Independence Group [ASX:IGO], Latin American Resources, LiCo Energy Metals [TSXV:LIC] (OTCQB:WCTXF), MetalsTech ([ASE:MTC], Mincor Resources [ASX:MCR], MMC Norilsk Nickel (OTCPK:NILSY), PolyMet Mining [TSXV:POM] (NYSEMKT:PLM), Panoramic Resources [ASX:PAN], and Vale S.A. (NYSE:VALE).
Conclusion
Cobalt spot prices rose slightly over the past month, on the back of cobalt supply shortages in China. The pace of rise has slowed, so we may now see some consolidation.
My highlight for April was the news from Katanga Mining restarting their mine earlier and increasing their planned cobalt outlook, as well as Christopher Ecclestone's excellent article "Cobalt crisis moves onto center stage."
As usual all comments are welcome.
Trend Investing
My latest article for subscription investors operating here on Seeking Alpha's Marketplace is "My top 3 cobalt miners to accumulate". For as little as US$40pm (on a 1 year membership) serious investors can access my very best ideas, and join an elite chat group of trend investors. To find out more you can go here.
Disclosure: I am/we are long GLENCORE (LSX:GLEN), CHINA MOLYBDENUM CORP (HK:3993), KATANGA MINING (TSX:KAT), FORTUNE MINERALS (TSX:FT), CRUZ COBALT CORP (TSXV:CUZ), ARDEA RESOURCES (ASX:ARL). I wrote this article myself, and it expresses my own opinions. I am not receiving compensation for it (other than from Seeking Alpha). I have no business relationship with any company whose stock is mentioned in this article.
Additional disclosure: The information in this article is general in nature and should not be relied upon as personal financial advice.
Editor's Note: This article covers one or more microcap stocks. Please be aware of the risks associated with these stocks.