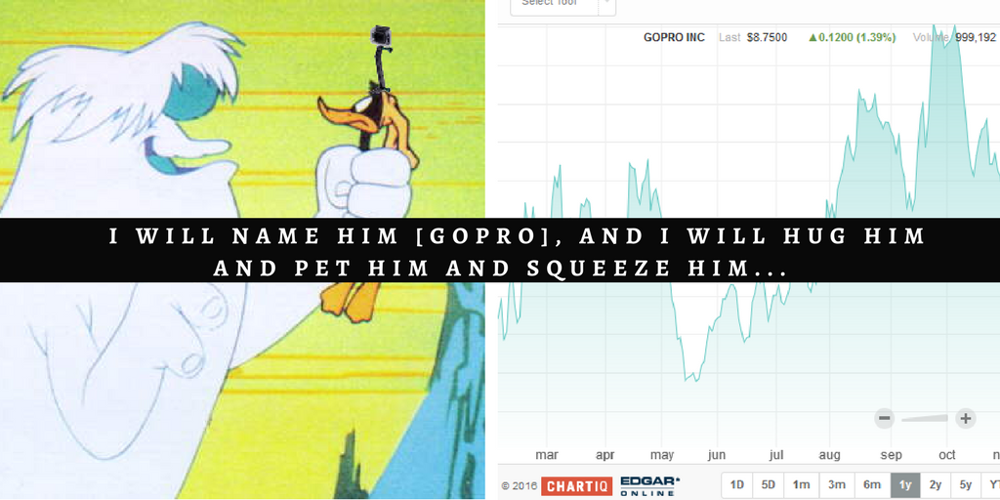 It's as if GoPro, Inc. (NASDAQ: GPRO) is becoming the company to hold and squeeze. It is a little like The Abominable Snow Rabbit (Warner Bros. 1961). Not so much a meme commentary of the squeezing of the stock price, but more so an observation that other companies might want to acquire them.
The GoPro, Inc. partnership with Red Bull GmbH has been overlooked. Red Bull is not a pure beverage company anymore rather than the Monster Beverage Corporation (NASDAQ: MNST). These are sporting and entertainment brands, producing and sponsoring broadcasting content. Ultimately, they do drive beverage sales. This element can be better explained to GoPro shareholders by reviewing the Coca-Coal Co (NYSE: KO) partnership with Monster.
The following is a quick comparison of web traffic for the aforementioned companies with emphasis on GoPro streaming video segments. Further fundamental analysis of GoPro stock will also be reviewed.
GoPro is a Broadcasting Company Offering Sports Footage
We don't hear this much, that GoPro is in the business of sports broadcasting. Rather, we commonly know of them as a hardware company with their action cameras and the new Karma drone (sUAV quadcopter).
Currently, GoPro is at the 2017 NAB Show hosted at the Las Vegas Convention Center. The show is "the world's largest collection of vendors driving the future of media and entertainment" and in network with The National Association of Broadcasters. This years event started on April 22nd and will go until April 27th when GoPro is scheduled to release their Q1 2017 earnings report.
Here is a quick list of some of their streaming/broadcasting products:
An example of the HeroCast is the live footage for NHL events seen below:
In May 2016, the Company (GoPro) entered into a 3.5 year agreement with Red Bull GmbH (Red Bull) that includes content production, distribution and cross promotion. As part of the agreement, the company issued unregistered restricted shares of its Class A common stock to Red Bull with a fair value of approximately $7 million... - SEC 10-K ending 12/31/16
An example of the GoPro partnership with Red Bull TV and the 360° camera tech is endless, including the wingsuit racing clip featured below. The newly revamped YouTube allows for the viewer to pan/interact with the screen and cycle through 360° with little effort.
Monster Energy and Coca-Cola vs. GoPro and Red Bull
Monster Beverage Corporation is focused on driving beverage sales via television and other broadcasting mediums.
Our (Monster) sales and marketing strategy for all our beverages is to focus our efforts on developing brand awareness through image-enhancing programs and product sampling... We also support our brands with... selected public and sports figures, personality endorsements (including from television and other well-known sports personalities)... - SEC 10-K ending 12/31/16
Monster Beverage Corporation is extremely dependent upon The Coca-Cola Company ("TCCC"). TCCC and subsidiaries make a large part of Monster's net sales and handle bottling. Monster has also sold brands to TCCC and phased out some energy drinks to better consolidate. TCCC owns 16.7% of Monster. One benefit of this network is their corner on the extreme sport and supercross entertainment industry.
Created in 1974, Monster Energy AMA Supercross, an FIM World Championship, has become the premier off-road motorcycle racing series on the planet, attracting the world's top professional riders. Events are held in U.S. and International stadiums where intensely competitive dirt race tracks are constructed within the venues. -SupercrossLive.tv
Monster is not without competition and an Alexa site ranking comparison shows that GoPro has the best web traffic. GoPro had a domestic ranking of 2,305 and Red Bull TV beat out web traffic of Monster Energy and their SupercrossLive.com.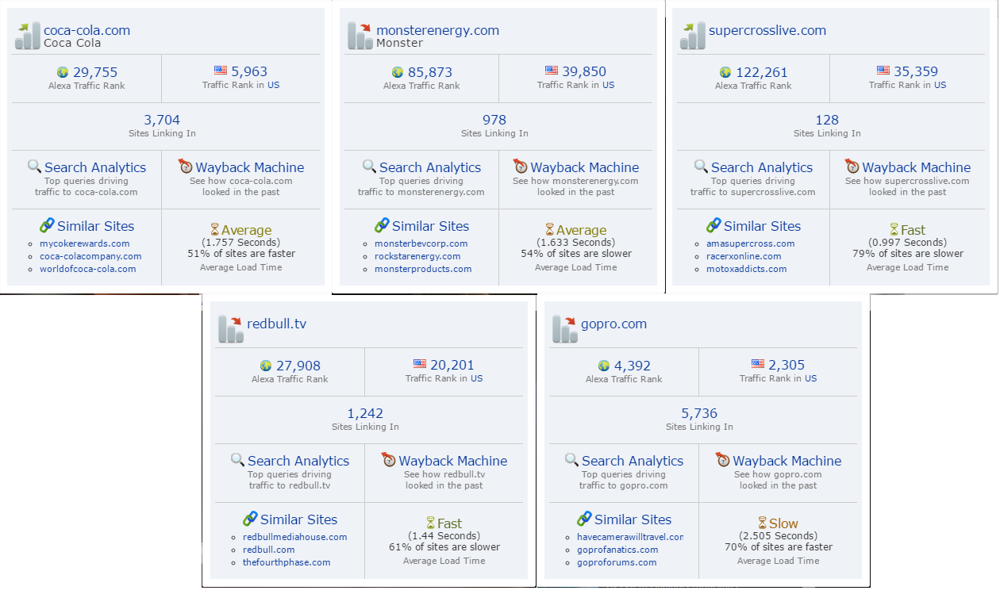 These companies also post content on their YouTube channels which is important for comparison.
Red Bull - 5,963,951 subscriptions
GoPro - 4,759,326
Coca-Cola - 1,453,905
Monster Energy - 1,270,622
The Red Bull and GoPro network is superior with a high count of subscribers. Their video content has a large view count pertaining to eSports and Karma footage. Monster Energy had the video of most views due to their bikini model series. One video at last count had 15,978,827 views.
GoPro's RORC and Other Fundamentals
In 2015 GoPro had generated $4.43 in gross profit for every dollar spent in 2014 on Research and Development (R&D). This was the finding according to the Return on Research Capital (RORC) metric. The 2016 SEC 10-K shows that R&D increased by 48% to $358.90m. However, the RORC margin did not hold. It decreased to $1.91 in gross profit for every dollar spent in 2015 on R&D. This can be attributed to a delayed release of the Karma and slow adoption of the Omni for 360° capture. Thus, significant potential returns are still anticipated.
Although Y/Y annual revenue growth was down and R&D expenditure was up, the Q4 Y/Y results were optimistic. Revenue was up 24% Q4 Y/Y and gross profit 65%.
When the stock price was moving with momentum to the $80 range it was tracing the projected revenue growth. The chart shows the stock price falling in relation to the falling quarterly revenue. R&D expenses remained relatively constant. With the Q4 2016 pop in revenue the stock price did not respond and remained bearish in the $9-$8 range. It is here that the oversold sentiment seems unjustified and that the stock price presents an opportunity.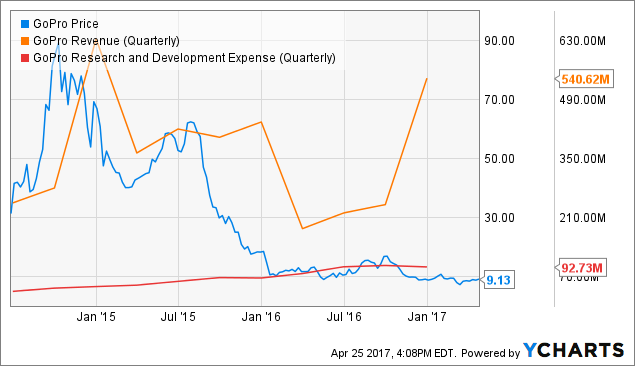 GPRO data by YCharts
The FCF Yield for GoPro continues to be negative, which is the driving concern as an investor. The cash and equivalents are $217.95m, which supports the momentum moving forward. Additionally, the company is without any long-term or short-term debt.
Conclusion and Stock Pick
The risks of negative EPS and burning of cash seem offset by the revenue growth potential from new products. The growth potential is further illustrated by their dominant brand, web traffic and partnership with Red Bull. The sale of hardware, software and beverages is a good match when paired with the sport broadcasting capabilities of GoPro and Red Bull. This partnership appears to be in better position for video content than the Coca-Cola and Monster Energy partnership.
At the PPS lows of $8-$9, GoPro is rated a buy.
Disclosure: I am/we are long GPRO.
I wrote this article myself, and it expresses my own opinions. I am not receiving compensation for it (other than from Seeking Alpha). I have no business relationship with any company whose stock is mentioned in this article.