The Canadian dollar has been under pressure since the Trump administration imposed tariffs of up to 24% on lumber imports from Canada to the US (imports are valued at ~$5B/year, according to the Commerce Department). The news announced early this week sent USD/CAD flying from 1.3400 levels to 1.3520 levels, and the currency pair is now trading around 1.3575.
The tariffs were a result of failed trade talks on dairy products between both countries, according to Commerce Secretary Wilbur Ross. Canada has long taxed US dairy products, with some tariffs going as high as 292%, according to Canada's Agriculture Department, and these dairy tariffs have been in place since the inception of NAFTA.
Said tariffs will weaken Canada's terms of trade with the US for lumber, and the trade war might well escalate should Canada refuse to relent on the dairy taxes currently in place. In the worst-case scenario, we might get outright threats from the US on leaving NAFTA (which Trump had previously done), which would be a definite CAD-negative.
I expect a "Timber!" cry for the CAD going forward, but lumber is not the only guilty party. I believe the CAD is in trouble due to another major factor, namely oil:
Oil positioning looks very stretched to the upside, which I first wrote about in a previous article. OPEC and non-OPEC oil producers are due to meet on 25 May next month, and net longs for oil are dangerously high going into this meeting, according to CFTC futures. In fact, current net long levels are comparable with that of 2014, when oil was trading above $100/bbl, according to the chart below.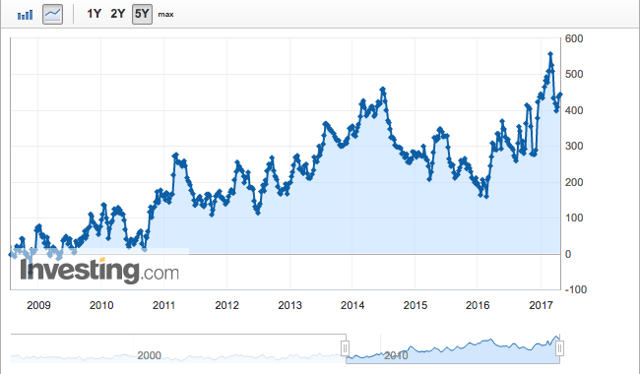 This tells me the markets might be overly bullish on oil and are expecting a lot from the meeting. If the oil producers do not decide to extend supply cuts, or the magnitude of the cuts are not large enough, we may witness large-scale unwinding of long positions as bulls scramble for the exits.
Admittedly, I had thought the outlook for the CAD would be more positive due to Trump reviving the Keystone XL pipeline in January 2017, which would serve to transport oil from Canada to the US when built. I had viewed it as a sign of cooperation between both countries, which would taper down any form of trade-related conflict between them. Also, in the Bank of Canada's last meeting in mid-April, the markets had generally viewed its statement as hawkish. Both events were CAD-positive, but failed to stir a significant rally in the currency.
Technically, USD/CAD is bullish. First, it is on a long-term uptrend, and secondly, price action has breached major resistance 1.3560-1.3600, which is the 50% Fibonacci level in the pair's recent downward correction in 2016. A weekly close above 1.3600 would give me confidence that USD/CAD will look to test the psychological 1.4000 level going forward. There seems to be little resistance in USD/CAD's path to 1.4000.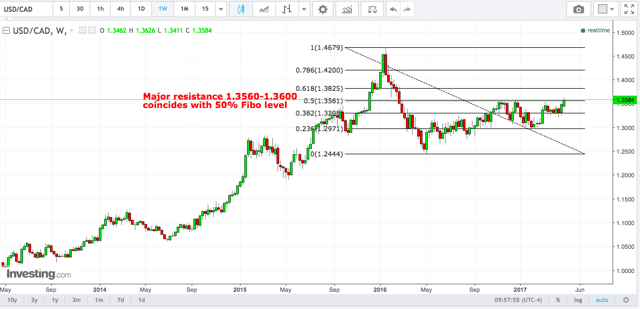 Disclosure: I/we have no positions in any stocks mentioned, and no plans to initiate any positions within the next 72 hours.
I wrote this article myself, and it expresses my own opinions. I am not receiving compensation for it (other than from Seeking Alpha). I have no business relationship with any company whose stock is mentioned in this article.