Overview
Every Wednesday, the EIA releases inventory figures for crude oil (NYSE: USO) and petroleum products. Inventory figures are closely monitored to assess the state of current demand. Typically, markets view inventory draws as being bullish while inventory builds are often regarded as bearish though outcomes are not always black and white.
Last week, we published an article analyzing crude inventories and are updating our readers on the new release. To summarize the previous inventory report, crude inventories fell in week 2 of April by 840 tb/d while gasoline inventories rose by 1.5 mmb/d. We became aware of weakness at PADD 1, the East Coast refineries, and saw notable imports spike in the region. We felt that refiners were perking up for another record for summer driving season.

Source: FactSet
Crude oil prices closed roughly unchanged amid today's stronger inventory report. Our WTI forecasts suggest crude prices remaining ~$50 in Q2 and ~$60 in Q3 and few current prices as a buying opportunity in select E&P names.
Crude Oil Inventories By the Numbers
Crude inventories dropped by -3.6 mmb/d beating estimates of -1.7 mmb/d while gasoline and distillate inventories rose by 3.4 mmb/d and 2.7 mmb/d respectively. The report marks the strongest inventory draw of the year and was further accompanied by the highest refinery utilization since November 2015 at 94.1%.
Crude Draws Look Convincing
In comparison to last year's utilization figures, current refinery utilization y/y comparison trends 94.1% vs. 88.1% suggests that refiners indicate healthy demand for crude and strong expected demand for petroleum products into the summer driving season. On a sequential basis, utilization ticked up by ~1% to 94.1% from 92.9%.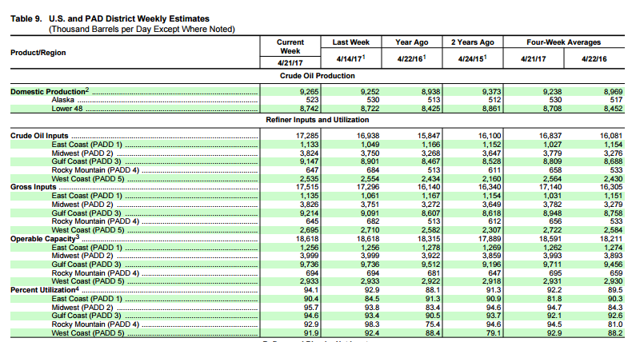 Source: EIA
We believe that refinery outages during the winter and early spring led to a build-up in crude inventories and are confident that upcoming inventory figures will continue to show drawdowns.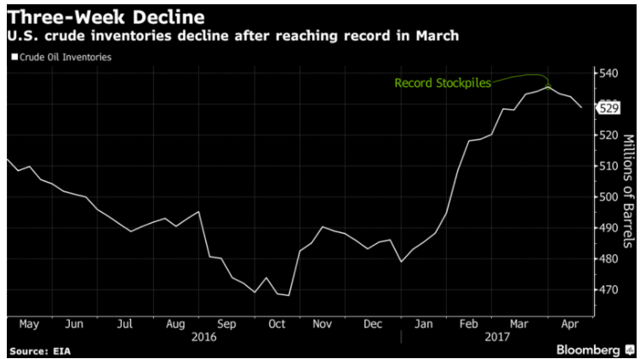 Source: Bloomberg
The current inventory trend supports this data and further upside risk is possible given the potential for an OPEC cut extension in 2H17.
Do Product Markets Suggest Something Else?
While crude draws have ramped up, end markets appear oversaturated. Gasoline stocks rose 4.9 mmb/d over weeks 2 & 3 while distillate inventories unexpectedly rose 2.7 mmb/d in week 3. The unexpected products build was enough to cap the crude rally in today's session as concerns over summer gasoline demand linger. While concerning, we point to the fact that gasoline demand has been underestimated and has actually increased from 2014-2016 despite tepid economic growth. Demand is yet again being underestimated at 9.3 mmb/d, flat from a year ago. We believe there is upside to this estimate given the fact that (a.) vehicle fleet mix trends, (b.) stronger global economic growth.
In regard to the current build, we have noticed interesting trends in PADD 1, East Coast refineries, which witnessed the largest gasoline stock build out of the 5 regions.

Source: EIA
Gasoline builds here totaled 3.4 mmb/d and remain elevated compared to the previous two years' figures. We further noticed similar trends across the report in crude oil inputs and overall imports in gasoline and crude in PADD 1.

Source: EIA
It is important to note that, while other regions saw increasing import volumes and inputs rise, the PADD 1 is most noticeable as gasoline stocks rose the greatest here. It appears that weakness in East Coast draws is being exacerbated by increasing input volumes in crude oil and gasoline imports. Refinery utilization in PADD 1 was lower last week and ramped up this week by nearly 7% from 84.5% to 90.4% suggesting that activity here has lagged other regions.
The glut at PADD 1 is indeed concerning; however, it appears to be a local trend and may be exacerbated by a lag in activity. As activity increases as the summer approaches, the glut at PADD 1 may abate and gasoline inventories should become more normalized.
Conclusion
The crude inventory report delivered a strong crude draw while suggesting weakness in product markets. It appears that regional weakness has driven gasoline inventory rises and should abate as we get closer into the summer driving season. More importantly, crude oil inventories have began to decrease at an accelerated pace and may only increase further with the prospect of an OPEC cut extension.
We are continuing to assess the energy markets opportunistically, proactively searching for exposure in E&P names with favorable valuations, geographic mixes, and risk/reward potential.
Disclosure
This article contains the opinions of BlackVault Investments and in no way is acting as an offering and/or solicitation of securities or investment advice.
If you have any questions feel free to leave them in the comment section or message me directly. Thank you for reading and good luck to all.
Disclosure: I/we have no positions in any stocks mentioned, and no plans to initiate any positions within the next 72 hours.
I wrote this article myself, and it expresses my own opinions. I am not receiving compensation for it (other than from Seeking Alpha). I have no business relationship with any company whose stock is mentioned in this article.