Thesis: The price of oil is targeted to reach $75 by June 2018, in line with the Gulf states' (Saudi Arabia, United Arab Emirates, Kuwait and Qatar) plan and goal. If this price projection is generally correct, speculative investment accordingly during this time frame can be very profitable.
Introduction
The major bottom and the following reversal back in February 2016 happened every 8-10 years, the prior ones being 2008 and 1999. I predicted back in the February and December 2016 articles that oil prices will rise by about 100%, from $26 to $50+, by year end.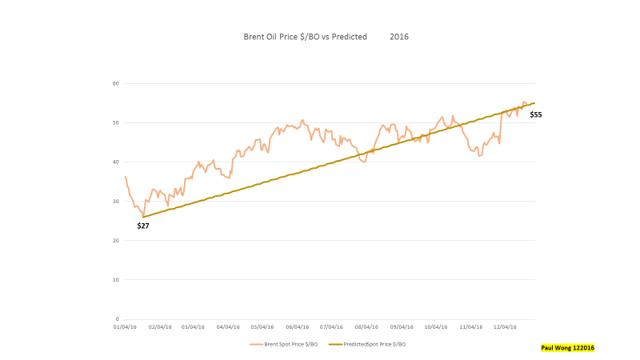 Brent oil prices throughout 2016 really went through some wild gyrations, mostly staying above my prediction and dipping below sometimes. Generally, the trend was up and the movements can be very rapid. During the year, OPEC was telegraphing the coordinated messages and preparing the conditions for the cut. Eventually, $55 at year end is the result of OPEC and non-OPEC announcing another historic combined cut of 1.8 million BOPD (barrel of oil per day).
Most of the global oil trade is based on Brent instead of WTI (West Texas Intermediate), which usually trades at $2-5 less. I am using both Brent and WTI prices and USO (oil ETF) interchangeably in this article, due to convenience of data sources.
There were lots of significant events since December which are setting another upward run of oil price for the next 3 months.
Updates
OPEC is reporting that the production cuts among the members have been successful, with over 90% compliance by the end of March. Of course, with so many countries, each with different political and financial obligations and agendas, the level of compliance varies a lot among the members. The press always overemphasized cheating and conflicts among the members, but the overall result of the cut exceeds expectations, confirming the commitment among members. Full reduction in production among countries takes from 1 to 4 months. The gradual full effect of the reduction will show up steadily as downward exports in the coming months. Eventually, global oil inventory will go down, reflecting reduced supplies. OPEC will meet on May 23 to discuss mainly about extension of the same cut of 1.2 MBOPD till year end.
Non-OPEC production cut takes a lot longer, and compliance is only about 50% so far. Each exporter has its own reasoning affected by politics in hopes of generating more export revenue. Knowingly or unknowingly, they are hurting themselves and other exporters. Non-OPEC too most likely will extend the cut of 0.6 MBOPD after the OPEC May 23 meeting to support future oil price.
All the cuts totaling 1.8 million BOPD (barrel oil per day) were having some effect, slowly showing up as lower inventory even in the US. The EIA just reported the biggest fall of the year in domestic crude supplies, which fell 3.6 million barrels for the week ended April 21. This may be a sign that US inventory will keep sliding down at least for the driving season.
Saudi Aramco (ARMCO) IPO in 2018 is becoming a reality with the appointments of investment bankers; all the involved parties want to have a successful offering, which is based mostly on high oil price.
Dollar vs. Oil Price
Since oil is measured is US dollars, indexed as UUP. Oil generally has an inverse 4 times relationship with the Dollar Index. The reason behind this amplified effect is very complex and is related to the risk of defaults of foreign debts or bonds that are denominated in US dollars.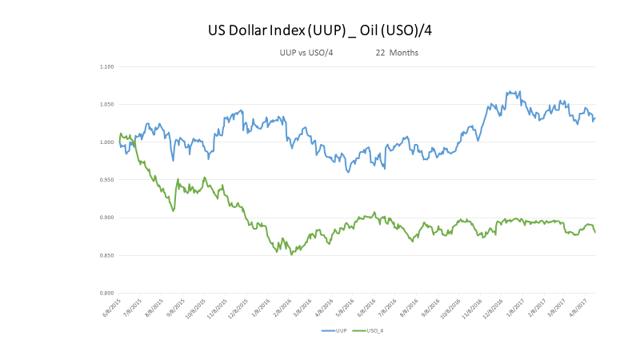 The above chart shows that even when UUP was rising from September 2016 to December 2016, oil price (NYSEARCA:USO) held its ground instead of falling, indicating strength.
UUP has been on a downtrend since its December 2016 peak, mostly because of unsettling news about conflicts in the Middle East and the Far East. This downtrend will likely continue or stall for the next few months; any negative UUP trend will be positive for oil prices near term.
Reasons for Oil Price Fall and the Recovery
For the Gulf states, the main goals remain the same:
Slow down or reverse growth outside OPEC
Increase market share
Improve profitability
By keeping oil prices low, the Gulf states are achieving most of the goals listed above. It has taken more than two painful years for exporters to regain some control over production with higher market share. Chances are the exporters will seriously abide by their own quotas for mutual benefits.
The intention of the cut was to drive price higher. The next and following phase is for OPEC to extend the cut to elevate price further.
Supply
OPEC has been increasing production from 29.5 MBOPD (million barrels of oil per day) since June 2014 to a record 34.2 MBOPD in November 2016. The short-term peak boost in production by many OPEC members before the meeting that announced the cuts was the tactic for those jockeying positions to have higher quotas. The collective intent for the next and following phase is to drive, and keep, prices higher.
U.S. crude oil, which is about 10% of global production, recently rose to 9.3 million BOPD, mostly on the increase of 100,000 barrels per month since December, with a corresponding rise in rig count. Almost all of the increase is the result of more drilling for unconventional or shale oil. All these companies are claiming that the cost per barrel drop to $40. The jury is still out if this is true, because it takes about 3-5 years to finally determine the ultimate production of each well, which provides cash flow. For some wells, the production fall accelerates instead of leveling off, reducing reserve estimates. Reviewing many of the past reports about the failed shale oil companies highlights the challenges about overrun in cost and discount in revenue. Making profits in shale oil has been challenging, to say the least. The cost of shale oil is projected to rise with a push from service companies in 2017.
It is best for companies to put profitability as the main objective and spend below cash flows, in order to ensure a healthy balance sheet. The conserved cash with continuing earnings can prepare a healthy company for the acquisition of weaker competitors. The biggest problem for the industry has been too many companies chasing the same narrow objective in driving cost up and prices down. The next smart move for the survivor is to know these facts and start a quicker pace of consolidation by way of mergers & acquisition, reducing the number of weak and incompetent players for the overall sustained health of the industry.
For conventional oil producers, which require a high degree of technical knowledge to assess risk and reward, the per barrel all-in costs are usually lower for select projects. There are still many domestic and international projects that are economical. The key is to invest only in the few that provide the highest return, and to lengthen the planning time and to reduce capital expenditure until demand catches up with supply.
Overall, low oil prices resulted in much better discipline among exporters in lowering the growth of global supplies, so that the stage for supply/demand deficit is set.
Demand Remains Strong
Demand remains strong after an increase of around $1.4 MBOPD (million barrel oil per day) for the past two years. The outlook is estimated to see another increase of at least 1.0 MBOPD for 2017.
If the OPEC and non-OPEC production cut is extended till the end of May, supply and demand will be in deficit for the rest of 2017, which will be essential in slowly reducing the record global inventory of 2016.
Inventory
The OECD's (Organization for Economic Cooperation and Development) crude oil inventories fell to 2,977 MMbbls in March 2017 - a reduction of 7.69 MMbbls (million barrels) compared to the previous month. Inventory has been on a steady decline since hitting a peak of 3,100 MMbbls in August 2016. The reduction amounts to 0.5 MBOPD and will likely continue or accelerate during the upcoming driving season. OECD represents a bigger picture of global inventory than the US and is more meaningful.
Inventory data generally is a lagging indicator which takes about 3-6 months to dissipate the production cut made by exporters. These cuts will become more apparent, and the downward trend in inventory built up is bullish for oil for the next 3 months.
Price Equilibrium
The biggest force to dictate oil price may be the desire of the Gulf states. For years, they have been talking about having prices at $75. Many other exporters, on average, also say that this price level may be the best for all global economies - a good balance between revenue and capital investment.
The long-term trend of unstoppable conversion of transportation fuels, from oil to natural gas and electric vehicles, is accelerating. It is certain that growth in oil demand will slow down in the coming years, especially if oil prices rise too fast. All producers need to be aware of this fact and act accordingly to manage production; it is a balance of making profits and being competitive against other fuels.
The new and renewable sources with technology advancements are perpetually lowering costs. The new sources will cap the upper limit of oil price at about $75. Above this price, replacing oil with new sources will accelerate. Rising oil prices will also help the profitability of all these alternate energy sources. Exporters need to bear in mind the role of technology in cost reduction.
The same equilibrium price point is important because oil supply and demand will be in balance as well in terms of cost and profit. Therefore, in due course of 14 months, by the summer of 2018, price equilibrium at $75 BO will likely be reached.
The recent dip in price may be the result of too many oil bulls that are long futures covering their positions. Beware that the counterpart of each contract has very deep pockets and knows how to make news to create short-term gains for their benefit. Also, first-quarter earnings are likely to be depressed due to low prices. Looking forward, it's smooth sailing, and tailwinds in the form of the driving season and the downward trend in the dollar index should boost oil prices in the coming months.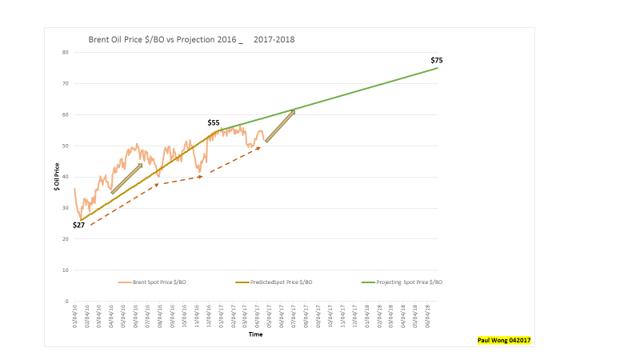 Conclusion
I sense the recent dip in oil price is either at or close to a bottom very soon. The following are reasons that support an upward movement in oil prices for the next 3 months:
The OPEC and non-OPEC cut of 1.8 million BOPD is mostly compliant and exceeds expectation; most countries indicate that the same extension will last until year end.
Supply growth outside OPEC is slowing due to the high cost and low price with reduced capital investment for the past 3 years; the exception is the US onshore growth of shale oil.
World demand continues to increase by at least 1.0 million BOPD in 2017 because of modest GDP growth.
The supply-demand balance may turn negative for the rest of 2017 in reducing global inventory.
These are key reasons to propel the price of oil to $75 in 14 months, with fluctuations over the duration.
Disclosure: I am/we are long XLE.
I wrote this article myself, and it expresses my own opinions. I am not receiving compensation for it. I have no business relationship with any company whose stock is mentioned in this article.