The Fed meets next Wednesday and so far appears to plan no changes. That is no changes in the face of a much weaker non-farm payrolls number last month. Jobless claims, which predicts non-farm payrolls had a much weaker number this morning. This adds some risk for next week's Fed meeting.
Jobless Claims Today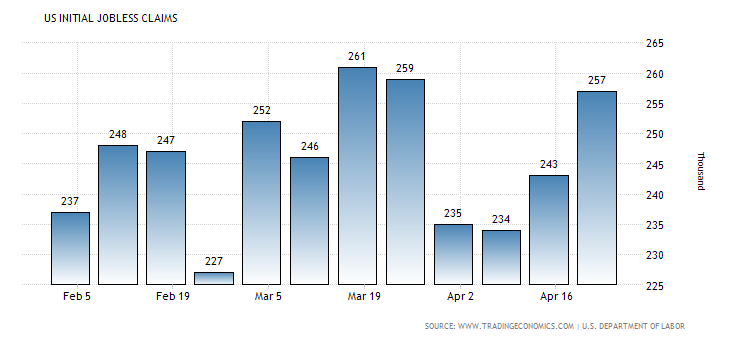 Source: Trading Economics
The report out this morning at 8:30 AM EDT saw a jump in jobless claims to 257,000. It's pushing to the highs of the last few months.
Another report in this direction will be worrisome for the economy.
More Important Is The Implications For NFP
More important than jobless claims are non-farm payrolls ("NFP"). This is the Fed's favorite growth measure.
Jobless claims predict NFP. NFP had a very weak number last month. Based on jobless claims, next Friday's NFP should improve. The issue now, however, is the pace of this last jobless claims number.
Here's how jobless claims predict NFP.
Jobless claims report weekly. Turning that weekly average into a monthly number you get a prediction for NFP. They are inversely related.
When Jobless Claims rise, NFP falls and vice-versa. In fact, except for February, jobless claims correctly predicted the direction of NFP from month-to-month (See last line in the grid above, "Predicted?").
This says that next Friday's NFP number should be higher than March's number.
The Fed may have next Friday's NFP number in hand by the time they make a decision next week.
Again, the risk is if jobless claims don't come back down we are at risk for a further economic slowdown.
Slowdown In The Face Of No Change At The Fed
Even though NFP slowed, CPI slowed, and GDP looks like it will slow tomorrow the Fed does not have plans to change their three hikes for this year.
When Fed Vice Chair Stanley Fischer was asked by CNBC on Friday if they were becoming more "dovish" to the slowdown he said,
So far haven't seen anything to change that.
We think his statement last Friday is a major preview about next Wednesday's Fed meeting.
The Fed is still charging for three rate hikes this year despite the slowdown in jobs, CPI and GDP.

And with the most recent jobless claims report, the risk to growth increases in the face of rising interest rates.
Conclusion
We don't love that jobless claims report today. The slower readout increases risk to economic growth rates just as the Fed is targeting higher Fed Funds rates. This is a market risk. Growth needs to pick up or the Fed needs to back off for markets to continue to behave.
Portions of this report may have been issued in advance to subscribers or clients. All investments have many risks and can lose principal in the short and long term. This article is for information purposes only. By reading this you agree, understand and accept that you take upon yourself all responsibility for all of your investment decisions and to do your own work and hold Elazar Advisors, LLC and their related parties harmless. Any trading strategy can lose money and any investor should understand the risks.
Disclosure: I/we have no positions in any stocks mentioned, and no plans to initiate any positions within the next 72 hours.
I wrote this article myself, and it expresses my own opinions. I am not receiving compensation for it (other than from Seeking Alpha). I have no business relationship with any company whose stock is mentioned in this article.