Boeing (NYSE:BA) and Airbus (OTCPK:EADSY) may lose sales of at least 2,500 narrow- body passenger jets with a total list value of $223 billion in the next 20 years to a new Chinese challenger. Armed with low price and strong domestic demand, Chinese new narrow-body plane C919 has finished its last phase of technical test before its maiden flight scheduled next month. It is expected to enter service in 2019.
Made by Commercial Aircraft Corp. of China (COMAC), C919 started its first high speed taxiing test in Shanghai on April 16 and completed the fourth and the last test on April 23.
C919 Is Scheduled To Have Maiden Flight Next Month
The 158-seat C919 is scheduled to operate its maiden flight before end of May, according China's aviation supervision organ the Civil Aviation Administration of China (CAAC).
C919 has experienced several delays. It was originally scheduled to have its maiden flight in 2014 followed by a first delivery to Chengdu Airlines. However, the aircraft was not rolled out until November 2015 following program delays. COMAC said at the time it aimed for first flight in 2016.
The first C919 was produced in 2008 with a mixed cabin configuration of 158 seats and all-economy class of 168 seats.
Despite its repeated delays, the C919 has been well received by airlines and airplane leasing companies. By the end of 2016, it secured 570 orders from 23 Chinese and foreign customers. China Eastern will be the launch customer.
This number of orders should be considered in the context of China's airplane market potential. In view of China's fast expanding middle class and their rapidly rising appetite for traveling, Airbus raised its projection last November for China's airplane demand in the next 20 years (2016-2035) by 500 planes, to a total of 5,970 planes with a total sales value of $945 billion.
Among them, 4,230 or 71% are single-aisle narrow-body passenger planes for medium-haul flights. The 168-seat and twin-engine C919 falls into this category. It is expected to compete with updated Airbus 320 and Boeing 737. Both of them currently dominate this market segment.
World Needs 28,130 Narrow-body Planes In Next 20 Years
The world needs 39,620 planes of all sizes in the same 20 years, according to estimation by Leeham News. To get an idea of the global market potential for C919, w e assume narrow-bodies also account for 71% of all aircraft demand of the world. Hence, the world should need 28,130 narrow-bodies in next two decades.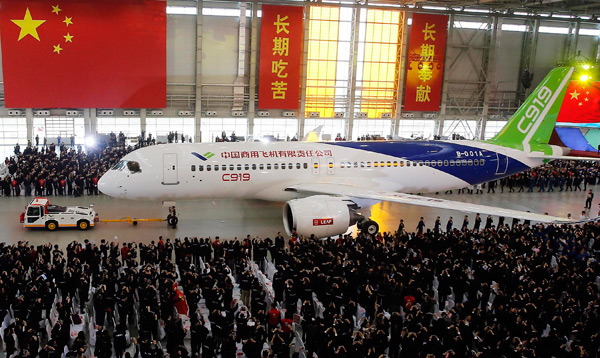 COMAC rolled out first C919 in November 2015. It has finished high speed taxiing test s and expected to take its maiden flight next month. Source: China Daily
COMAC aims to take a third of the Chinese narrow-body market and a fifth of the global market by 2035, according to Air Transport World. That means the company expects to sell 1,410 C919s in China and 4,216 elsewhere, with a global sales potential of 5,626.
COMAC also expects to sell at least 2,000 C919s in the two decades. That means the company sets a sales target range between 2,000 and 5,626 C919s.
But the actual sales prospect will be limited by COMAC's production capacity. The manufacturer has only committed to producing between 20 and 50 C919s annually in 2018 and 2019. It commits to raise annual production capability to 150 units starting from 2020.
COMAC May Have Produced 2500-4900 C919s By 2035
If we assume COMAC to produce C919s in full speed starting 2018, it should have produced 2,500 C919s by end of 2035. These narrow- bodies will be sold out in view of hot demands, at the expense of Boeing and Airbus. Take the $89.1 million list price for a B737-800 as an example, the duopoly will lose sales of $223 billion.
In fact, COMAC sets the low end of C919 sales range at 2,000 units is hence a conservative prediction in a tacit acknowledgement of the 2,500-unit production ceiling.
But the fact that COMAC sets the high-end of sales target range at 5,626 units indicates the company may consider double its annual production capacity to 300 between 2020 and 2035. If COMAC achieves doubling its capacity, it can produce 4,900 C919s in the two decades, on condition that supplies of parts, engines and pilot training catch up with plane body building.
In fact, production limitation asides, COMAC's target of getting one third of China's 4,230 narrow-body market is conservative, in my view. China's medium-haul flight market includes domestic flights as well international flights connecting China. Accounting for about half of all China flights, domestic flights are operated by domestic carriers who are ready to use C919s.
Medium-haul flights connecting China and its neighbors actually serve the Asia Pacific region--a tourist market dominated by Chinese nationals. Chinese tourists can demand to take only flights served by C919s. Hence, if Beijing wishes and production catches up demand, C919s can attain at least 60% to 70% of China's narrow-body aircraft market.
Late Comer Advantage: New Design And Features
Boeing and Airbus have not redesigned B737 and A320 for years-they just churn out updated versions with improved features.
In contrast, COMAC designs C919 from scratch. The plane is equipped with more efficient electric transmission and control systems. Parts of its structures are made of light composite materials. In addition, the GE LEAP-1C turbo-fan jets used by C919 are quieter, more fuel efficient and fly longer distance than the CFM56 jets used by B737-800.
Even more importantly, the passenger cabin of C919 is 0.36m wider than that of B737-800. That means each passenger seat will be a few inches wider. (See Table)
Comparison Between C919 And B737-800

C919

B737-800

Length:

38.9m

39.5m

Cabin Width

3. 9m

3. 5 4 m

Max Takeoff

72.5mt

70mt

Max Takeoff

(Extended Version)

77.5mt

79mt

Max Range

4,075km

3,700km

Max Range

(Extended Version)

5,585km

5,400km

No. of Mixed Seating

158

160

Engine

LEAP-1C

CFM56

List Price

$50M

$89.1M
International Certification Through Multiparty Cooperation
COMAC counts as many as 16 global corporations as parts and system suppliers for C919s, including General Electric (GE) and Honeywell International (HON). It has also set up at least 16 joint ventures for avionics, flight control, power, fuel and landing gear. Apparently, C919 aims to get airworthiness certificates from FAA of the US and Europe's EASA. The two certifications will enable C919 to serve the markets of Americas and Europe.
But even a lack of American and European certification will not affect C919's sales, at least in the beginning, as most planes delivered initially will serve on China's domestic and regional flights.
Aggressive Pricing To Breakdown Boeing-Airbus Duopoly
COMAC has not yet published official prices for the 168-seat C919. But a Chinese national radio said in 2015 that C919's unit price was only $50 million. In comparison, the current list price for B737-800-the B737 version most comparable to C919-is $89.1 million. A320s have similar prices with B737. COMAC is expected to follow the practice of Boeing and Airbus to provide large customers deep discounts of 20-40%.
Factors for C919's low price include:
1. A320 and B737 have not been redesigned for years. In addition, they have similar prices and market shares in the global narrow-body market. These phenomena point to a possible price fixing between the two companies. In contrast, COMAC is ready to offer a much lower price for C919 as the company is eager to break into the global narrow-body market. C919 will also enjoy enough economy of scale.
2. According a Sina.com report, the breakeven point for selling new narrow- bodies is about 500 units. As C919 has so far got more than 570 orders, producing them is already profitable for COMAC. Just like other Chinese companies prefer to build up market share in a new market before making money, COMAC will likely to offer even lower prices by sharing potential profits with customers.
3. Yuan depreciation over the past year as well as lower labor costs will also push C919's production costs in China below those of the United States and Western Europe.
Conclusion: End Of Boeing-Airbus Duopoly Inevitable
China is a proud country. Beijing and Chinese people cannot tolerate indefinite dependence on foreign supply of civil aircrafts. Paying hundreds of billion dollars to buy thousands of passenger planes in next two decades is also a huge drain of Beijing's dwindling foreign exchange reserve.
The C919 project is also the corner stone of China's strategically important aviation industry. Beijing has the patience as well as the human and financial resources to make the narrow-body a successful product.
More importantly, China is fast becoming the world's largest market of air planes, air transport and tourism. Beijing will not hesitate to use this leverage to fight against any perceived western discrimination of its products.
China will definitely enter the markets of larger planes if its C919 project is successful. Narrow-bodies are the bread-and-butter products for Boeing and Airbus. Yet, both companies have not designed new models for decades. The most obvious reason of course is that they face no competition. Another reason may be the slim profit-margin of developing new models.
To resist or at least slow down Chinese challenge, Boeing and Airbus have to launch new narrow-bodies in next few years which are technically more advanced than their Chinese counterpart.
Editor's Note: This article discusses one or more securities that do not trade on a major U.S. exchange. Please be aware of the risks associated with these stocks.