"Any player unaware of the fool in the market probably is the fool in the market."
― Michael Lewis, Liar's Poker
Bond investors "had it easy" during the decades since the 1980's. In addition to income from historically high interest rates, investors enjoyed significant capital gains as rates fell over the years. The chart below shows the 30-plus year bull market in bonds as interest rates fell since 1982. But that bull market is probably over. It likely ended with the double bottom in 2012 and 2016 around 1.5% for the 10-year Treasury. My point here isn't one of gloom. Rather, it's that periods of gains and higher returns will likely be mixed in the coming years with periods of low or negative returns. In such an environment, the passive, buy-and-hold approach to fixed income investing may be less effective; and active fixed-income management may be more relevant than ever.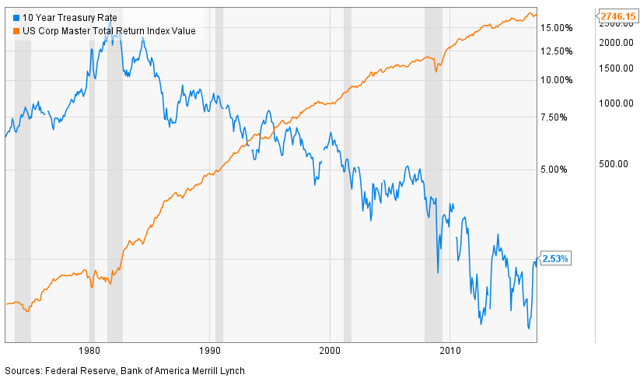 For longer-term bonds, capital gains/losses generally exceed interest income from their coupons in the short term. Long-term bonds lose value when interest rates rise, as they did in the second half of 2016. Active/tactical management involves shifting exposures to various assets to maximize expected total return or to avoid likely downside (you can read more here on how we do tactical fixed-income management). The fixed-income universe includes U.S. bonds: short-term (NYSEARCA: VCSH), Treasuries (NYSEARCA:IEF), corporates (NYSEARCA:LQD), high-yield bonds (HYG, JNK), loans (NYSEARCA:BKLN), and TIPS (NYSEARCA:TIP). It also includes international developed market bonds (NASDAQ:BNDX) and emerging market bonds (EMB, PCY).
Not too normal
Consistent with positive U.S. employment numbers and with inflation rebounding to 2% in recent months, the Fed continued to normalize interest rates by raising it twice since December, and longer-term rates rose above inflation. Not so in Europe where the ECB continues to buy government bonds to keep longer-term rates near zero. The welcome rebound in inflation to 1% in the Euro zone (and to 2% in the U.K.) has not yet been followed by any central bank action. The situation of interest rates staying below inflation has negative longer-term economic consequences. But the ECB has no incentive to end the program. If they close the spigot of liquidity, they risk stifling the recovery that's just gaining traction.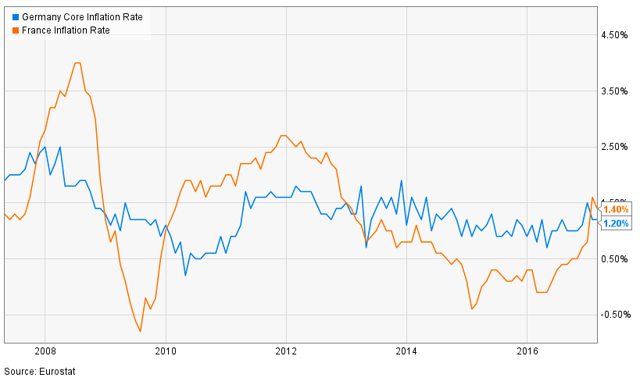 Here's a list of 10-year developed government yields around the world:
| | |
| --- | --- |
| | 10y Yield, % |
| Greece | 6.41 |
| Portugal | 3.57 |
| Italy | 2.31 |
| US | 2.30 |
| Spain | 1.70 |
| Canada | 1.48 |
| UK | 1.08 |
| France | 0.89 |
| Netherlands | 0.59 |
| Germany | 0.35 |
| Japan | 0.02 |
| Switzerland | -0.15 |
U.S. Treasuries are considered one of the safest in the market, so in theory, other sovereign debt should provide a premium for added risk. To get a sense of Italy's and Span's sovereign risks, let's look at their unemployment rates: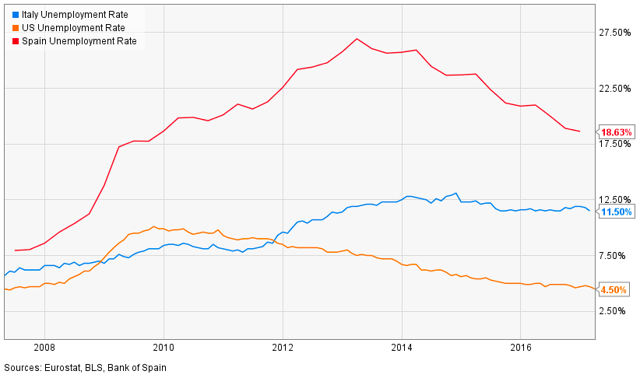 Yet, Italy's government debt trades at the same yield as the U.S. at 2.3%, followed by Spain at 1.7%. Safer European sovereigns yields are well below 1%. After the ECB meeting today, Mario Draghi reiterated that the monthly bond-buying program will continue at 60 billion euros per month. European officials have no incentive to "pull the plug" any time soon.
These risk-return distortions created by central banks have now lasted for several years, but it helps to once again point them out. It's hard to say when, but they will not last forever. I tend to think that the situation might end politically.
Political risks
The first round of the French presidential elections was well received by the market. Marine Le Pen winning the upcoming runoff on May 7th is currently deemed unlikely by the polls - a situation strikingly similar to what happened right before the Brexit and President Trump's win. However unlikely, her possible victory carries outsized political risk for all of Europe. It would involve a prospect of disintegration of the EU, a risk that's underestimated by investors, in my view. In addition, Greece's economic numbers and the upcoming debt maturity in July make me think that Europe might increasingly dominate financial news in the coming months.
What it means to bond investors
Without the central bank bid, European bonds are vulnerable to a substantial downward price adjustment. The good news is that few U.S. retail investors invest in European bonds. The largest developed bond ETF appears to be the Vanguard's BNDX with $6.9 billion in AUM, with over 50% exposure to European sovereigns. I think that this market is extremely risky - investors in European bonds increasingly appear to be the fool in the market.
In other updates - after a healthy gain, we just sold TIPS from our Tactical Income and other strategies. The 10y TIPS real yield dropping to 0.3% changed our TIPS model to Neutral from its earlier Buy signal in March. Additionally, lower March CPI and PPI numbers suggest that inflation increases will be more gradual, which makes inflation-indexed TIPS less attractive. As longer-term bonds still look risky, we moved the sale into floating-rate notes (NYSEARCA:FLOT), but short-term corporates (NASDAQ:VCSH) also look good here. We continue to hold BKLN.
Disclosure: I am/we are long FLOT, BKLN.
I wrote this article myself, and it expresses my own opinions. I am not receiving compensation for it. I have no business relationship with any company whose stock is mentioned in this article.
Additional disclosure: Roman Chuyan is the president and general partner of Model Capital Management LLC, a Registered Investment Adviser. This article is for informational purposes only. There are risks involved in investing, including loss of principal. Roman Chuyan makes no explicit or implicit guarantee with respect to performance or the outcome of any investment or projections made by him or Model Capital Management LLC. There is no guarantee that the goals of the strategies discussed in this article will be met. Information or opinions expressed may change without notice, and should not be considered recommendations to buy or sell any security.