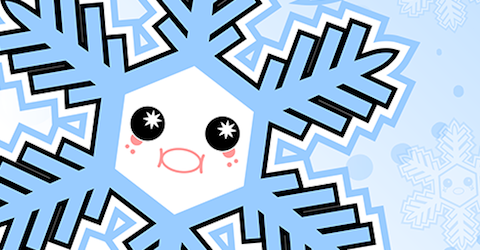 Today something interesting happened. Amazon.com (NASDAQ:AMZN) reported Q1 2017 earnings and quickly proceeded to rally in the after-hours session.
Now, these earnings were supposedly a large beat on earnings. Consensus expectations were for just $1.12 EPS, and Amazon.com delivered a full $1.48 EPS. A massive $0.36 beat.
But consider the following:
When Amazon.com last reported earnings, it guided down Q1 2017 by a lot:

Source: Yahoo Finance
That is, the $1.69 EPS expectation existing back then turned into a $1.12 expectation for Q1 2017. $1.12, mind you, was still a supposed improvement on Q1 2016, where Amazon.com had reported a $1.07 EPS flowing from a $1.07 billion operating profit. Of course, back then, Amazon had 481 million diluted shares, and this quarter, it had 490 million.
So what's the problem here? Well, AMZN reported $1.01 billion in operating income this quarter. So stay with me, last year $1.07 billion was good enough for $1.07 EPS, but this year less operating income was good for $1.48 EPS? What's wrong here? Obviously, what's wrong is that the tax rate was massively different. Last year it was 45%, this year it was 24%. So the entire beat came from a different tax rate, and happened on declining operating profits!
Moreover, this low-quality beat happened after the following rally: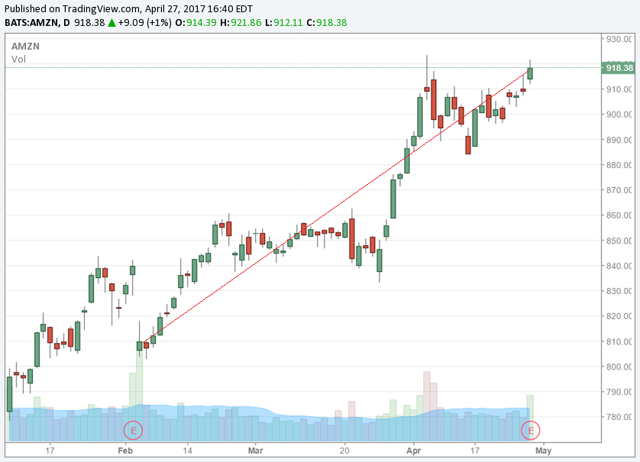 Source: Seeking Alpha
So basically Amazon forgot about the guide down and put on a ~13% rally since the last earnings report. And then, it rallied on earnings which were entirely a function of a lower tax rate, because if the same tax rate had happened, Amazon.com would have reported $1.07, or $0.05 below expectations. That said, the company did come in roughly $100 million above the top end of its operating profit guidance, so a level of lower tax rates was implied.
It didn't stop there, though. Amazon.com also provided guidance for Q2 2017. This guidance was as follows:
Second Quarter 2017 Guidance

Net sales are expected to be between $35.25 billion and $37.75 billion, or to grow between 16% and 24% compared with second quarter 2016. This guidance anticipates an unfavorable impact of approximately $720 million or 240 basis points from foreign exchange rates.
Operating income is expected to be between $425 million and $1.075 billion, compared with $1.3 billion in second quarter 2016.
This guidance assumes, among other things, that no additional business acquisitions, investments, restructurings, or legal settlements are concluded.
In short:
Amazon guided for another (rather large) year-on-year operating profit drop.
It guided for $1.075 billion at the top of the operating profit guidance range.
Now, what does $1.075 billion translate into? Taking out roughly $50 in additional costs, it translates into ~$1.025 billion pre-tax profits. Even at the same 24% tax rate as during Q1 2017, that in turn translates into a $1.59 EPS. Current expectations are for a $1.86 EPS, already down for $2.24 … so in the next couple of days, we're going to see widespread revisions lower. Perhaps for Amazon.com to then beat again (while coming in at a lower level than original expectations).
It's just amazing how well-treated some stocks are. Imagine your own stock beating just on taxes while showing year-on-year operating profit declines. Imagine your stock also guiding down next quarter by 14.5% at the top of the guidance range. How would your stock be treated?
Conclusion
Amazon.com is clearly a special snowflake. It can guide down one quarter, rally into the next quarter, beat solely due to tax rates while showing year-on-year operating profit declines and guide down next quarter even at the top of the range. And it still goes up after-hours.
To be clear, I do not have a position here, and I haven't written on Amazon.com in a long time. Yet, it's still just jaw dropping how well the market treats some stocks versus most other stocks out there.
Disclosure: I/we have no positions in any stocks mentioned, and no plans to initiate any positions within the next 72 hours.
I wrote this article myself, and it expresses my own opinions. I am not receiving compensation for it (other than from Seeking Alpha). I have no business relationship with any company whose stock is mentioned in this article.