Emerging market bonds are becoming increasingly popular and less and less attractive. In this article, I am going to share some thoughts on this asset class as a whole, which is surely less risky than it was 20 years ago. Nonetheless, institutions have too optimistic views on this "market", and give a "strong buy" even after the sharp uptrend of the last few months. I think political risks abound and I prefer to stay away.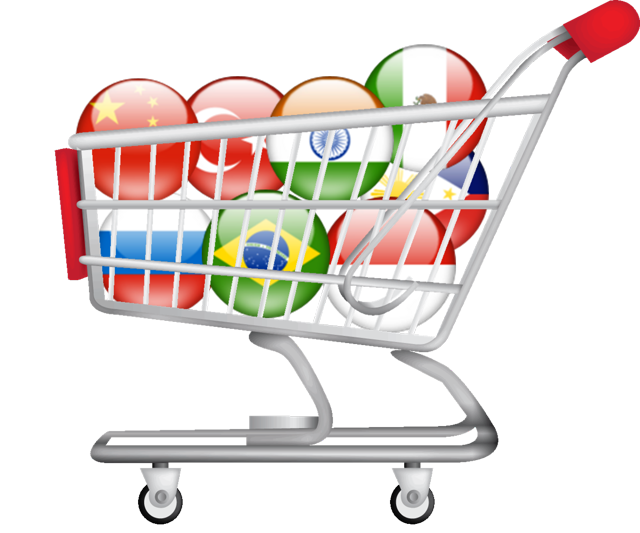 Emerging Market Debt - A Growing Asset Class
After years of low interest rates proliferating everywhere among developed economies, at least the United States seems to be on a path of gradually rising interest rates. The Eurozone has been reporting growing GDP since the third quarter of 2014, while Japan is still struggling with anemic growth numbers. Anyway, both regions are in a situation where monetary policy actions have the same effect of pushing on a string - Japan more than the Eurozone, but the latter is almost there too. Interest rates at zero and the aggressive quantitative easing don't seem to have a great effect on GDP growth or unemployment. Low interest rates (and sometimes negative) everywhere in the developed world have forced fixed income investors to focus on emerging markets to chase higher yields. According to many analysts and investors, the situation in emerging markets looks good. Economic growth is recovering in many areas and an increasing number of young workers are fueling consumer spending. Governments in many emerging economies have much lower debt burdens compared to developed economies, and central banks have a lot of flexibility to cut interest rates if it's needed.
Other investors still avoid most emerging markets (NYSEARCA:VWO) (NYSEARCA:EEM), due to the perceived risks generated by the combination of weak economic and monetary policy in the last decades, high levels of corruption and lack of economic freedom, to name a few. It's true that there is a lot of work to be done in all these countries, but emerging market debt (NYSEARCA:EMB) is not as risky as it was 30 or even 15 years ago.
As Aberdeen Asset Management wrote in a recent report:
Many emerging nations have built up large foreign exchange reserves while undergoing substantial monetary and fiscal adjustment. Policymakers are now able to control inflation more easily when currencies weaken, ultimately helping to restore competitiveness. Nowhere is this more evident than in current account balances where deficits have narrowed. Additionally, many emerging-markets central banks continue to garner institutional credibility among international investors thanks to their mature and conformist approach to monetary policy.

Additionally, credit quality has evolved and improved since the early days of the asset class. Defaults are low despite emerging-markets issuers often being portrayed as the more likely candidates to default on their debt repayments. In local currency debt, no country has defaulted on a bond issued in its own currency since Russia in 1998. And although they are viewed as being similar in terms of how risky they are, default rates for emerging-markets corporate debt are relatively lower than default rates for U.S. high-yield bonds. This trend is expected to continue into 2017.
In the past few years, emerging markets were affected by high volatility and a decline in popularity as a result of increased political risk, strong declines in energy prices and uncertainty around economic policies. There is not a clear trend in emerging economies, and there are strong divergences between regions. India (BATS:INDA) (NYSEARCA:EPI) and South-East Asia are growing fast, China (NYSEARCA:FXI) is re-accelerating, Russia (NYSEARCA:RSX) and Brazil (NYSEARCA:EWZ) are in recession and part of the Middle-East is still in chaos. Even from the perspective of political risk, we can see how some developed economies are showing increasing level of political uncertainty. Brexit and other minor anti-European movements contribute to increase uncertainty in a region that has been typically characterized by low political risk. Moreover, we have seen how the uncertainties surrounding policies under U.S. President Trump can pose a risk for emerging markets such as China and Mexico (NYSEARCA:EWW), but also for developed economies. The government has recently announced a 20% tariff on imports of Canadian softwood lumber, and given the government's protectionist approach, we can expect more import tariffs to be introduced. Nonetheless, the current level of uncertainty doesn't seem to scare investors. Aberdeen wrote:
Despite continued global uncertainty, emerging markets fundamentals remain sound. Levels of emerging-markets debt remained attractive as current account deficits narrowed. Policymakers worked hard to control inflation when currencies weakened. Many central banks are now in a better position to cut interest rates, which could restart growth and help offset the impact from further rate hikes by the Fed. Consumer demand in the region has also increased in tandem with a growing middle class.
It's true, the main emerging markets are in a better position compared to a few years ago, and in general, they are less risky than they were just 2 decades ago. Nonetheless, I think we should beware of the excessive euphoria of the market towards EM securities. Recent data from Dealogic showed that governments and corporations from emerging markets sold a combined $179 billion in bonds in Q1 2017, which means twice the amount of bonds sold a year ago and it's the largest amount of emerging market debt ever sold in Q1. Both developing economies and frontier markets have managed to succeed in their issuances of bonds this year. Argentina, Nigeria, and gulf countries such as Qatar, Kuwait and Saudi Arabia have all been relatively successful with their issuances this year. Also emerging market corporate bonds have seen demand increase. The high demand has led to a decline in yields, which is clear when we look at the spread between Emerging Market and US Corporate Bonds, which is at 5-year lows and has declined sharply since the election of Trump: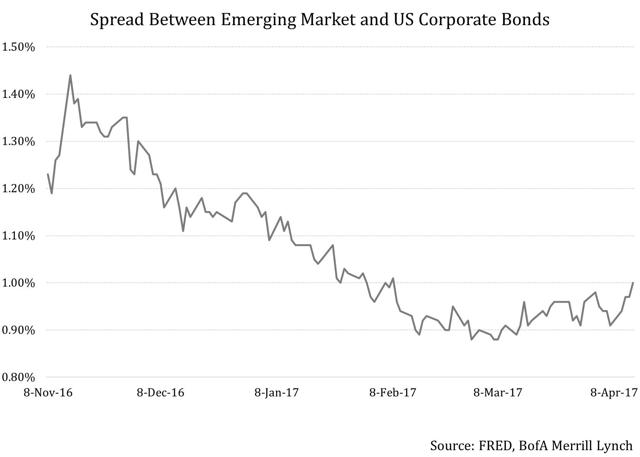 The reasons behind this strong demand are several:
The first reason is the aforementioned improving economic conditions in many emerging markets, which have been recently supported by rising commodity prices, oil (NYSEARCA:USO) (NYSEARCA:OIL) in particular.
The United States' government has been less aggressive towards emerging markets and has toned down its rhetoric on trade protectionism. Nonetheless, the import tariffs on Canadian lumber show it could be just a temporary shift as the government is more focused on other matters (Syria and North Korea, to name a few).
The apparent decision of the Fed to maintain a slow pace of rate hikes, instead of an aggressive stance.
Opportunities and Risks in Emerging Market Debt
Trump is not a risk for all emerging markets. While it's obvious that Mexico and China are likely to suffer if protectionist measures are implemented, a few emerging markets may even benefit. Mexico is highly dependent on the United States in terms of investment, consumption and trade, the reason why we can already expect economic growth to significantly fall already in the current conditions. The reason is that American companies are not going to invest in Mexico as they did before, for fear of being singled out by Trump. Companies that already have some production in Mexico, may reduce investment and hiring plans. Trump is also bad for China, as the country is the President's main target for unfair trade and any tariff on Chinese imports may trigger an economic slowdown, since the U.S. is China's number one export market.
On the other side, some emerging markets may actually benefit from the Trump presidency, and are currently benefiting, such as some Latin American countries. I agree with BNP Paribas, whose analysts recently wrote:
Considering commodity exporting sectors in emerging markets, countries like Brazil, Argentina, Colombia, Peru, specifically in South America, we see a very strong case that these regions will benefit from higher terms of trade and from reflationary policies in the US that have already increased the value of commodities prices in the market since the day of the election.

As US demand grows through Trump's fiscal expansionary policies, we think that these countries could benefit indirectly from an acceleration in global growth. These countries, specifically in South America, have very low value-added content to their manufacturing exports, and very few of those exports go to the US. We therefore do not see them as a target of any sort of trade policy by the new US administration.
In addition to Latin America, other markets that could benefit from Trump's aggressive stance towards China are fast growing Asian countries, such as India, Vietnam, Indonesia and the Philippines. At this regard, BNP Paribas wrote:
We have noted for some time that they have been benefiting from China's loss of competitiveness on a trend basis. In other words, as China becomes more expensive to produce because of labor costs, because of regulations in China and because of the currency, these countries have benefited by essentially stealing manufacturing output market share from China. If Trump singles out China in his tariff policy, making it even more expensive for China to produce, we see that simply accelerating the migration of activity from China to South Asia, to the high-growth Asian countries.
According to BNP Paribas, if we avoid Mexico and China, we can find interesting opportunities in Latin America or Asia. This seems to be a common belief among analysts. Morgan Stanley is also positive on emerging market bonds, saying investors should be overweight in markets such as Brazil, Indonesia, Argentina and Colombia.
When many voices (especially among investment banks) are so positive on a sector, asset class or whatever, I tend to look for more reasons to be skeptical. It's true, emerging markets are much more solid than they were two decades ago. Many of them show more effective abilities to manage economic and monetary policies, report high growth rates, low debt levels and controlled levels of inflation. There are reasons to confirm that emerging markets are less risky than they were 20 years ago. On the other side, I think the rising optimism is becoming annoying and may have overextended. Funds have been flowing in emerging market bonds too aggressively, especially in hard currency markets.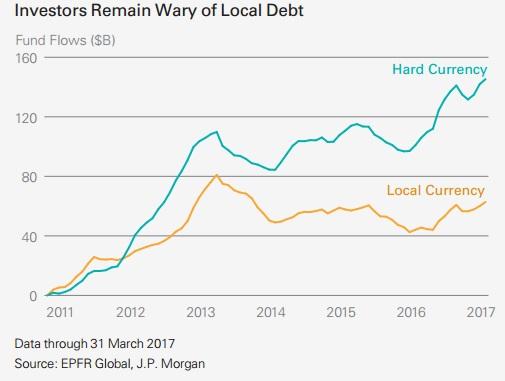 At this regard, I think the divergence between hard currency and local currency is an indicator of yield chasing and uncertainty around emerging markets. If investors were actually so positive on emerging markets, there would not be such a strong divergence between the two asset classes. The rising dollar (NYSEARCA:UUP) is still perceived as a significant risk.
Emerging market bonds have already shown significant volatility right after the election of Trump and I am afraid we could experience the same if some risks materialized. The main risks I see are the following:
The rising wave of American protectionism, which can't be seen in a positive way for emerging markets as a whole. A trade war would have global repercussions, directly among the parties involved, and indirectly on almost anybody else. Global economic growth would decline and emerging markets would not look so attractive anymore. Emerging market debt as a whole would suffer.
Geopolitical risk is also something to take into account. An escalation in North Korea or the resurgence of a cold war climate with Russia can lead to funds outflows from emerging markets and inflows in economies perceived as safe havens such as the United States, with an additional appreciation of the dollar.
Slowly rising interest rates are still rising interest rates, and there is no guarantee that the bullish trend of the dollar is near the end. Even if inflation expectations have decreased a bit, inflation is still expected to slowly increase and is supported by a resurgence in commodity prices. Moreover, tax reforms and other reflationary policies of the current administration may lead to the necessity of interest rate hikes to control inflation. Interest rates may be raised faster than emerging market debt holders would like. An increase in borrowing costs in US dollars would make the carry trades less profitable, threatening part of the demand for EM bonds.
I think investors should be careful when approaching emerging markets debt. Institutions' heavy buying is supported by the belief that emerging markets are much more solid than they were in the past, which is not reason enough to be buyers at any price. The sharp uptrend has probably overextended and corporate yields in emerging markets are estimated to be 200-280 bps too low, relative to default rate expectations, while there are significant downside risks. This wave of yield chasing is exposed to significant political risks that were initially feared but that are now neglected. As the sharp decline that took place after the election of Trump showed, emerging market bonds are very sensitive to these risks, which still abound and should not be ignored.
Thanks for taking the time to read the article. If you liked it, click on the follow button at the top of the page. You will get my articles as soon as they are published. I am available to further discuss the topics of this article in the comment section.
Disclosure: I/we have no positions in any stocks mentioned, and no plans to initiate any positions within the next 72 hours.
I wrote this article myself, and it expresses my own opinions. I am not receiving compensation for it (other than from Seeking Alpha). I have no business relationship with any company whose stock is mentioned in this article.