Hard Times
The last three years have been hard times for the Supermajor oil giants as oil prices collapsed.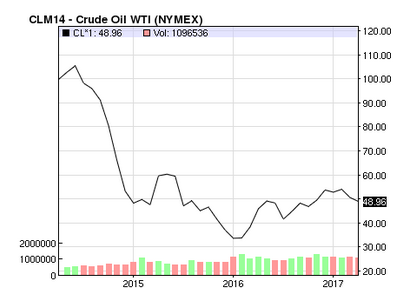 Recently, Big Oil's struggles are starting to ease as companies continue to reduce costs and increase cash.
Exxon Mobil (NYSE:XOM), Royal Dutch Shell (NYSE:RDS.A) (NYSE:RDS.B), Chevron (NYSE:CVX), Total SA (NYSE:TOT), and British Petroleum (NYSE:BP) have cancelled billions of dollars of projects, dumped thousands of jobs and amassed towering debts to weather crude's decline. While prices are still half their 2014 level, a partial recovery, coupled with spending cuts, contributed to first quarter gains according to Morgan Stanley.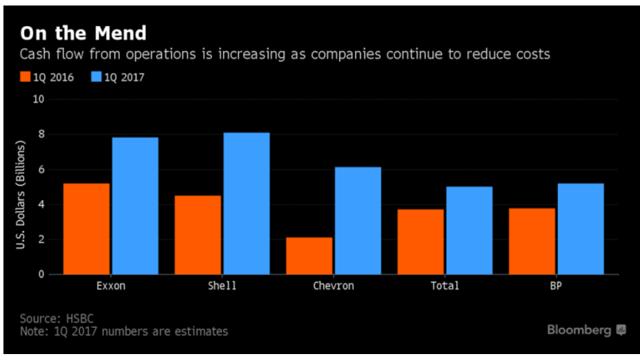 Signs of Growth
Jason Gammal, a London based analyst for Jefferies International Ltd. stated "We are at oil-price levels where most of these companies are pretty close to covering their dividend." He attributes increasing profits to "taking operating costs out of business."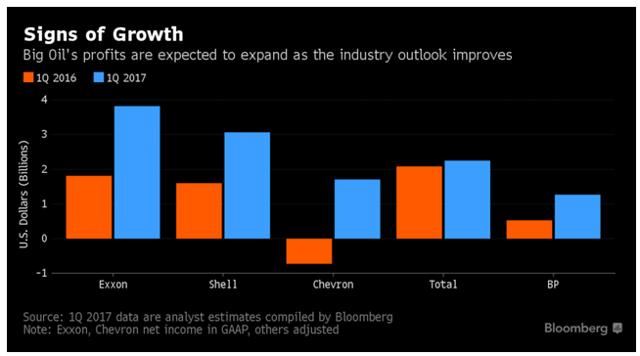 An additional profit advantageous for the "Big Five" is the down-stream refined production of petrochemicals which added to the revenue stream providing a safety net as oil earnings sank.
Note the rise in refining margins, below, as crude prices fell beginning Q1, 2015. These five companies are expected to more than double their yearly first quarter net income, according to analysts estimates compiled by Bloomberg. Clearly, this is an ambitious expectation, and there are some doubters.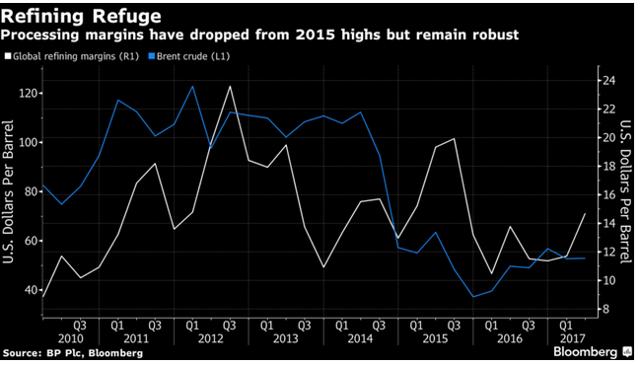 Room For Doubt
On the other side, one must consider that the oil price recovery has stalled this year as U.S. shale production grew to its highest level since 2015. Simultaneously, OPEC's battle to balance oil markets is still a work in progress. The global glut is still a drag on crude pricing and, as observed in the graphic below, data regarding oil company share prices have underperformed and lag the general market recovery.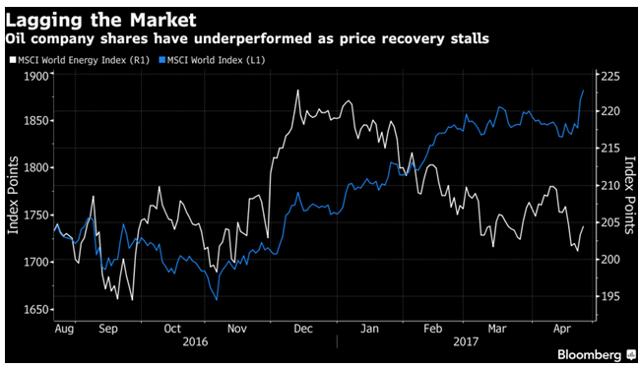 Take Away
An important positive indicator is to see oil prices rally further before the majors can grow share values, according to Alastair Syme at Citigroup inc. I believe a more basic key indicator may be for crude to hold the oil bid at $50.
More importantly, first quarter earnings for the five major oil companies are due and may be an initial indicator that signals price recovery.
TOT reports on April 27 and EOM and CVX report on April 28. BP follows on May 2 with RDS.A on May 4. Stay tuned.
NOTE: Thank you for reading and commenting. If you wish to follow my articles, please click the button above after my name.
Disclosure: I/we have no positions in any stocks mentioned, and no plans to initiate any positions within the next 72 hours.
I wrote this article myself, and it expresses my own opinions. I am not receiving compensation for it (other than from Seeking Alpha). I have no business relationship with any company whose stock is mentioned in this article.