The hot hand in the closed-end fund marketplace this year are global equity funds. These diversified portfolios own a mix of U.S. and international stocks with the added boost of embedded leverage. Some also employ options or other derivative strategies to generate a portion of the abundant income that is distributed to shareholders.
Some of the biggest and most successful equity CEFs this year include:
*Performance data year-to-date courtesy of stockcharts.com and includes dividends.
For comparison purposes, the iShares MSCI ACWI ETF (NASDAQ:ACWI) is up 8.59% since the start of 2017. ACWI stands for "all-country world index", which measures a broad swath of the global equity landscape through a traditional market-cap weighted structure.
The out performance of this group has been driven by a host of factors including:
Strong gains across international markets with an emphasis on emerging economies and European stock market momentum.
Robust buying activity leading to narrow discounts relative to historical averages across the entire category since the post-election rally began.
Attractive yields in an asset class that eschews the traditional sensitivity to interest rates that haunts bonds, REITs, and other defensive groups.
Put simply, these funds are in the right place at the right time to benefit from the technical strength of international stock exposure and the sentiment of income investor risk appetites.
One of the stars of this rally has been GLO, which owns a multi-asset mix of securities. Most this fund's underlying investments are U.S.-based stock holdings. However, it does contain a healthy mix of foreign exposure as well. The chart below shows how strong the momentum has been with GLO since the November bottom.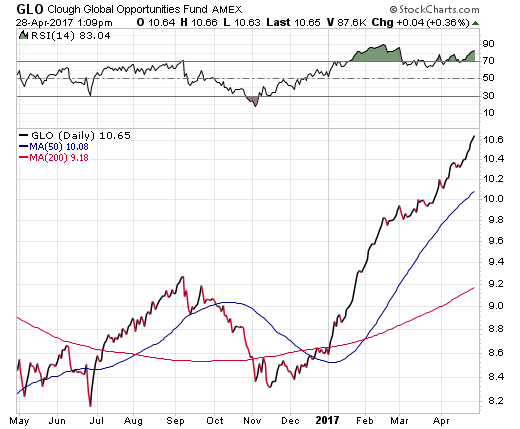 While it appears that this fund can do no wrong right now, it's worth noting that much of the recent gains have been the result of discount narrowing as depicted in the chart below. The 52-week low discount of -20% has now been shrunk to a 52-week high of -7.66% at present values.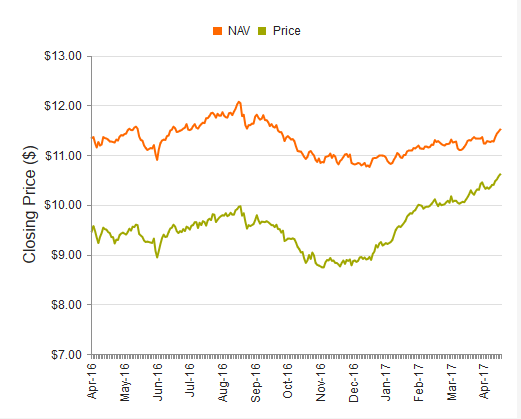 *Chart courtesy of cefconnect.com
In my opinion, this extreme discount narrowing relative to historical norms makes for a much higher risk entry point for new money at these levels. Furthermore, this same type of price versus net asset value behavior has been exhibited throughout most the global equity CEF category.
It's easy to become enamored with recent gains for those who have been patiently sitting on the sidelines waiting for a pullback to materialize. The temptation is to dip a toe in the water of a top-performing area of the market in the hopes that the recent trend will extend indefinitely. Nevertheless, this type of price chasing can get investors in trouble when they come late to the party with feelings of performance anxiety or greed on the mind.
In my experience as an advisor that implements closed-end fund portfolios, the best times to purchase these funds are when their discounts are widening or premiums are compressing. Conversely, you should be looking to pare down your exposure as discounts are contracting or premiums are expanding.
Price trends that promote greed or fear can often extend much further than anyone thinks is possible. However, the risk of a reversal from extremes can be dangerous to your wealth and is often exacerbated by twitchy sellers looking to lock in gains or protect capital.
If you absolutely must buy this group, I would do so in small quantities that you can look to add to over time. That way you can still participate without the same risk of larger position sizes that inherently entail greater risk and can affect your decision process.
Disclosure: I am/we are long ETG.
I wrote this article myself, and it expresses my own opinions. I am not receiving compensation for it. I have no business relationship with any company whose stock is mentioned in this article.
Additional disclosure: David Fabian, FMD Capital Management, and/or clients may hold positions in the ETFs and mutual funds mentioned above. The commentary does not constitute individualized investment advice. The opinions offered herein are not personalized recommendations to buy, sell, or hold securities.