Welcome to the natural gas storage forecast edition of Natural Gas Daily!
The EIA reported a +74 Bcf change yesterday, which was 5 Bcf higher than our forecast of +69 Bcf. Be sure to read our summary of the storage figures here.
We anticipate +55 Bcf for the week ending 4/28.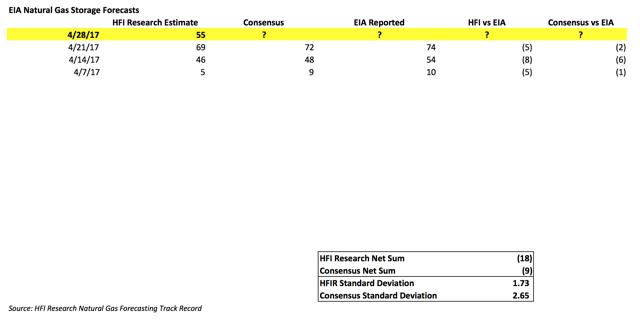 On a fundamental supply and demand basis, demand saw a material tick higher to much higher power burn demand stemming from nuclear outages and higher Mexico export. Some of the increase was offset by lower LNG export as Cheniere's (NYSEMKT:LNG) maintenance dropped LNG flow to 1.5 Bcf/d.
On the supply side, U.S. gas production averaged just a tad lower than last week due to more seasonal planned maintenance. Slightly higher Canadian gas net imports offset the decrease, resulting in a minor increase in overall supplies.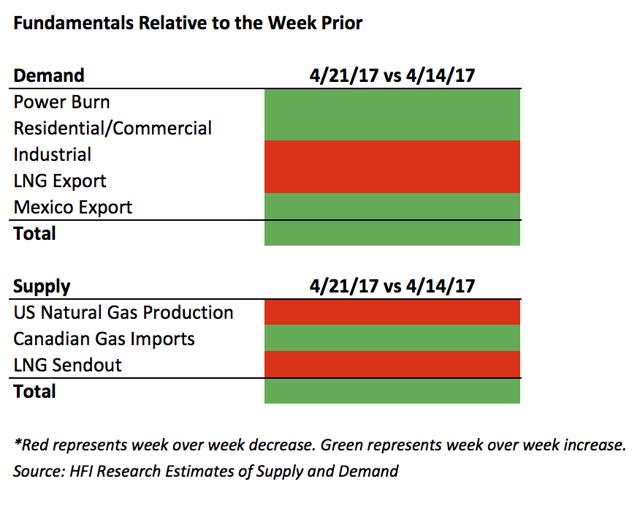 Next week's EIA storage report shows a current forecast range of 53 Bcf to 58 Bcf, with our estimate currently at the middle of that range. If the EIA reports an injection of 55 Bcf, it would be compared to 68 Bcf last year and 63 Bcf for the five-year average.
HFI Research Natural Gas Offering
For more info on daily supply and demand tables, please visit HFI Research Natural Gas for more info.
Disclosure: I/we have no positions in any stocks mentioned, and no plans to initiate any positions within the next 72 hours.
I wrote this article myself, and it expresses my own opinions. I am not receiving compensation for it (other than from Seeking Alpha). I have no business relationship with any company whose stock is mentioned in this article.