The latest Commitment of Traders (NYSE:COT) report showed yet another increase in the net speculative long position for the sixth consecutive week, though the increase was much smaller than the previous five weeks. Interestingly enough, silver positions diverged from gold this week as they dropped fairly significantly on the week - which shadowed the silver price's drop.
French elections turned out as most expected last week, with Macron and Le Pen set for a round two vote, which seems to heavily favor Macron as many voters vote "against" Le Pen. As we suggested last week, the elections were a catalyst for a drop in precious metals as markets (almost) eliminated one more potential catalyst for European political crisis.
The big news for the week was the tax plan proposed by President Trump. While definitely short on details (investors can read a summary of beneficiaries/losers here), it seems like it will have a very difficult time passing as it is proposed now as both Democrats and deficit-hawks have major issues with it. Large tax reform is very difficult to pass in the US, especially if it must be budget neutral as this plan will have to be without Democrat support. Either way gold investors all over the world should pay close attention to what happens here as it will affect the USD as it either spikes deficits or removes some of the "green shoots" in the US economy.
We will get more into some of these details but before that let us give investors a quick overview into the COT report for those who are not familiar with it.
About the COT Report
The COT report is issued by the CFTC every Friday, to provide market participants a breakdown of each Tuesday's open interest for markets in which 20 or more traders hold positions equal to or above the reporting levels established by the CFTC. In plain English, this is a report that shows what positions major traders are taking in a number of financial and commodity markets.
Though there is never one report or tool that can give you certainty about where prices are headed in the future, the COT report does allow the small investors a way to see what larger traders are doing and to possibly position their positions accordingly. For example, if there is a large managed money short interest in gold, that is often an indicator that a rally may be coming because the market is overly pessimistic and saturated with shorts - so you may want to take a long position.
The big disadvantage to the COT report is that it is issued on Friday but only contains Tuesday's data - so there is a three-day lag between the report and the actual positioning of traders. This is an eternity by short-term investing standards, and by the time the new report is issued it has already missed a large amount of trading activity.
There are many ways to read the COT report, and there are many analysts that focus specifically on this report (we are not one of them) so we won't claim to be the exports on it. What we focus on in this report is the "Managed Money" positions and total open interest as it gives us an idea of how much interest there is in the gold market and how the short-term players are positioned.
This Week's Gold COT Report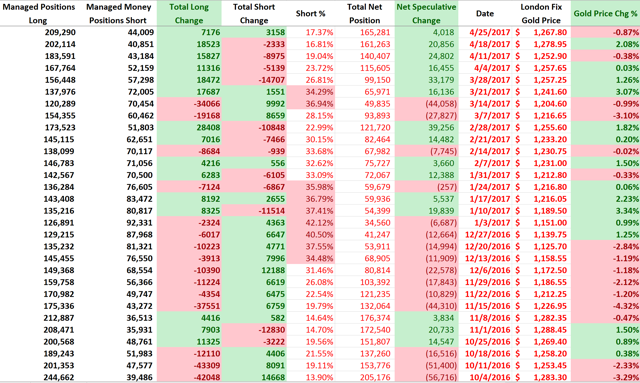 This week's report showed a sixth consecutive week of increases in speculative gold positions as longs added 7,176 contracts during the COT week while shorts also increased by 2,333 contracts. Gold investors need to be careful here as it seems speculative gold traders are running out of firepower after almost two months of adding to positions.
Moving on, the net position of all gold traders can be seen below: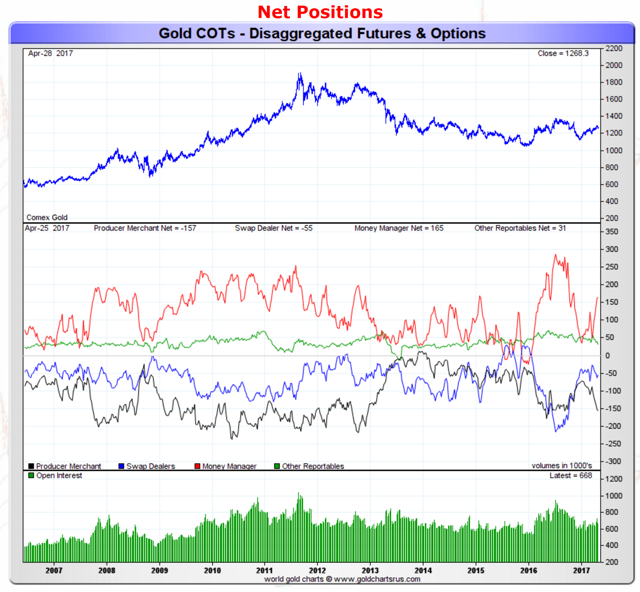 Source: GoldChartsRUS
The red-line represents the net speculative gold positions of money managers (the biggest category of speculative trader), and as investors can see, we saw the net position of speculative traders increase by about 4,000 contracts to 165,000 net speculative long contracts.
As for silver, the action week's action looked like the following: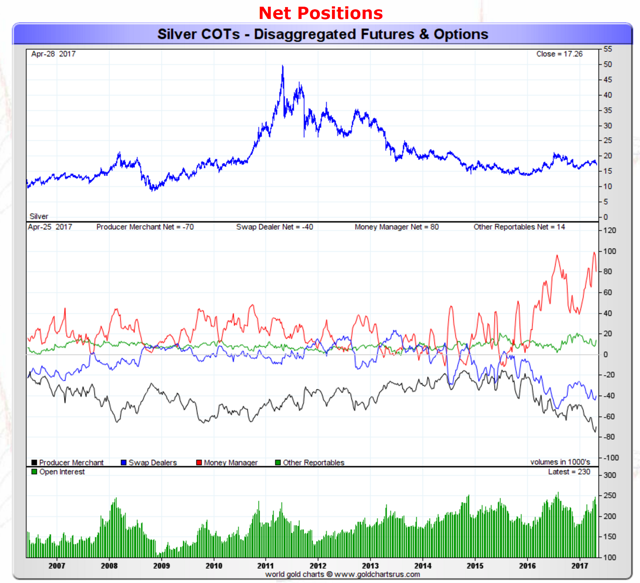 Source: GoldChartsRUS
The red line which represents the net speculative positions of money managers, showed a chunky decrease in bullish silver speculators as their total net position fell by around 17,000 contracts to a net speculative long position of 80,000 contracts.
While the current speculative silver position is not at the extreme levels seen a few weeks ago, we are still seeing historically high levels of bullish speculators in silver. Silver's price drop over the past few weeks has been a positive from a contrarian perspective, but in our view it is still hard to be bullish with such a historically large speculative long position.
Trump's Tax Proposal
One of the biggest long-term catalysts that may be defined in the shorter term is the attempted overhaul of the US tax system by president Donald Trump. We are not going to go into the tax details as we think much of that will change significantly from the initial one-page proposal to what is actually passed into law, but we want to look at the general direction for them.
Why is this important to gold investors? Because taxes are the primary contributor to US government revenues, and any decrease in those revenues via tax cuts can significantly increase future US deficits. That in turn will lead to increasing government debt, which of course affects the USD and the rate of interest that bondholders require on US debt.
Based on the little they know, the Committee for a Responsible Federal Budget estimates that the current tax plan could cost $3 to $7 trillion over a decade, with the base-case estimate being $5.5 trillion in revenue loss over a decade. Even though now investors are seemingly oblivious to government deficits and debt, eventually the laws of economics will once again assert themselves. That would create a weaker US Dollar and thus be a positive for gold which goes against much of the market's USD bullishness - which is something we discussed earlier in the year.
That is if Trump passes a tax plan similar to what he has proposed - but what if there is congressional gridlock and no significant tax plan is passed? We argue that would also have a positive effect on gold as it would be counter to market expectations as much of the rise in markets has been due to optimism on business-friendly proposals - a lack of a business tax cut would put a big hole in those expectations. That in turn may cause markets to swoon - which is usually a good environment for a risk-off asset like gold.
The biggest risk for gold investors with the tax plan is that a sensible, pro-growth, revenue-neutral plan passes - which would lead to economic growth and prosperity. That would mean strong US growth and declining real US debt, at that point the need to own gold would be fairly low. We have not seen anything to suggest this scenario…
Our Take and What This Means for Investors
With the first round of French elections behind us, most of the risk for that event is mitigated. The attention of markets now turns to US tax policy and the potential of a military engagement with North Korea.
We remain Neutral-Bearish on gold in the short-term despite the risk of these two factors as without any direct military action, bullish speculators have piled into gold for six straight weeks and the price action of gold is showing little movement in reaction to their moves. That suggests that bullish speculative firepower is limited and thus we expect a further pull-back in gold.
As for silver, we go from Bearish to Neutral-Bearish as the recent drop in bullish speculative positions is a positive, but total silver bullishness remains historically high.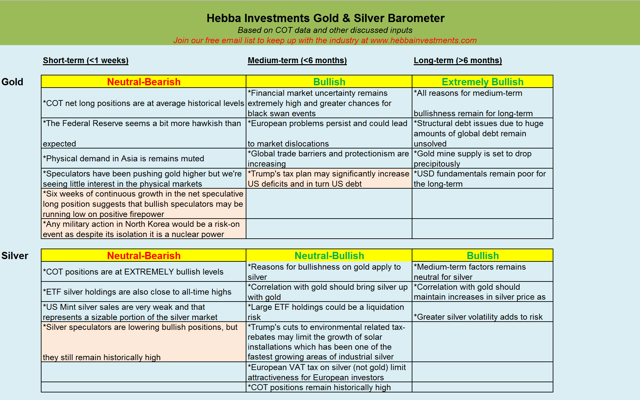 That means for short-term speculators we expect a further pull-back in both gold and silver as speculators lower their bullish bets to more normal levels. Thus, investors should either wait or only start nibbling at re-establishing short-term gold and silver positions (SPDR Gold Trust ETF (NYSEARCA:GLD), iShares Silver Trust (NYSEARCA:SLV), and ETFS Physical Swiss Gold Trust ETF, etc).
Of course, if a military conflict does begin in North Korea that would change the situation as the world really hasn't had a conflict between nuclear powers since WWII. While we have our doubts about North Korea's military prowess, it would still be something new and potentially dangerous - so that would be a situation that would cause us to significantly increase our gold positions. Investors stay tuned.
Disclosure: I am/we are long SGOL, SIVR.
I wrote this article myself, and it expresses my own opinions. I am not receiving compensation for it (other than from Seeking Alpha). I have no business relationship with any company whose stock is mentioned in this article.