You may not have realized this, but you are a currency trader. If you invest in or trade gold, you are basically trading the Japanese Yen to U.S. dollar currency pair.
To illustrate, let's look at some charts of the SPDR Gold Trust (NYSEARCA:GLD) charted together with the Guggenheim Currency Shares Japanese Yen ETF (NYSEARCA:FXY). On a weekly view, we see a close relationship. Please note that the FXY values are in green/red candlesticks (right hand values), and the GLD is graphed with grey bars (left hand values).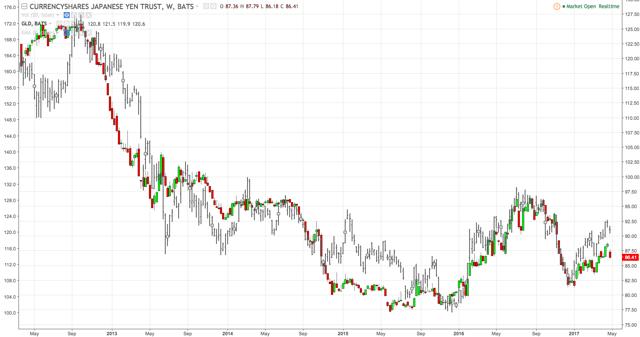 There are periods of divergence on the weekly chart, with corresponding mean-reversion. On the daily chart below, we see occasional divergence, however, but with price direction tending to move in the same direction. The calculated daily correlation between GLD and FXY over the past year is near 70%.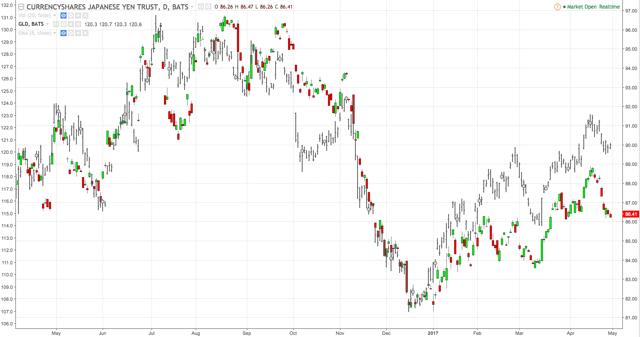 Below, we provide two more charts, in this case the JPYUSD currency pair is charted together with COMEX futures. For the shorter term charts, these two commodities have much higher liquidity than GLD and FXY, and therefore have more data. First, we see the four hour chart.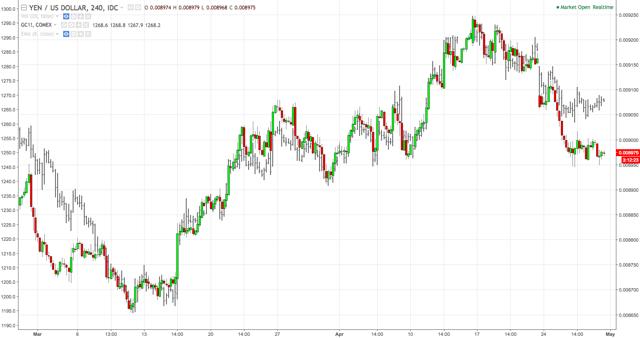 The JPYUSD is graphed in green/red candlesticks (right hand values), and COMEX gold futures are shown in dark grey bars (left hand values). The correlation between these two commodities is unmistakable. Next, we look at the one hour chart.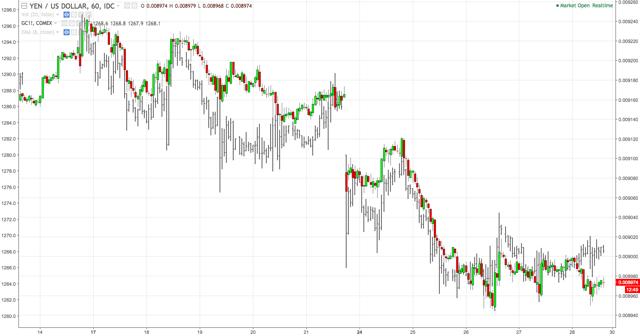 On the one-hour chart, you can see that during a period that COMEX gold was not trading (on Good Friday), it gapped up to meet the change in JPYUSD on April 17th. After the first round of the French election on April 24th, the two commodities gapped down together.
To summarize the above, gold and the yen trade with tight correlation over almost every conceivable time frame.
Safe Haven Equivalent?
Some market commentators suggest that the reason these investments move together is because both gold and the Yen are considered to be "safe haven investments." This theory purports that when investors seek "safe havens" then they purchase both gold and the yen in equal market-weighted proportions.
Since Japan has the highest debt to GDP ratio in the developing world, one might not consider the fiat Yen to be a "safe haven." The question has been addressed by some authors who say that most Japanese debt is held by Japanese citizens, corporations (and increasingly by the Japanese central bank). Unlike the U.S. debt, which is held by foreign creditors. There could be some merit to this suggestion.
Whether or not one agrees that fiat yen is as "safe" as an investment as physical gold, one must agree that someone believes that it is.
Size of the Markets
Every three years, the Bank of International Settlements ("BIS") publishes a survey of foreign exchange turnover. A summary of one of their surveys is included below. During the time of the survey, the total daily foreign exchange turnover was calculated to be US$5.07 Trillion. If you were to total up the values in column #1 below, you would arrive at exactly twice this figure (since currency is traded in pairs).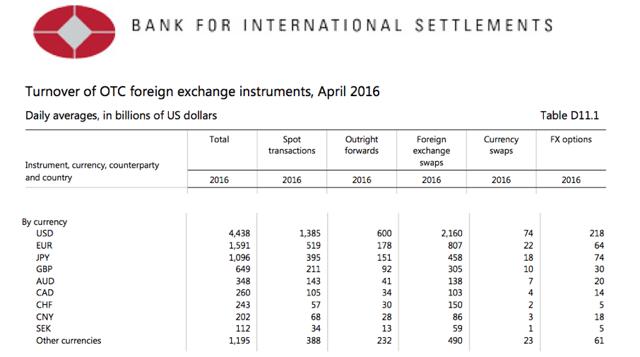 Our primary point here is to highlight the $1.1 Trillion in currency pair trading that occurs in the Japanese yen. Most of this yen trading is done in the JPYUSD pair.
The COMEX gold market, which tends to set the world price for gold, trades an average of about 260,000 contracts per day. That amounts to about $34 Billion in paper gold daily turnover.
Therefore, the size of the foreign exchange market in general, and the JPYUSD currency pair in particular, dwarfs the size of the paper gold market. As a result, we view the JPYUSD currency pair to be the tail that wags the dog in determining the momentary price of paper gold. It isn't clear what mechanism is used by market participants to keep this relationship so correlated; perhaps it is trading algorithms that look to the JPYUSD price movement to determine their buy/sell decisions in gold.
In any case, we hope that we have been clear on our main point: if you are investing in and/or trading gold, you need to keep an eye on the JPYUSD currency pair.
If you liked this article, please hit the follow button above. Thanks for any feedback below, and good luck!
Note: All charts above were taken from Trading View.
Disclosure: I/we have no positions in any stocks mentioned, and no plans to initiate any positions within the next 72 hours.
I wrote this article myself, and it expresses my own opinions. I am not receiving compensation for it (other than from Seeking Alpha). I have no business relationship with any company whose stock is mentioned in this article.