Going into Alphabet's (NASDAQ:GOOG) (NASDAQ:GOOGL) first quarter earnings call, market commentators were fervently debating the effects of the recent advertiser boycott on Google's YouTube and Network segments. Looking inside the numbers we see revenues significantly beat expectations, driven by strong aggregate paid clicks growth coupled with a flattening of the decline in aggregate cost-per-click. No signs of turmoil emerged. During the call CEO Sundar Pichai provided some color around the boycott stressing both a technical solution for rating content and building long-term relationships with advertisers.
These are the classes of problems our engineers are really, really good at working. These are large-scale system problems, and especially with machine learning and AI, over time I think we can really put in the right systems in place. And our teams work very thoughtfully with the external ecosystem, with our advertisers, agencies, and partners.
Somewhat lost amongst the strong metrics and positive color around the technical solution is that the effects of the boycott and its solution will not be felt until the second quarter. Anecdotal evidence and screen shots from content creators only began showing drops in video ad revenue around the third week of March, too late to impact the quarter. Though not technically demonetized, more content became de facto demonetized in the following weeks as advertisers' new default settings excluded more potentially questionable content and required opt-in if their ads were to be displayed against it.
Consider the new advertising inventory supply dynamics for YouTube and Google Network. There is not just a reduction in monetizable content, there is a reduction in users watching content that is being monetized. This dynamic puts downward pressure on aggregate paid clicks and muddles the economics around aggregate cost-per-click and total revenue. Prices may rise, especially for inventory sold through an auction. Google could increase inventory by increasing the frequency current users receive ads, though this may decrease the effectiveness of campaigns and eventually advertiser demand. In the end, the costs of brand safety will likely be split by all stakeholders; Google's growth trajectory lowers marginally, advertisers pay slightly more for less effective campaigns and non-advertiser-friendly creators' incomes fall and their content production declines.
If a YouTube and Google Network slowdown is occurring it should manifest itself in the paid clicks and cost-per-click information provided after each quarter. One should note that "how" these numbers are calculated changed this quarter but that the company has also provided last year's figures using the new methodology. In the charts below first note the seasonality when considering quarter over quarter numbers. The two main trends are a history of growth in aggregate paid clicks from high 20% to low 40% and the single to low double digit declines in cost-per-click. Confirming the slowdown thesis would be a drop or reversal of growth in paid clicks or a significant swing either direction in cost-per-click. Beyond the numbers, we may hear anecdotal evidence of advertiser-friendly content providers' revenues rising or users of family friendly content reporting increased ad frequency.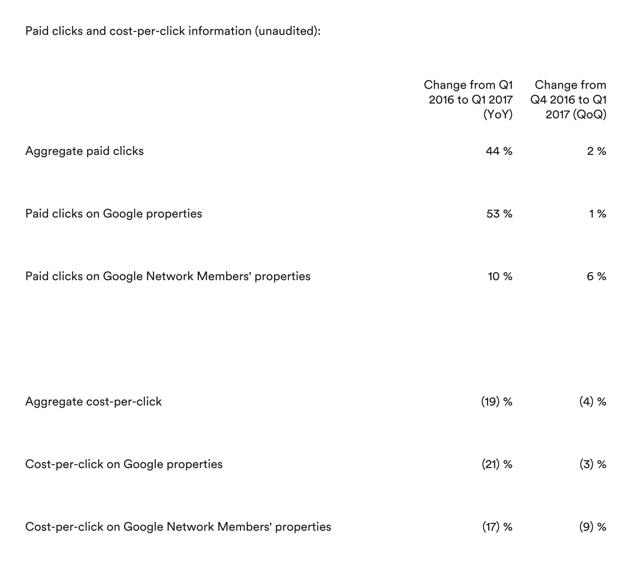 Source: First Quarter 2017 Results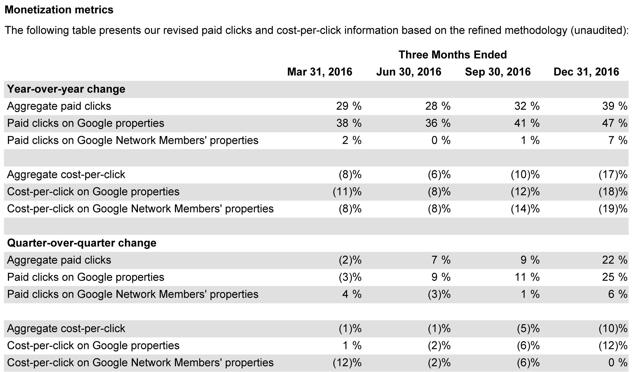 Source: Monetization Metrics
Conclusion
In a previous article this month, I argued that the brand safety boycott and its solution has hurt monetization across Google's channels. After this week's earnings release I realize we won't see these affects until the second quarter. Evidence of the shift should appear in next quarter's paid clicks and cost-per-click information. In the article I also forwarded that the solution is sensible for advertisers because it includes firmer appropriateness policies, more control into ad placement and better review tools. And most importantly, the solution highlights Google's unique targeting capabilities and reinforces Alphabet's core value proposition: targeted ads drive advertiser ROI.
Disclosure: I/we have no positions in any stocks mentioned, and no plans to initiate any positions within the next 72 hours. I wrote this article myself, and it expresses my own opinions. I am not receiving compensation for it (other than from Seeking Alpha). I have no business relationship with any company whose stock is mentioned in this article.