Overview
United States Q1 2017 GDP growth came in light at 0.7% vs. our consensus estimate of 1.5%. The figures reflect weakness in consumer and government spending. GDP figures exhibit seasonal weakness in Q1 and often rebound later in the year. This poses the ultimate question: how will growth fare later in the year?
Our analysis of Q1 GDP figures suggest that growth will depend heavily on increased business investment and a return to synchronous activity among sectors. Increased infrastructure spending and regulation cuts will be critical to boosting growth in the medium term.
GDP by the Numbers
It is widely held that Q1 growth is seasonally poor, and the initial figures are often revised upward. Last year's initial reading of 0.5% GDP spooked markets only to be revised higher followed by stronger year-end growth.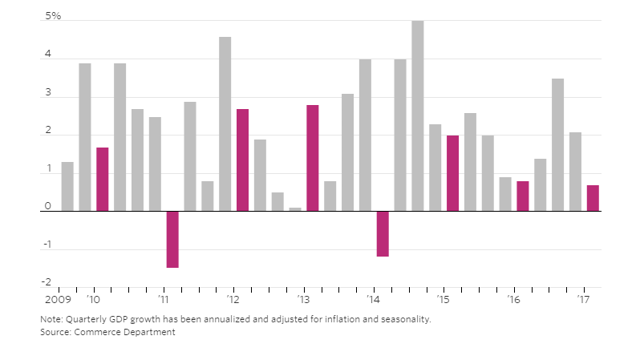 Source: WSJ
Q1 2017 should be no different as growth was held down by weak consumer and government spending. Of particular concern was the auto market, which recorded its fourth consecutive month of declining sales. We had been increasingly skeptical of the auto sales trends as sales growth was unsustainable underpinned by loose lending practices. Prices and sales have fallen as lending standards tightened. To be sure, auto days of inventory rose to 72 days from 66 days the prior year. We expect declines in auto sales to be a continued source of weakness in consumer spending through 2017.
Auto sales trends are indeed worrisome serving as yet another reminder of the shakiness in underlying consumer demand that has plagued the post-financial crisis recovery.
While auto sales were a concern, initial GDP figures registered 0.1% below last year's figures and may have been higher had it been for stronger utility and government spending. According to the Wall Street Journal, warmer weather crimped utility spending while a 3-month government hiring freeze weighed on government spending. Declines in defense spending have also plagued government spending figures and should moderate with Trump's proposed plan to add $54B to the defense budget.
Business Investment Rebounds
A bright spot in the GDP figures was nonresidential investment, which grew 9.4% in the quarter. While consumer spending has yet to match optimistic readings in consumer confidence, business investment has. It appears that two factors are behind the increase: rebounds in commodity markets and a revival of animal spirits ushered in by the pro-business, Trump agenda.
As the first 100 days come to pass, the Trumpist agenda has shifted away from protectionism and instead has become increasingly more Reagainist. Such action is encouraging and has led us to revising our initial interpretation of the Trump presidency, that sounded an alarm on protectionism and economic nationalism. Questions still remain on tax and infrastructure spending; however, the positive reception from the business community suggests upside to industrials, financials, and energy stocks.
Rebounding business investment will be essential to the growth in future GDP as underinvestment has subdued GDP.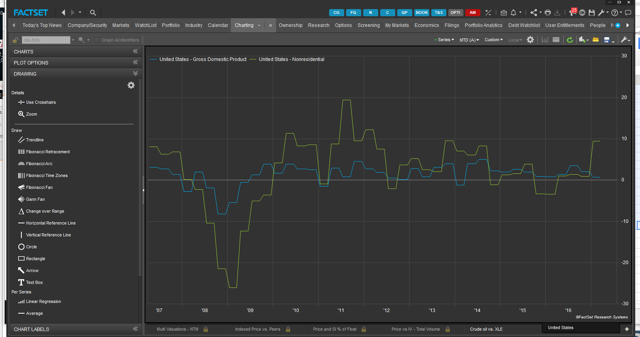 Source: FactSet
Persistent underinvestment has been a mix of tighter regulation on capital markets, global uncertainty, and weakness in commodity prices. A revival of commodity markets, stabilization abroad, and pro-growth policies may spur future investment creating a healthy future backdrop for corporate earnings.
The Outlook
In response to improving sentiment and investment figures, analysts have upped estimates for investment, EPS, and sales growth.

Source: FactSet
We view these trends as generally supportive for earnings growth and equity prices.
We have noticed that estimate revisions have come at a time when sector divergence has improved after 3 years of weakness.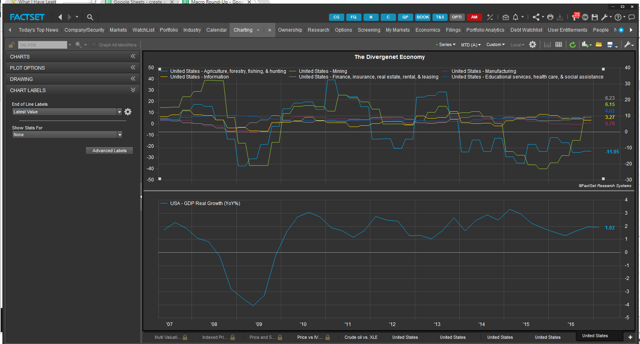 Source: FactSet
From the chart above, it is evident that economic divergence upended the positive trajectory in the recovery effort. Fortunately, sector growth spreads have converged and should be supportive of growth at or near 2.5%. Fiscal policy injection will certainly propel growth further, while the extent remains uncertain. Furthermore, stronger global growth in emerging markets and China as a result of higher commodity prices will add yet another positive.
Conclusion
The weak Q1 GDP figures are consistent with seasonal trends and should improve through year-end buoyed by business investment and stronger year end consumer spending. Risks remain tilted to the upside given the fact that current policy mix has the potential to revive animal spirits. We acknowledge that weakness in the auto market will act as a drag on consumer spending, but remains a moderate risk.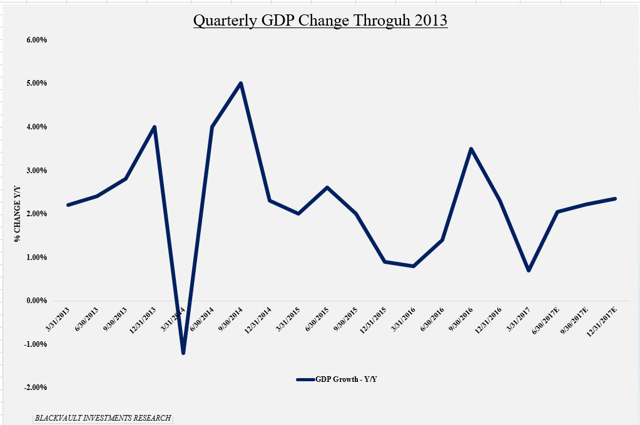 Source: BlackVault Investments Research
According to our estimates, growth for the remainder of the year will remain within the 2% range. Our estimates have not considered fiscal policy changes and instead stem from our belief that the US economy remains strong and in its later stages of recovery.
Disclosure
This article contains the opinions of BlackVault Investments and in no way is acting as an offering and/or solicitation of securities or investment advice.
If you have any questions, feel free to leave them in the comment section or message me directly. Thank you for reading and good luck to all.
Disclosure: I/we have no positions in any stocks mentioned, and no plans to initiate any positions within the next 72 hours.
I wrote this article myself, and it expresses my own opinions. I am not receiving compensation for it (other than from Seeking Alpha). I have no business relationship with any company whose stock is mentioned in this article.