MLPs have entered distribution ex-date season, which means while the price index declined for the week overall, MLPs were slightly positive when factoring in distributions. Anticipation of those distributions may have supported MLPs relative to the broad energy sector over the last two weeks, even as the rate of distribution cuts remains alarmingly high. MLPs once again fared better than oil prices and other energy stocks. Natural gas price strength may have helped, along with another strong week from the broader equity market.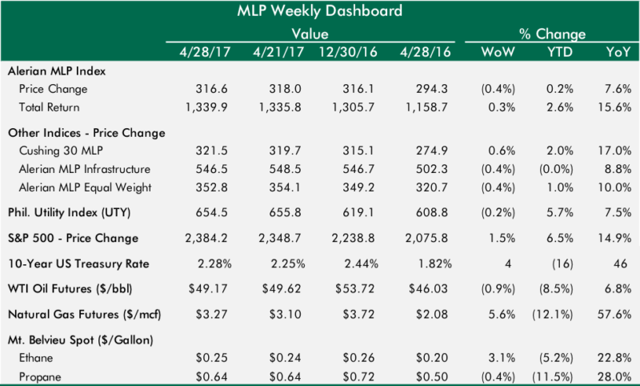 With a very heavy earnings load next week, perhaps, MLPs can continue their recent divergent trading relative to a very fragile commodity and energy stock environment with some positive stock-specific news.
Tax Reform? Tax reform did creep into a few analyst notes, with speculation on what the flow-through tax rate proposal might do or not do for MLPs. Given the early stage of potential tax reform and still limited details, it's still very unclear what impact eventual tax reform will have on investor appetite for MLPs, and sponsor interest in creating MLPs.
Meanwhile in the Marcellus: This week served as a reminder of some positive midstream trends in the Marcellus, notable because of the almost exclusive Permian focus industry-wide so far this year. The Antero GP (NYSE:AM) roadshow, MPLX (NYSE:MPLX) results, and Marcellus producer results drew some focus back to the great Northeast, and not just because the NFL draft was held in Pennsylvania. As earnings season continues, expect the MLP conversation to quickly shift back to the Permian and Oklahoma. In an increasingly saturated gas and NGL market, intra-basin competition is ramping up, with distance to marginal demand playing a central role.
Status Update
The end of the month conveniently landed on Friday, and MLPs were negative this month. April's streak of 12 straight positive years is over, and there are no active streaks that extend beyond a single year at the moment. April and March were both negative - the first back to back negative months for the Alerian MLP Index since January and February 2016.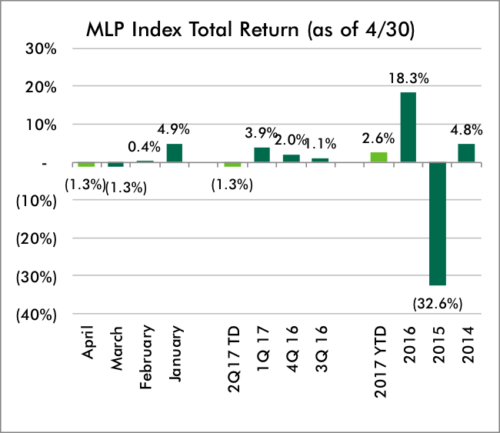 May has historically been hit or miss, with about half positive and half negative months historically, with a range of -7.5% in 2012 and +9.3%. May was positive last year, however, and with some positive OPEC outcome and decent 1Q results over the next few weeks could set up for a strong summer of performance.
Winners & Losers
CONE Midstream Partners LP (CNNX) was up more than any other MLP this week on no stock specific news, but it is likely that Antero's GP IPO roadshow and MPLX results have brought some attention back to the Northeast G&P names. AM also made the top 5. Enbridge Energy Partners L.P.'s (NYSE:EEP) long-awaited distribution cut was received well on Friday, vaulting it into the top 5.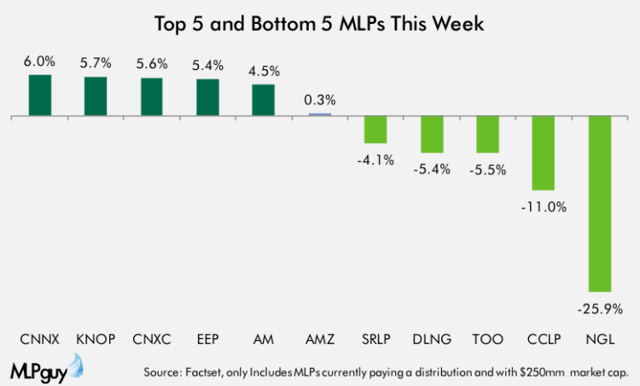 NGL Energy Partners LP's (NYSE:NGL) lowered guidance and lower for longer distribution announcement tanked its shares early in the week. Last Friday's late night distribution cut (8:30 p.m. press release) sent its shares tumbling Monday.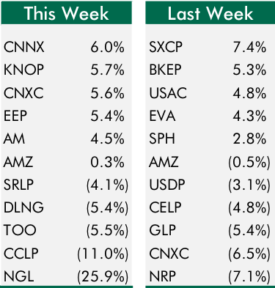 YTD Leaderboard
Not much change at the top of the sector. GasLog Partners LP (NYSE:GLOP) ascends to the top 5, replacing Midcoast Energy Partners, LP (NYSE:MEP), but Noble Midstream Partners LP (NYSE:NBLX) and ONEOK Partners (OKS) still atop the leaderboard.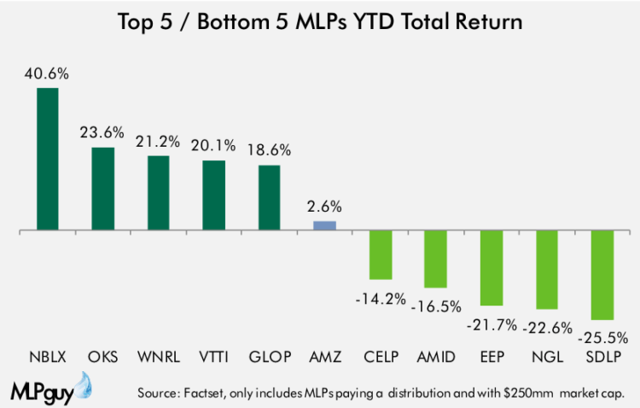 Each of the bottom 5 from last week were positive this week, causing some reshuffling at the bottom of the sector.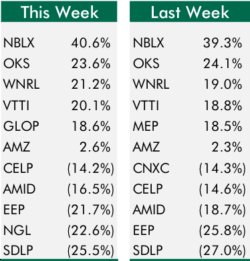 General Partners and Midstream Corporations
Kinder Morgan (NYSE:KMI) and EnLink Midstream, LLC (NYSE:ENLC) went from worst to first in the midstream corp and GP group this week. Energy Transfer Equity, L.P. (NYSE:ETE), Williams Companies Inc. (NYSE:WMB) and Western Gas Equity Partners, LP (NYSE:WGP) made it two weeks in a row among the top 5.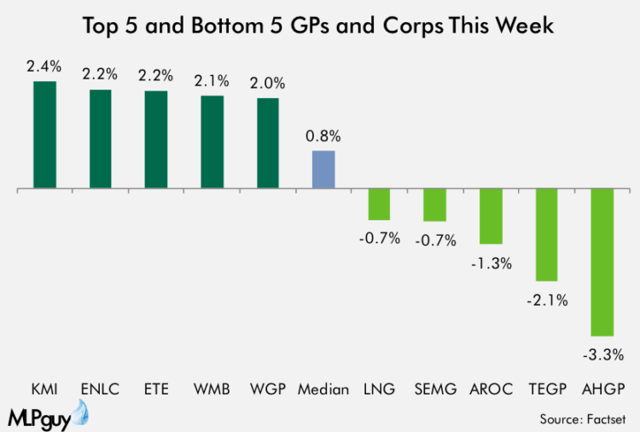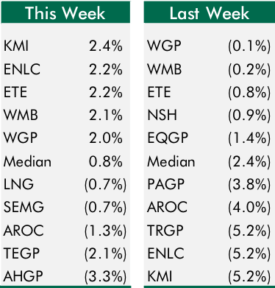 News of the (MLP) World
Big week of transactions, including theoretical IPOs (KM Canada), potential IPOs (GPM Petroleum LP (GPMP)) and actual IPOs (NYSE:AMGP). Plus, the Enbridge (NYSE:ENB) complex got a little less complex, and EEP investors got a lot less income. Expect more project announcements (like MPLX this week) to come from the long list of MLPs reporting results in the next week.

Capital Markets
Growth Projects/M&A
Distribution Announcements
35+ MLPs announced distributions this week. Four distribution cuts, but Williams Partners L.P. (NYSE:WPZ) and Cypress Energy (NYSE:CELP) had been announced previously, and EEP's was strongly hinted at. So CSI Compressco LP (NASDAQ:CCLP) was the big surprise, along with the lack of a raise from NGL. There was also one stealth cut for ETP unitholders that are now SXL unitholders, but by next week will be ETP unitholders again (when SXL changes name to ETP). Each cut improves sector leverage and distribution sustainability going forward as the sector continues to recover.