This has been a very interesting week. After the end of the first round of French elections, calm returned to the market and we saw a brief move higher, along with a significant decline in the VIX. However, new hard data that came out this week does not bode well for the economy, and therefore, it does not bode well for the markets.
A few things have changed since I wrote "Markets Leveling Off." First, initial jobless claims came in well above expectations, and the topping off was confirmed by trading later in the week. Second, at the end of the week, GDP growth figures came in below consensus, although slightly above the most dismal estimates.
News
Jobless Claims
Initial jobless claims were far more than expected and far more than the prior week. While average initial claims are still on the downtrend, that trend is leveling off.
Advance Trade in Goods
Advance trade in goods also declined more than expected, while durable goods orders grew at a measly 0.7%, half the expected growth rate and far less than the 2.3% growth rate last month. Core capital equipment orders grew at 0.2%, the same as in February.
GDP
Over the last few weeks, I had been keeping a close on the Atlanta Fed's GDP Now estimate for Q1 GDP growth. The last estimate before Friday's release of the official preliminary estimate was 0.2%. The official number came in at 0.7%, which was slightly below the consensus estimate of 0.8%. While not quite as bad as 0.2%, it is the slowest quarterly growth rate in 3 years.
Protectionism
President Trump has started implementing his protectionist agenda. For now, that is limited to a 20% import tax on Canadian softwood lumber, but it could spread to other products and other nations, as I mentioned in my article "Protectionism And The Tech Industry." However, even if this is the extent of his protectionism, it will do enough damage by itself.
Indices
After the French round one vote, the S&P 500 (NYSEARCA:SPY) recovered to top off near its 2,400 resistance level. However, it failed to break lower, and with the poor economic data weighing on the index, it may not manage to break through that level for a while. Looking at the weekly candlestick chart, this past week's price action could be a shooting star, although it is short. If this coming week gaps down and moves lower, that would confirm the candlestick pattern.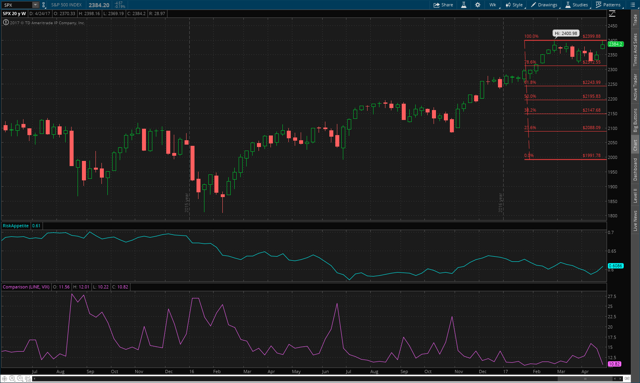 The bottom two indices are the extended risk appetite index and the VIX (NYSEARCA:VIXY). Risk appetite increased, while VIX declined this past week. This suggests that there is still a fair amount of positive sentiment. Part of this sentiment is due to Trump releasing his "tax plan." The problem is, the release is simply a reiteration of an existing promise. It is not a move forward.
The Russell 2000 (NYSEARCA:IWM) managed to break above its sideways channel during the week. However, it quickly moved back down on Thursday and Friday. It has yet to break back into the sideways channel, however. This is the second time the R2K has broken above its channel, and it suggests that there might be a little bit of upside potential, if fundamentals do not deteriorate further. However, there is a similar candlestick formation in the R2K price history, and that might suggest a strong movement back into the sideways channel.
Looking Ahead
The weak GDP growth rate is not a good sign for future stock growth, and we've come up against a hard resistance level at 2,400. If the R2K manages to fall back within the long-term trading channel, we could see additional sideways movement.
Trump's current move to fight a trade war with Canada is also troubling. Right now, the trade war is only impacting lumber, but that will spread to real estate. A study conducted by the National Association of Home Builders Discusses Economics and Housing Policy found that just a 15% tariff on Canadian lumber would result in a loss of 4,666 jobs and a 4.2% increase in costs to producers. This 20% tariff will be worse than that. In terms of investment strategy, REITs which focus on new development are likely to be harder hit than those that are holding existing properties.
Next week, congress will once again be faced with preventing a government shutdown, as a vote this week only managed to extend the deadline by a short period. This continues to place uncertainty on the future of the economy, and thus, on the direction of the markets.
For the S&P 500, 2350 is still a support/resistance level that is seeing a lot of attention. I would not be surprised to see the index return to that level in the coming week or two. That would constitute an almost 1.5% decrease in the index - a relatively small change in the grand scheme of things, but given recent lack of volatility, still fairly significant in the short term.
Chasing Alpha
Earlier in the week I wrote an article entitled "Chasing Alpha." This site is about seeking alpha, and that means doing more than just following a stock market index like SPY. At the very least, be aware of changes in fundamentals which could shift money from one sector to the other, such as the threat of a real estate bubble which could burst due to the 20% tariff on lumber.
Federal Reserve Meeting
Next week is another Federal Reserve meeting. The recent uptick in initial jobless claims, along with the weaker-than-expected GDP growth estimate, might put pressure on the Fed to hold off on its additional rate hikes. If this is the case, the dollar will likely weaken, driving up the yen and gold, so keep an eye on FXY and GLD. This is not a given, however, as USD/JPY has been pushing towards a solid break above its 111.50 resistance, which would put it back into the sideways trading channel I have mentioned in prior articles.
Disclosure: I am/we are long VIXY,RWM,SH,PSQ,DOG,GLD,SLV.
I wrote this article myself, and it expresses my own opinions. I am not receiving compensation for it (other than from Seeking Alpha). I have no business relationship with any company whose stock is mentioned in this article.