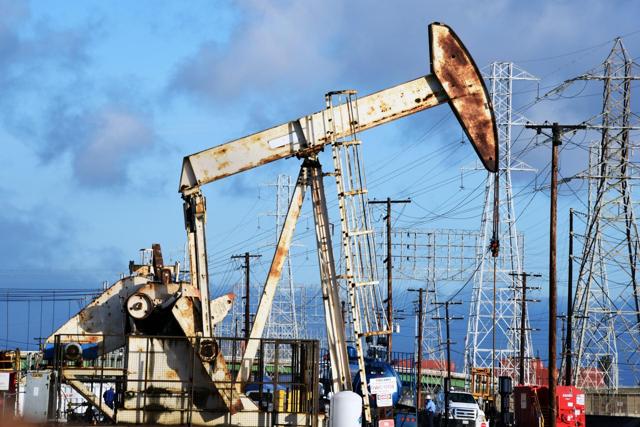 source: Stock Photo
The latest rig count from Baker Hughes showed the number of rigs being added continue to climb, as improved efficiencies and productivity are allowing companies to generate a profit at much lower oil costs.
To me, shrinking production costs and rigs and wells producing far more oil in the past, is the key catalyst for rising shale production.
Temporarily and secondarily, the ongoing production cuts by OPEC and non-OPEC producers, which will almost certainly be extended, have had a modest impact on the price of oil. My view is that this is the least important of the two factors most affecting the price of oil.
As for another major catalyst has is being put in play, that will have even more of an impact as it plays out in the months ahead. I'm talking about the soaring number of oil and gas drilling permits issued by the Texas Railroad Commission in March 2017, which jumped to 1,310, up 511 from March 2016.
Rig counts rising
Baker Hughes said the number of oil rigs last week increased by nine to 697, as shale producers continue to boost production primarily because they can make a profit even with WTI oil prices in a range of $48 to $50 per barrel. Including the increase in gas rigs, which was up by four to 171, overall rigs are now at 870.
Eagle Ford led the way, adding five more rigs, followed by Permian with two more and Haynesville Shale adding one. Outside of Texas, Oklahoma increased its rig count by three.
The 342 rigs now operational in the Permian accounts for almost half of all U.S. rigs. Oklahoma is second with 127 rigs, followed by Louisiana with 58 rigs.
What's most important to take into account in rig counts if they are far more productive than in the past, so when comparing them to rig counts from that period of time, they no longer correlate because of productivity advances. This is a major reason we seem to always hear the expression of "unexpected" production levels from the financial media. Rig counts today represent far more oil output than the same number in the past.
Oil and gas drilling permits
The announcement by the Texas Railroad Commission that it issued 1,310 new oil and gas drilling permits to shale producers in March, is far more important than even the number of rigs now in operation.
Some have pointed out that in the same report from the Texas Railroad Commission showed well completions had dropped from 947 last year in March to 533 this year. That does point to a potential leveling off of output in the short term, but again, it has to be measured against increases in productivity, which even over that short period of time, is vastly improved.
That said, it does imply shale producers are holding off some on completing wells as it waits for the market to give a clearer indication of where the price of oil will find support. Interference by OPEC in the market has made the immediate future a little more cloudy than it otherwise would have been.
What I mean by that is shale producers want to get the most out of their wells when they're completed, and they don't want to be caught off guard if the price of oil plummets once again in response to OPEC bringing back oil into the market when the output deal is ended.
The other factor is how quickly global demand for oil rises through the remainder of 2017.
Conclusion
I don't see shale producers being overly cautious from the slowdown in completing wells, or too concerned over what OPEC does in regard to production cuts.
Shale producers have already taken a lot of the costs out of production, and that is what's driving them to increase production. The OPEC output deal may have slightly accelerated the production process for shale companies, but as the decline in completed wells confirms, they are still going to pace their output levels and not go all-in with a market that is still finding where the range of oil lows and highs will be.
This is why the big increase in permits is so important. This is a move to manage the production process in order to get the most profit out of their wells as they can. The ability to quickly complete the wells put them in the driver's seat, as they take action in response to more favorable market conditions.
Shale producers can't and aren't relying upon OPEC to dictate the rigs added or wells completed; they're taking actions based upon their ability to generate a profit where the price of oil is at today.
Even so, they do want to have confirmation on whether or not OPEC is going to extend cuts in order to make a decision concerning short-term numbers of well completions. They will measure that against the pace of global demand growth to make that determination.
With thousands of DUC wells already in place, and thousands more permits being issued over the last several months, it's obvious shale producers have no inclination to play nice in the global oil market.
They don't need to take care of an entire country like OPEC members have to, and that gives them a significant competitive advantage, even if many OPEC members are able to produce at lower cost points.
Shale producers are loading up DUC wells to prepare to complete them on a consistent basis in the years ahead. They aren't doing it to sit on them for a long period of time, but to win market share away from OPEC and others, while moving toward being the global market leader for the next couple of decades.
Disclosure: I/we have no positions in any stocks mentioned, and no plans to initiate any positions within the next 72 hours.
I wrote this article myself, and it expresses my own opinions. I am not receiving compensation for it (other than from Seeking Alpha). I have no business relationship with any company whose stock is mentioned in this article.