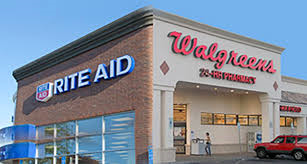 Rite Aid
It seems not a week goes by without some Rite Aid (NYSE:RAD) merger news. Late Friday came word from the New York Post, citing sources that Walgreens Boots Alliance (NASDAQ:WBA) is expected to certify compliance within days. According to the FTC website:
The agency has an additional 30 days to review the materials and take action, if necessary. The length of time for this phase of review may be extended by agreement between the parties and the government in an effort to resolve any remaining issues without litigation.

- Source: FTC website
The Post's source says Walgreens will give the Federal Trade Commission 90 days to either clear the Walgreens-Rite Aid merger or sue to block it. So if that is correct, perhaps the two parties have agreed to 90 days versus 30 days.
This report is the latest in a series of media reports about this proposed deal.
Walgreens may be getting impatient, since this merger was announced more than a year and a half ago, but a decision to put the FTC on the clock isn't without risk. However, one only has to look back half a year to find a risky move that paid off for a merger target.
Vista Equity Partners was in the process of buying software company Cvent for $1.6 billion. Vista had inked the deal last April, and then three months later, the Department of Justice sent the companies a second request.
Fast forward to the beginning of November, when the DOJ again asked Vista and Cvent for additional information. It isn't unusual for the DOJ to ask for more time and/or information to study a deal. What's unusual is for the companies that are asked to not comply.
Reportedly, that's what happened. According to the New York Post and its sources, Vista told the DOJ it was planning on closing the deal on November 22 unless the DOJ would sue to stop the deal. It's impossible to say whether the DOJ would have eventually sued to block the merger or not. But it didn't. The DOJ cleared the deal a couple of weeks after asking for extra time. Vista's bold move paid off.
Vista, one would think, had to have thought it could win in court, if it came down to that. It seems Walgreens feels the same way.
I believe we have a strong argument to defend this deal-Walgreens CEO Stefano Pessina, from earlier this month.
The merger agreement is set to expire on July 31.
A week and a half ago, Bloomberg, citing trade publication Capital Forum, reported that the FTC was considering filing a lawsuit to block the proposed merger.
Resolution may be a step in the right direction for all parties, no matter what the decision. Last Tuesday, during Rite Aid's earnings release, CEO John Standley mentioned that the merger process was having a negative impact on his company's numbers.
Three months ago, the companies had announced an amended agreement where Walgreens would buy Rite Aid at a price between $6.5 and $7 per share in cash, depending on the number of stores required for divestiture.
Straight Path Communications
The clock is ticking in the AT&T (NYSE:T)-Verizon (NYSE:VZ) bidding war for Straight Path (NYSEMKT:STRP). The high bid unofficially belongs to Verizon, offering $104.64 per share in stock. Two weeks earlier, AT&T had agreed to acquire Straight Path in an all-stock transaction for $95.63 per share.
Per the merger contract, AT&T has an option for five business days after a competing bid to negotiate a possible amendment of the agreement to match or exceed the higher bidder's offer. With the other offer coming last Tuesday, that would mean by this Tuesday we will be hearing from AT&T one way or another.
Shareholders of Straight Path have been on quite a ride. And, if the market price of STRP stock is a good indication, the bidding war isn't over.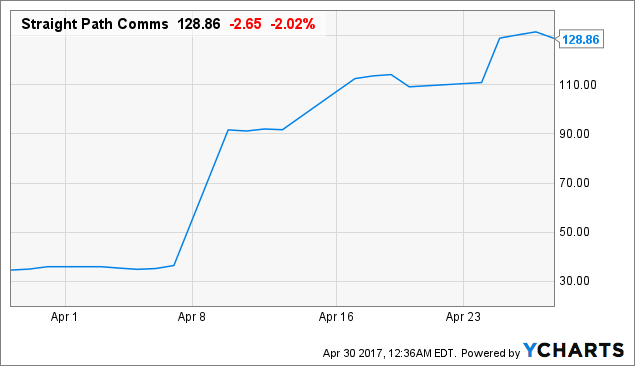 Westar Energy
Speaking of deadlines, this Thursday marks 15 days since the Kansas Corporation Commission denied Great Plains Energy's (NYSE:GXP) request to acquire Westar Energy (NYSE:WR). That is the deadline for Westar to petition for reconsideration. Should the company petition, the Commission would then have 30 days to rule on it. And then, even if the commission rejects the petition, the company would have 30 days to file with the court of appeals.
The Commission's central concern was whether the acquisition was in the public interest. In its review of Westar's records, the Commission found the proposed transaction to be too risky.
GPE's market capitalization is only $4.8 billion, yet it proposes to pay Westar a $4.9 billion acquisition premium. The size of the acquisition premium calls into question GPE's ability to service the transaction-incurred debt as evidenced by Moody's decision to downgrade GPE to the lowest investment grade rating-The State Corporation Commission of the State of Kansas' Order
Should Westar appeal and the Kansas decision ultimately get overturned, it wouldn't be enough on its own to secure the deal. The Missouri Public Service Commission's positive vote is also required, though there is an agreement in place. And the Federal Energy Regulatory Commission, or FERC, must approve as well.
In the event that the deal ultimately does not close, Great Plains would owe Westar Energy $380 million in breakup fee.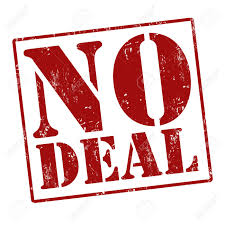 Time
Time has run out on a possible buyout for Time Inc. (NYSE:TIME). Time, which publishes People, Sports Illustrated and Time magazines, has abandoned its plans to sell the company. It had been talking to potential suitors since late last year, with Meredith Corp. (NYSE:MDP) regarded as the favorite.
Over the past several months, there has been considerable speculation and news coverage regarding interest by various parties in acquiring Time Inc. While Time Inc. had not initiated a process, the Board of Directors, consistent with its duties, evaluated a number of expressions of interest with the assistance of external advisors. Following that review, the Board has determined that the Company will continue to pursue its strategic plan-Time Inc. statement Friday morning
Time will release its 1Q results on May 10. Its shares have declined to just over the level they traded at before any buyout discussion took place five months ago.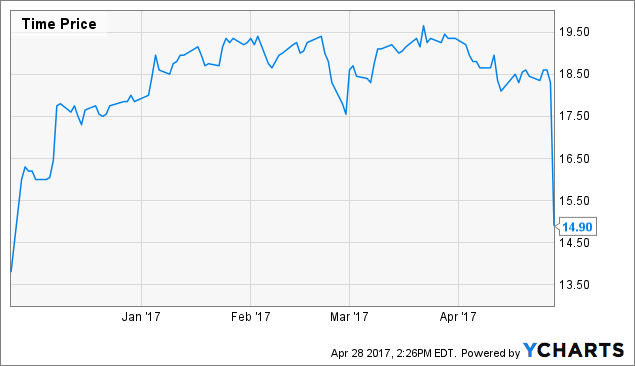 ZELTIQ Aesthetics
ZELTIQ Aesthetics (NASDAQ:ZLTQ) is a public company no more. Its merger with Allergan (NYSE:AGN) closed on Friday. ZELTIQ stockholders approved the transaction on Thursday and will receive $56.50 per share in cash, or approximately $2.4 billion.
Universal American Corporation
WellCare Health Plans (NYSE:WCG) has completed its purchase of Universal American Corp. (NYSE:UAM). WellCare paid $10 per share in a cash deal, or approximately $800 million. The two companies decided to merge back in mid-November.
Follow! If you enjoy merger arbitrage, tender offers, exchange offers, spin-offs and odd lots, please consider following me by clicking on the "Follow" button on top of this page.
Disclaimer: The above article is intended to provide my opinion to interested readers. I have no knowledge of individual investor circumstances, goals, portfolio concentration or diversification. Readers are strongly encouraged to complete their own due diligence on any stock or option mentioned in this article before investing. Merger arbitrage is a risky strategy because there is significant downside in the event of most deal rejections.
Disclosure: I am/we are long RAD, ZLTQ, WR, STRP, TIME.
I wrote this article myself, and it expresses my own opinions. I am not receiving compensation for it (other than from Seeking Alpha). I have no business relationship with any company whose stock is mentioned in this article.
Additional disclosure: My STRP and TIME positions are short out of the money puts. Like all my positions that could change at any time.