Some background
The Agrokor Group is a food and retail giant that reported € 6.5 billion in revenues in 2015 ($7 billion), representing about 15% of Croatia's GDP.
It employs roughly 60,000 people directly, and it is estimated that its bankruptcy could impact 150,000 people in Croatia alone.
In 2014, Agrokor completed the acquisition of a majority stake in the Slovenian retailer (and competitor) Mercator that was struggling financially.
The acquisition contributed to the creation of the biggest retailer in most of the former Yugoslavia, as shown by these 2014 data: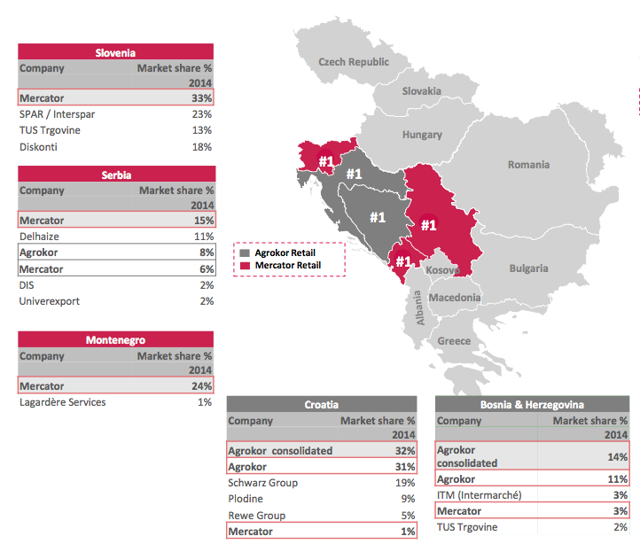 In January 2017, bond prices of Agrokor started declining after Moody's downgraded the company:
The downgrade reflects our view that Agrokor is not likely to restore credit ratios in line with our previous requirements for a B2 rating in light of the deterioration in operating performance that occurred during the first nine months of 2016"
A couple of weeks later, Agrokor announced it was pulling out of a syndicated loan deal it was trying to close with several international lenders. The news negatively impacted investors' confidence in the company's ability to repay or refinance its debt.
In addition, some analysts also started highlighting Agrokor's need to refinance a PiK toggle loan, whose failure could trigger an acceleration of repayments of certain bank facilities.
Here is a comment made in February by Unicredit's analyst Mehmet Dere:
To our understanding, the Agrokor d.d. would not be able to repay the PiK toggle loan with new debt, on the back of the company's incurrence covenants …. We also understand that the company needs to deleverage to below 4x, pro forma servicing the PiK toggle loan (which is outside the restricted group), in order to repay the PiK toggle loan. Including the PiK toggle loan in the restricted group, we estimate the company's leverage to be around 6.5x (based on the information provided by Moody's and in the company's 3Q16-results presentation). Therefore, we estimate that the company needs cash proceeds of around EUR 1.1bn without any EBITDA dilution to deleverage below 4x.

We keep our sell recommendation on Agrokor bonds, given low transparency surrounding a potential solution of the liquidity issue.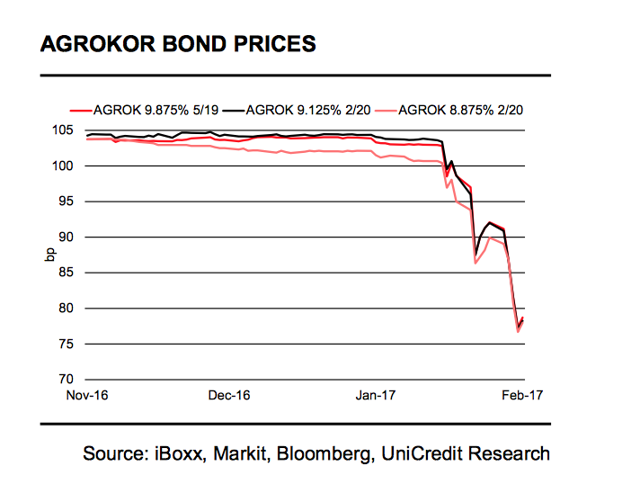 Opening Pandora's box
Agrokor's failure to repay its PiK instrument represented the proverbial opening of Pandora's box - all the evils and misconducts of the past flew out to afflict the company:
One banker described the PIK as "a time-bomb".

The banker said Agrokor had "burnt a lot of bridges with banks" due to its indecisiveness in getting to grips with its capital structure.

"This has been taken round the park so many times," he said. "They've hesitated and hesitated on what they want to do. In the end it feels like they've missed the boat a couple of times and now they're starting to pay the price."
The same article we just quoted contains also an interesting comment about institutional investors getting worried about Agrokor's accounting policies:
But several investors told IFR they were hesitant to get involved due to reservations around Agrokor's accounting policies, particularly the way it accounts for financial assets and investments at subsidiaries in its cashflow statement.

One investor pointed to an example from Agrokor's most recent annual report, covering the full year 2015, where the company disclosed that it had written up the value of intangible assets at a subsidiary in Bosnia and Herzegovina. He said that while most companies typically record a write-up under profit and loss, Agrokor booked it through its cashflow statement.

"It's perfectly legal to do this, but it's misleading," the investor said. "It means cashflow looks better, but actually it's not real cash - their cash position doesn't move. I think a lot of people have missed what they're actually doing from a cashflow perspective."
Here are some highlights of Debtwire's commentary about Agrokor made in February 2017:
The opaque nature of the company's accounts, concerns over related party transactions and how it consolidates its earnings from subsidiaries have raised a number of red flags.

Some Agrokor lenders are concerned about the implications of substantial amounts of overdue VAT payments and late salary payments to employees, said two sources close to its lenders.
If these comments had not been enough to keep you away from considering an investment into Agrokor's securities, now there are also press speculations about the company using the same assets as loan guarantees more than once: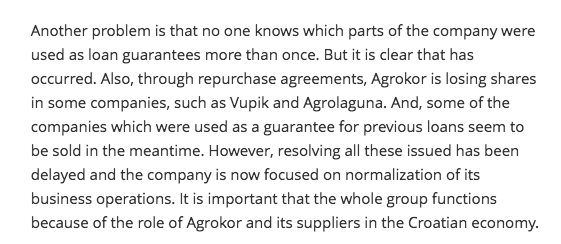 Lastly, Financial Times reports that "in addition to loans and bonds, Agrokor ran up substantial debts through trade financing. It issued promissory notes to local suppliers, which then "factored" or sold them to third parties, usually banks, which collected the money from Agrokor, often months later. If Agrokor did not pay, noteholders had recourse to the suppliers.
It is quite rare to hear public comments from bank managers accusing a client of cooking the books - but this is what happened for Agrokor:
The first deputy president of Russia's VTB Bank, Yuri Soloviev, has said the management of Croatia's heavily indebted concern Agrokor allegedly committed irregularities in book-keeping, according to Croatian media reports.

"Agrokor's debt has not been completely revealed in its financial statements", news portal Index quoted Soloviev as saying late on Wednesday.

"The owner and the management have been submitting irregular financial statements. This led to the company falling into debt", Soloviev added.
Given all these red flags being raised about Agrokor's presumed accounting irregularities, it is not surprising at all that the company has recently informed the market that "[t]he Group, working closely with its advisors, has identified in preliminary investigations that there could be potential errors in the Group's accounts. These investigations are currently continuing. As a result, the Group requests that stakeholders not rely on its historical financial statements until the investigation has been completed and the situation clarified accordingly."
PricewaterhouseCoopers has been appointed to perform an audit of Agrokor's 2016 financial statements.
The Balkan Parmalat, just ten times bigger (in proportion)
Accounting irregularities and food industry in the same sentence immediately bring memories, at least to most European investors, of the 2003 bankruptcy of multinational Italian dairy and food corporation Parmalat.
Parmalat collapsed with a €14 billion ($15 billion, at today's exchange rate) hole in its accounts, in what remains one of Europe's biggest bankruptcies, when it was discovered that its claimed liquidity of € 4 billion ($4.3 billion) did not exist. However, Parmalat only represented 1.5% of Italy's GDP, at that time.
To put what is happening in the right prospective, we should mention that Croatia had just started recovering in the last two years, after suffering a six-year-long recession from 2009 to 2014.
As anticipated, Agrokor's crisis might spread its negative effects to the whole Balkan region and especially to Croatia, as the company represents a large share of the country's GDP:
The financial problems that have hit Croatia's largest food concern, Agrokor, will almost certainly have an impact on the country's gross domestic product, the central bank governor said on Thursday.

"The crisis in Agrokor will almost certainly have consequences on GDP," Boris Vujcic said in an interview for the Vecernji List daily.

"The (negative) effects could be particularly pronounced if we witness a disorderly way out of this situation. If the whole process gets well managed and coordinated, the consequences for GDP could be much milder," he said.
As a reminder, Agrokor represents around 15% of Croatia's GDP:

One of the most complicated restructurings, since the unwinding of Lehman Brothers.
Agrokor's restructuring will be very complex due to the existing doubts surrounding the company's financials, its immediate liquidity needs, the potential lack of a strong ownership/management team fit for a tough challenge, and for the political implications caused by the implosion of a conglomerate that spreads its influence throughout Croatian, Slovenian, Serbian, Montenegrin and Bosnian economies.
Agrokor owns roughly 121 companies across Balkans and Hungary, with +56,000 employees in total.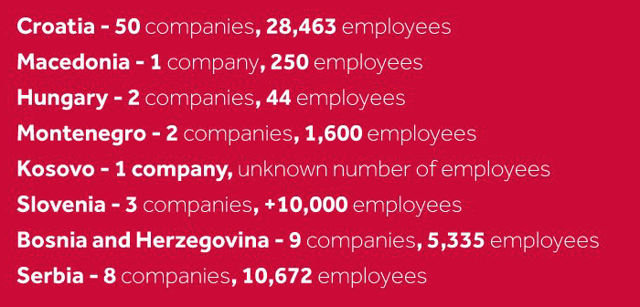 In reaction to the Agrokor crisis, the Croatian government adopted a law, nicknamed "Lex Agrokor," that created a form of unique bankruptcy protection for systemic enterprises.
A single company's crisis is already morphing into a Yugoslav conundrum, as Serbia's Minister of Trade hosted a conference between all Yugoslav successor states involved in the Agrokor affair without Croatia's participation.
As a reaction to Croatia's "Lex Agrokor," Slovenia approved its own version of bankruptcy protection for systemic enterprises, nicknamed "Lex Mercator," targeted at avoiding that funds may be distracted from Mercator to Agrokor itself.
Croatia's ruling coalition, composed by HDZ and the reform party Most, collapsed last Thursday when three Most ministers refused to support Finance Minister Zdravko Marić, a former Agrokor Executive Director.
This outcome doesn't bode well both for the restructuring the company and for the stability of whole country.
We believe that Agrokor will need to sell off a number of its affiliates in order to survive as a smaller but healthier entity - a solution that Agrokor management should have implemented long ago to avoid the company's collapse.
Unicredit, among others, had already speculated about the sale of some of Agrokor's subs:
According to our calculations, which are based on the market capitalization of the businesses as well as Agrokor's share in the businesses, we estimate that the company could receive around HRK 4.5bn (around EUR 600mn), before the settlement of intercompany loans, for Jamnica (water business), Ledo (Ice cream) and Zvijezda (edible oils and margarine).
Agrokor confirmed that it will start this week negotiations with different parties regarding new financing, adding that the company is considering various options in this regard.
According to Reorg Research, which is covering the Agrokor restructuring, "a group of bondholders advised by PJT proposed to inject €400 million."
Short summary of most up-to-date information
Agrokor has already received an €80 million super priority loan from a group of 5 local banks. Most of this money was used to repay key suppliers (in a sort of cure claim equivalent), and to receive much-needed supplies for the retail shops.
It is estimated that the company will need new fresh money to keep its retail shops properly assorted in preparation for the summer season.
On April 25, Agrokor's government appointed trustee, Ante Ramljak, chose Alix Partners as restructuring advisers. Alix Partners replaced Alvarez & Marsal, that had been appointed by Agrokor's former owner.
We've already mentioned Agrokor's decision to appoint PricewaterhouseCoopers to perform an audit on Agrokor's 2016 financial statements. Due to this investigation, Agrokor's consolidated results will be made public in July 2017, most probably.
Thanks to Reorg Research courtesy, here is a short summary of some of the key events of the last few days:
The trustee spoke at a press briefing at Agrokor's headquarters in Zagreb attended by Reorg Research and provided an update on CEO appointments and cash burn.

It is Agrokor's intention, he said, that after this grace period ending on May 31, the entire HRK 3.134 billion of so-called external promissory notes officially becomes Agrokor's debt.

AlixPartners will focus on three key areas in its efforts to restructure the Croatian retailer, government appointed trustee Ante Ramljak told reporters.

The priorities are 1) securing short-term liquidity, 2) managing cash flow across the entire holding and 3) business planning, including analysis of operating companies and ways to increase profitability.

A restructuring plan that will be offered for approval to debtholders and creditors in nine months' time, or January 2018. All the debtholders have to report their claims by June 10, after which the company will know exactly how much it owes.

Agrokor confirmed that the €14.8 million bond coupon due May 1 will not be paid.

Meanwhile both Russian and international banks are planning to sell their holdings. Sberbank has publicly said it intends to dispose of €1 billion exposure and other international banks are trying to sell in the 40s, sources told Reorg Research.
How about Agrokor's bonds?
Agrokor bonds are now only really suited for distressed investors who have a long-term horizon, can accept to stand high volatility and feel like following (and deciphering) a very complex restructuring whose main events mostly happen behind the curtain, as little information is available, especially in English, to the general public.
Agrokor bonds are trading at 40 cents of a dollar at the moment, and given all the uncertainties surrounding the company's financials and its immediate cash needs, we estimate that they still represent an expensive bet on a positive restructuring of the company. Other investors beg to differ, and for example Derzhava Bank's Kuvshinov is "betting investors won't need to take a haircut of more than 30 percent in a restructuring at Agrokor."
In a super-optimistic scenario I could imagine a price of 80 percent of face value if there's no hard restructuring,"
As additional financing will be needed for the company to survive, investors considering these distressed securities should also take into consideration the possibility that more money may be needed to be invested, at a later stage, to maximize returns.
We also see a debt-for-equity swap as a likely outcome of the restructuring, unless the Government pushes for a different solution, for political reason. If you are prepared to invest into Agrokor's bonds, don't rule out ending up being a shareholder of a smaller but healthier retail leader in former Yugoslavia.
If you own high yield bond ETF, like the SPDR Barclays Capital High Yield Bond ETF (JNK), you should hardly worry at all, as Agrokor is usually absent or has a minimal impact on most of these high yield debt instruments.
As a small exception to this rule, we should probably mention Prudential Global Short Duration High Yield Fund (GHY), that reported owning $4 million of Agrokor's 2018 PiK bonds on January 31, 2017 - here is its commentary, taken from its Semi Annual report dated 01/31/2017:
An overweight to Agrokor (consumer non-cyclical) was the largest detractor from performance
Very few companies accessible to US-based investors seem to have been impacted by Agrokor's crisis - among them, we should mention:
Central European Media Enterprises Ltd. (CETV):
As at March 31, 2017, we had receivables related to Agrokor and its group companies totaling US$ 4.3 million.
and CORPORATE PPTY ASSOC 17 (OTCPK:CPPY):
that owns real estate leased by Agrokor.
Lastly, Oracle (ORCL) has just recently announced that "Croatian Grocery Leader Konzum has implemented Oracle Retail Planning and Optimization solutions. Konzum is part of Agrokor, whose retail group has 2.000 stores in Adriatic region to be the dominant grocery retailer."
It is very hard, at this stage, for us to estimate the impact of Agrokor's problems to Oracle, if any.