Following a series of transformative transactions and a recent 40%+ decline in the value of its equity, we believe Sanchez Energy Corporation ((NYSE: SN)) is positioned to more than double its adjusted EBITDA even in a flat oil, NGL, and natural gas price environment.
We believe the stock valuation is not reflecting Sanchez's improved production costs per Barrel of Oil Equivalent (BOE) and its General & Administrative (G&A) expense leverage. We will provide some estimates based on management guidance here.
In a recent Seeking Alpha article by Long Player titled, Sanchez Energy Increases Production More Than 50%, the author provides some color on Sanchez management's execution of it operational plans and the company's production growth.
Sanchez closed on its transformative Comanche acquisition with its partner Blackstone Energy Partners on March 1, 2017. This transaction is expected to double Sanchez's production levels by 2018. Much of the production increases will come from completion of drilled but uncompleted (DUC) wells with less operational risk and high contribution margins.

Source: Company SEC filings and Forge River Research estimates.
Using 4Q17 average sales prices for oil, NGL, and natural gas; we estimate revenue will increase 91.9% in 2017 (versus 2016) and 32.1% in 2018 (versus 2017); before the effects of hedging transactions.

Source: Company SEC filings and Forge River Research estimates.
Sanchez's management recently provided guidance demonstrating how it's anticipated 2017 and 2018 production and revenue growth will be leveraged to drive strong adjusted EBITDA and operating cash flow growth.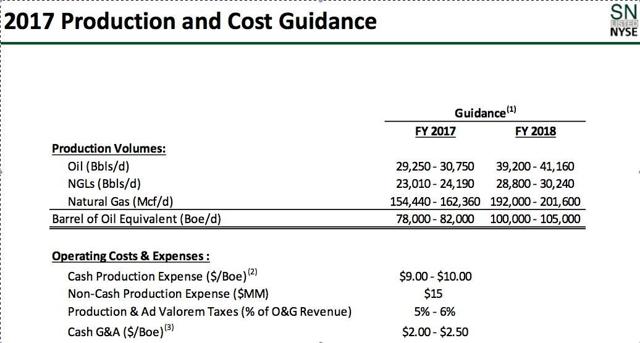 Source: Company presentation.
While cash production expense ($ per Boe) are expected to increase modestly in 2017 and 2018 as service costs are expected to rise (offset in part by increased production efficiencies), G&A ($ per Boe) leverage is expected to more than offset the production cost increases.
The combination of rising production levels and revenues combined with operating leverage is expected to more than double adjusted EBITDA in the next two years (up 66.4% in 2017 and up 62.4% in 2018).

Source: Company SEC filings and Forge River Research estimates.
Sanchez completed an equity raise in 1Q17 of 11.5 million shares at $12.50. Since the completion of the Comanche transaction, the price of Sanchez shares has fallen steadily, this decline in share price continued as oil declined almost 7% for the week ending April 21st. We believe the share price decline in Sanchez is overdone due to a number of factors: (1) Sanchez production is hedged to a much larger extent than the competition; (2) 2017 and 2018 production increases and capital expenditure are not highly predicated on the pricing environment; (3) the combination of production, revenue, and operating leverage will drive strong cash flow and adjusted EBITDA growth; (4) capital expenditures in 2017 will not require drawing on its credit line (PIK option on new preferred and strong cash flow provide adequate capital).
With regard to Sanchez's new strategic partnership arrangements with Blackstone and GSO Capital Partners LP ("GSO") and the recent equity capital raise, we believe that these transactions and increases in debt and equity will provide strong growth opportunities and be accretive to common stock holders.
For example, when Clayton Williams Energy ((NYSE: CWEI)) hit $6 per share in 2016 and was at risk of not being able to meet future debt obligations, it brought on a strategic financial partner (in Ares Capital Management) which contributed additional debt provide financial flexibility and to pay down some of the senior debt. Subsequently, Ares purchased equity at $29 a share a few months later. Ultimately, CWEI was acquired in 2016 by Noble Energy, Inc. ((NYSE: NBL)) for cash and stock valuing CWEI at approximately $135 per share (at the time of announcement).
We believe Sanchez's transformative acquisition of its ownership interest in the Comanche leaseholds and its new financial partners have positioned it to take advantage of many high quality drilling locations and a strong liquidity position. We expect significant growth and stock price appreciation over the next several years.
Disclosure: I am/we are long "SN".
I wrote this article myself, and it expresses my own opinions. I am not receiving compensation for it (other than from Seeking Alpha). I have no business relationship with any company whose stock is mentioned in this article.