Aurinia Pharmaceuticals (NASDAQ: AUPH) is in clinical development for voclosporin, an investigational drug, with the potential of becoming the "gold standard" (best-in-class) medical therapy as the first approved treatment for lupus nephritis (LN). Currently, there are no approved therapies for LN, however voclosporin trial data suggests a faster speed of remission versus the current standard therapy involving high doses of steroids.
Aurinia Pharmaceuticals ("Aurinia") should be viewed as an alternative investment that can add a potentially higher rate of return to your portfolio. I'm very encouraged by the most recent trial data and, with ongoing trial success, Aurinia offers a lot more upside potential for an overall positive "blended rate" to your already existing portfolio.
That being said, let us dig deeper.
The Problem
The problem is that the world population is aging and there is currently no real gold "standard of care" for patients who are in need of medical treatment targeted toward lupus nephritis. The use of steroids along with CellCept or mycophenolate mofetil (MMF) - (developed by the current CEO of Aurinia) - is the patient's only therapy. You can learn more by reviewing the Aspreva Lupus Management Study (or ALMS) where trial participants received 1.5 g of MMF twice a day and concomitant corticosteroids for 24 weeks of the induction Phase.
The Opportunity
Aurinia's investigational drug Voclosporin - offers a safer profile with fewer side effects over steroids - is in clinical trials and is targeted toward LN. Voclosporin, an analog of cyclosporine, is currently in a Phase 2b AURA-LV patient study. Voclosporin is shown to exhibit a high degree of efficacy which exceeds any currently available treatment options. Efficacy was measured by complete remission (CR) rates without an increase in toxicity, elevated risk of drug-induced diabetes, or other serious adverse events (SAEs).
As an investor, achieving positive results from the FDA regarding LN could translate into a substantial higher return over the near-term, as well as the long-term horizon if full commercialization of the drug is approved by the FDA. Near term, an investment in this company could reward investors prior to ongoing review and expected approval. So, with forward progress made - from the clinic to commercialization - each drug becomes more de-risked when hitting its primary endpoint, which helps increase stock valuations. See the chart below for the current status of Aurinia Pharmaceuticals.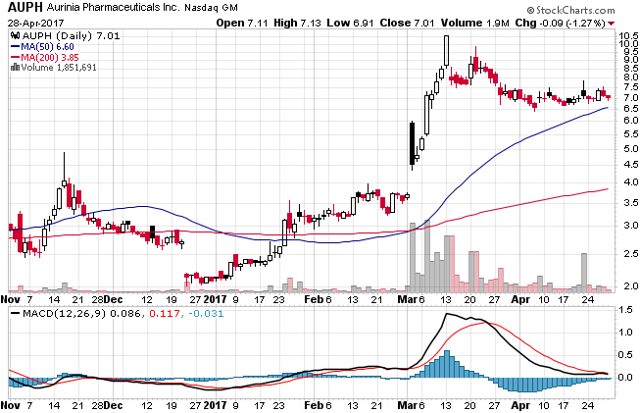 Aurinia's drug candidate Voclosporin, addresses lupus nephritis, a serious and potentially life-threatening condition for which there are currently no FDA or EMA approved therapies. Foundation of America estimates that approximately 500,000 to 1,500,000 patients in the U.S. and approximately upwards of 5,000,000 patients in the world who suffer from System Lupus Erythematosus (SLE). Of those patients with SLE, 40%-60% develop lupus nephritis.
Competitive Advantage
Aurinia's lead drug candidate voclosporin is in a Phase I/IIa trial. In November, 2016, the company announced plans to advance into a Phase III AURORA trial for voclosporin for the treatment of LN following the successful completion of a Phase II meeting with the FDA. The company is expected to enter Phase III development sometime in 2Q17. While many other drugs for this target have failed, Voclosporin has received FDA fast track approval, a process to expedite the development and review of drugs to treat serious conditions to fill an unmet medical need.
Proven Leadership
The management team of Aurinia Pharmaceuticals is full of seasoned biotech executives. Its executives have a very strong depth of knowledge in the biotech industry along with the lupus medical indication that it is targeting. Aurinia management - Co-Founder and CEO Richard Glickman has a depth of experience with LN having previously served as the CEO of Aspreva Pharmaceuticals ("Aspreva") where he was responsible for the development of CellCept, the current standard of care for LN. Additionally, Aurinia's other Co-Founder and Chief Medical Officer Neil Solomons, M.D., is also from Aspreva where he served as its VP of R&D. In 2008, Aspreva was acquired by a Swiss-based company Galencia for almost $1B.
Positive Benefits
Aurinia Pharmaceuticals offers the potential of an above average return for investors plus positive medical outcomes for the patients in need, by addressing lupus nephritis. Complete Remission in the slide below means that all tests and scans show that all signs of the disease are gone per protocols at 24 and 48 weeks.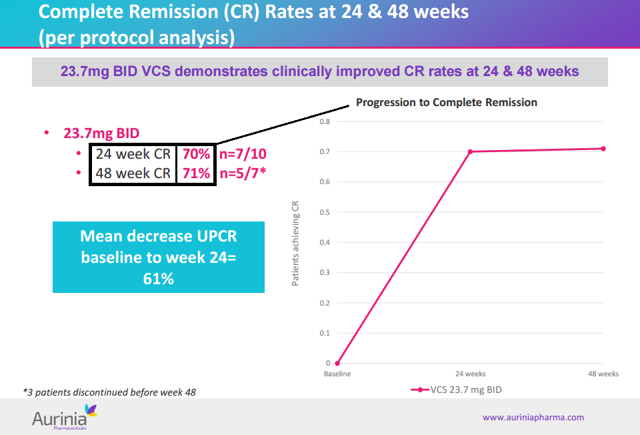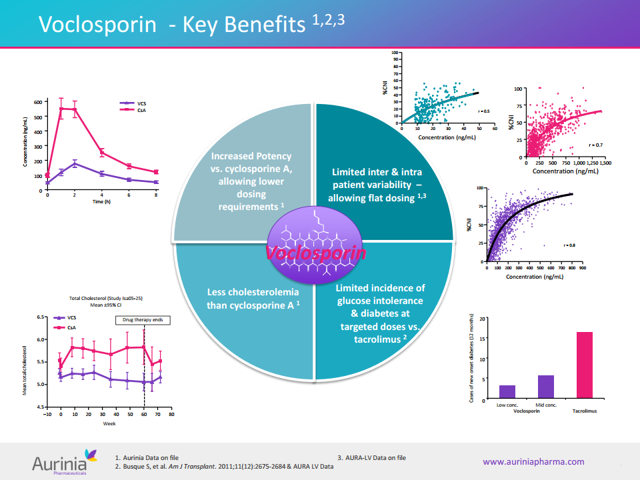 Market Data
| | |
| --- | --- |
| Market Cap | $550M |
| 52-Week Range | $1.74 - $10.54 |
| Avg Daily Trading Vol (3 mos) | 8.9M |
| Shares Outstanding | 78.46M |
| Shares in Float | 36M |
| Short Float | 21% |
| Avg Analyst Target | $11.70 |
Top Institutional Holders
The 3/3/31/17 13F is not yet available so, for now, I'll post the info for 12/31/16.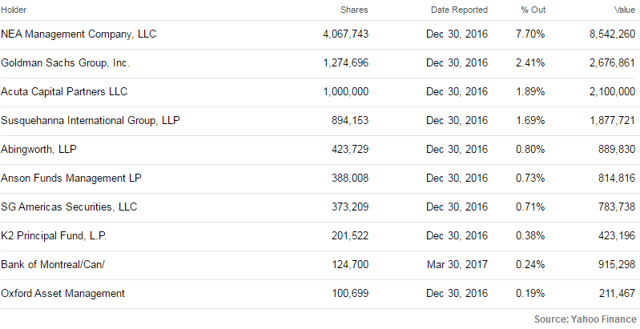 The Risks and Challenges
Clinical risks - Even with the successful achievement of prior studies, Aurinia's LN drug candidate will need to reach clinical significance and final time to read out all of the data from the last phase in each trial.
Failure of clinical trials - In general, biotech stocks have a high degree of failure into the last trial phase.
Regulatory risks - The company must meet the difficult requirements (endpoints) that are regulated by the FDA and other equivalent agencies around the world.
Commercialization - Low medical profession acceptance by doctors could lead to a slow launch causing poor sales of the products following the expected final FDA approval. Additionally, a slow or delay in reimbursement process from payers could hinder the launch and future success.
Competitive risk - Competition from peers who may have a drug candidate with stronger safety and efficacy.
Stock market risk - There exists a risk/reward trade-off found in biotech stocks where overall risks are greater than the risks found with other securities in other sectors.
Financing risk - The ability to obtain capital needed for ongoing operations. Additional funding may be needed and additional financing may not be able to be reached.
Conclusion
Risks in investing in biotech stocks are high; however, I strongly believe that investors should take notice - for consideration and evaluation - by making an investment in this relatively undiscovered biotech stock - Aurinia Pharmaceuticals - if suitable for your portfolio over the long term. The investment described in this article is a very unique and compelling biotech firm that offers investors the potential for an above average rate of return, especially as its lead drug candidate moves toward becoming the best-in-class therapy option for patients in need.
As someone who looks for good alternative investment ideas, I'm right there with you. I'm compelled by the company's progress myself and currently investing my own funds. I'm also following the "smart money" which has also invested a substantial amount of funds in Aurinia Pharmaceuticals too like Lumira Capital and NEA Management Company. Both Lumira Capital and NEA Management Company are highly respected and notable companies. Who wouldn't want to invest in a company that offers the ability to make a big impact on investors as well as patients in need?
Disclosure: I am/we are long AUPH.
I wrote this article myself, and it expresses my own opinions. I am not receiving compensation for it (other than from Seeking Alpha). I have no business relationship with any company whose stock is mentioned in this article.