America's shale oil producers have drilled more wells than they have completed in each of the past five months, resulting in a 9.74% growth in DUCs to a total of 5,512 ending March 2017.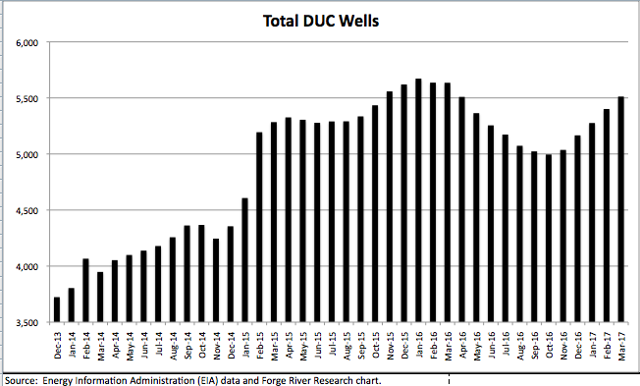 This follows nine straight months, between March 2016 and October 2016 in which completions were greater than drilled wells.
Over the past six months, almost all of the growth in DUCs are Permian basin DUCs (496 of 517, or 95.9% of DUC growth). Permian DUC wells are up 44.6% in the past six months to 1,864 DUCs (more than one-third of the total DUCs in all shale basins).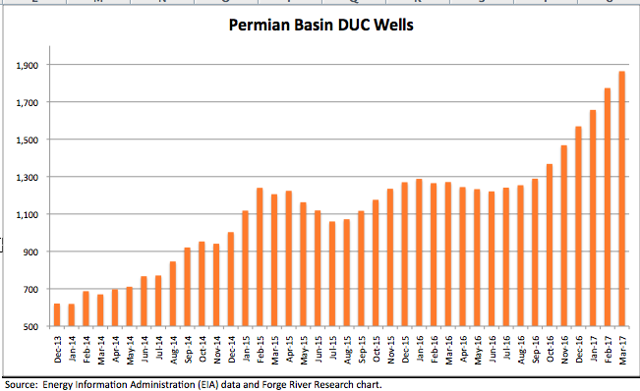 In November 2016, we wrote an article titled "Drilled But Uncompleted Wells (DUCs) Will Cap 2017 Oil Price Recovery" that discussed the inventory of DUCs shortly after the United States Energy Information Administration (EIA) began monthly reporting of these wells. When oil prices started declining in 2014, DUCs began to increase sharply and began to be perceived as a significant overhang of supply. In the 36 months ending March 2017 DUCs are up 39.6% from 3,948 to 5,512.
DUCs often result from a variety of reasons: 1) drilling in an un-concentrated fashion to maintain leaseholds, 2) drilling in areas where elements frack or transport infrastructure is outstripped by supply or still developing (including, water), 3) operators waiting for economics (e.g., oil prices and recovery technologies) to improve, 4) drilling to prove reserves and maintain borrowing bases, 5) maximizing the use available capital resources, and 6) other operator or field/well specific reasons. We believe sustained growth in DUCs can create an overhang of latent supply in the marketplace and can cap pricing gains.
DUCs an Opportunity for Operators
DUCs can be brought into production for 65%-70% of the cost of drilling and completing a new well. This creates an inventory of wells that are marginally profitable at oil prices into the $30s. Furthermore, because they only require completion and equipping for production, they can be producing more quickly.
Sanchez Energy Corporation (NYSE:SN) recently acquired 132 DUC wells in the Eagle Ford shale play, over 10% of the total Eagle Ford shale inventory of DUCs. We cover the Sanchez opportunity in our article titled "$SN Expects Adjusted EBITDA To More Than Double By 2018."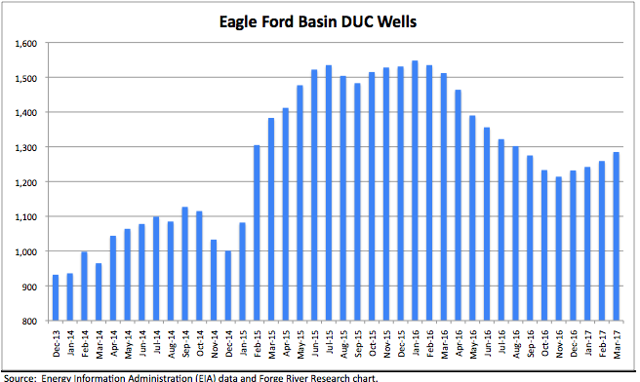 In the past three months, the Eagle Ford basin has also begun to contribute to overall DUC growth (see The Eagle Ford Shale Basin is Roaring Back).
Despite Strong Oil Price Recovery in the Past 12 Months, DUCs Remain Elevated
In the past 12 months, oil prices have staged an impressive recovery. However, DUCs have remained almost unchanged. With American oil storage inventories near all-time high levels, global supply and demand still slightly out of balance favoring supply, and growing rig counts; we expect DUCs to continue to grow. Furthermore, given these market dynamics, any sustained decline in oil prices will likely cause a huge increase in DUCs before capital expenditures have time to adjust.
In conclusion, we believe the high level of DUC wells will continue to prevent oil prices from moving meaningfully higher. The growth in DUCs will continue to keep downward pressure on oil prices, making for a long recovery period before oil prices can move higher.
Disclosure: I am/we are long "SN".
I wrote this article myself, and it expresses my own opinions. I am not receiving compensation for it (other than from Seeking Alpha). I have no business relationship with any company whose stock is mentioned in this article.