The U.S. Treasury just announced that it is holding the fixed rate for U.S. Series I Savings Bonds at 0.0%, a major disappointment for investors looking for a boost in this popular inflation-protected investment.
Investors pay a lot of attention to the I Bond's fixed rate because it applies for the 30-year life of the bond. Here is the Treasury's explanation of the I Bond's new 1.96% composite rate:
The 1.96% composite rate for I bonds bought from May 2017 through October 2017 applies for the first six months after the issue date. The composite rate combines a 0.00% fixed rate of return with the 1.96% annualized rate of inflation as measured by the Consumer Price Index for all Urban Consumers (CPI-U). The CPI-U increased from 241.428 in September 2016 to 243.801 in March 2017, a six-month change of 0.98%.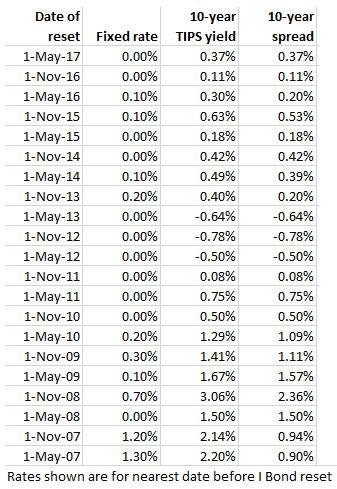 I had speculated on April 18 that if the 10-year TIPS yield remained below 0.40%, the Treasury was likely to keep the fixed rate at 0.0%. The 10-year real yield closed Friday at 0.37%. The resulting spread of 0.37% is higher than the spread in May 2016, when the Treasury raised the fixed rate to 0.1%. But it is also below the November 2014 spread of 0.42% when the Treasury lowered the fixed rate to 0.0%.
Timing a purchase of I Bonds is always a guessing game. In this case, buyers were rewarded for buying before May 1, because they will earn a composite rate of 2.76% for six months, then 1.96% for six months. People who buy from May to October will earn 1.96% for six months and then get a new composite rate in November.
I am disappointed that the fixed rate didn't rise, but not surprised. The market has been trending against a higher fixed rate for several weeks.
What does this mean for I Bond investors?
The Treasury limits I Bond purchases to $10,000 per person per year, plus $5,000 in paper I Bonds in lieu of an income tax refund. If you haven't purchased your full allocation for 2017, I'd suggest holding off until at least until October 13, when the September inflation report will set the new variable rate to go into effect November 1.
If the fixed rate had risen to 0.1% today, I would have recommended buying I Bonds in May. Since it didn't, there is no need to hurry. It's possible the fixed rate could rise on November 1.
Also, keep an eye on yields for an alternative investment: Treasury Inflation-Protected Securities. At this point, in my opinion, an I Bond is still a superior investment up to 10 years, but that could change in coming months.
What about EE Bonds?
The Treasury held the fixed rate at 0.1%, which is more or less irrelevant to purchasers of EE Bonds. The Treasury retained terms that double the value of an EE Bond held for 20 years, effectively earning 3.5% interest. EE Bonds should be held for 20 years and then sold. Here is the Treasury's description:
Series EE bonds issued from May 2017 through October 2017 earn today's announced rate of 0.10%. All Series EE bonds issued since May 2005 earn a fixed rate in the first 20 years after issue. At 20 years, the bonds will be worth at least two times their purchase price. The bonds will continue to earn interest at their original fixed rate for an additional 10 years unless new terms and conditions are announced before the final 10-year period begins.
EE Bonds remain a remarkably competitive investment for anyone financially secure enough - and young enough - to hold them for 20 years. The interest is tax deferred and the investment is 100% safe. Compare that 3.5% return with the current yield on a 20-year Treasury, 2.67%, or 30-year, 2.96%.